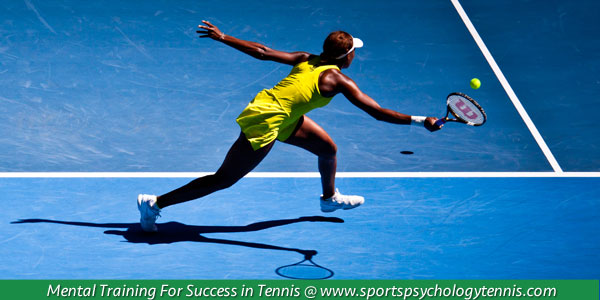 Do Professional Tennis Players Get Nervous?
Do you think Serena Williams gets nervous and has some performance anxiety before matches?
If you said no, you'd be wrong. Even the number one tennis player in the world is human and can get nervous before and during big matches.
After watching the Women's final at the 2013 French Open, you would think Serena Williams was confident and composed.
But after listening to her post-match interview, we learn that she was very nervous about the final.
"I got really nervous after my practice. Not my self really. I thought to myself, 'it does not matter you are really nervous, you are in the final, you have to do something.' My nerves really got to me today. If I can just some balls over the net, I'll be Okay," said Williams after the match.
Wow, she was able to hide her nervousness really well. I could not see that she was uptight. But she felt it during the finals with Maria Sharapova. And what's even more surprising is that she was embarrassed for badly missing a backhand…
"I was really nervous and mad a lot of mistakes I don't normally make in the match. In the final game I hit three aces. I hit a backhand so far out it was embarrassing. Serena, you just have to hit aces because you are too nervous to hit shots. Just hit an ace. If you hit an ace, you don't have to hit shots… I was so nervous at that point. I've never been that nervous in a final. I'm glad I got through it," said Serena Williams.
So is Serena really nervous or just amped up with adrenaline?
I often tell my tennis players that two kinds of nerves exist before a match: pregame jitters and performance anxiety.
How does Serena approach tough players, who have beaten her in the past? And does she ever feel sorry for badly beating opponents?
"Every match is a brand new match and you have to do the best you can. You can't allow yourself to feel sorry for your opponent. You have to go out there and just play and forget about who you are playing," Serena said.
How to you cope better with prematch nerves or anxiety?
Embrace the challenge and the pregame jitters – if that's what you feel prior to the match.
Avoid focusing on the outcome – only think about how you will prepare or get ready for the match.
Don't attach importance to the match –  The most important you make it, the easier it is to focus on the outcome.
We help tennis players cope with prematch performance anxiety and nerves so they can perform better in matches with our one-on-one mental training programs. Read more here:
Mental Training for Tennis Programs
---
Learn Proven Mental Game Strategies To Perform Your Best On The Court!
Are you (or your players) performing up to your ability in competition?
Do you bring your best and most confident game to matches?
Successful tennis players have learned how to perform with ultimate confidence in tournaments.
If you are ready to improve your mental toughness and perform with ultimate self-confidence in matches, Tennis Confidence: Mental Toughness For Tournament Players can help you do this!
Use Tennis Confidence to help boost your mental toughness in tennis and discover powerful and proven mental game strategies that have helped professional athletes win!
Tennis Confidence: Mental Toughness For Tournament Players
What are mental game customers saying?
"We are amazed at how much 'The Confident Athlete' program has helped my niece play her best tennis during matches. She literally made it to the farthest round of a tournament (semifinals) after finishing the CDs/workbook. We are going to do all five in the series."
~Jason Bourguignon, Uncle
---
Download Our Free Tennis Psychology Report!

Discover if you are making one or more of these "costly" unforced mental game errors during matches!
Download our free Tennis Psychology Report:
Six Unforced 'Mental Game' Errors Tennis Players Make Between Points
You'll discover:
How your mind can be your best or worst asset on the court.
If you are using your mind effectively between points.
One strategy that can help you let of go the last point.
The top mental game skills you need to master to boost your confidence and performance between points.
Click here to download your FREE report today: Six Unforced 'Mental Game' Errors Tennis Players Make Between Points
What are tennis players saying?
"On behalf of all of our coaches who attended the 2004 ITA Coaches Convention, I would like to thank you for serving as a featured clinician. I know that the coaches felt it was both enjoyable and informative. We greatly appreciate your taking the time to prepare and present such an outstanding clinic for the benefit of our coaches."
~Nancy Breo, ITA Convention
---
Boost Your Self-Confidence And Focus With Expert Mental Game Coaching!
Master mental game coach Dr. Patrick Cohn can help you overcome your mental game issues with personal coaching.
You can work with Dr. Patrick Cohn himself in Orlando, Florida or via Skype, FaceTime, or telephone. Call us toll free at 888-742-7225 or contact us for more information about the different coaching programs we offer!
What are our mental coaching students saying?
"Dr. Cohn, one of my goals is to become a world-class-coach, There are a few coaches from the US who inspired me the most-John Wooden, Son Shula, and Pat Riley. After working with you, I now also list your name among the most influential coaches in my field!"
~Franz