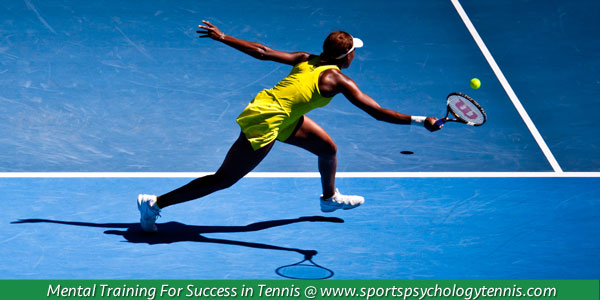 Do Professional Tennis Players Get Nervous?
Do you think Serena Williams gets nervous and has some performance anxiety before matches?
If you said no, you'd be wrong. Even the number one tennis player in the world is human and can get nervous before and during big matches.
After watching the Women's final at the 2013 French Open, you would think Serena Williams was confident and composed.
But after listening to her post-match interview, we learn that she was very nervous about the final.
"I got really nervous after my practice. Not my self really. I thought to myself, 'it does not matter you are really nervous, you are in the final, you have to do something.' My nerves really got to me today. If I can just some balls over the net, I'll be Okay," said Williams after the match.
Wow, she was able to hide her nervousness really well. I could not see that she was uptight. But she felt it during the finals with Maria Sharapova. And what's even more surprising is that she was embarrassed for badly missing a backhand…
"I was really nervous and mad a lot of mistakes I don't normally make in the match. In the final game I hit three aces. I hit a backhand so far out it was embarrassing. Serena, you just have to hit aces because you are too nervous to hit shots. Just hit an ace. If you hit an ace, you don't have to hit shots… I was so nervous at that point. I've never been that nervous in a final. I'm glad I got through it," said Serena Williams.
So is Serena really nervous or just amped up with adrenaline?
I often tell my tennis players that two kinds of nerves exist before a match: pregame jitters and performance anxiety.
How does Serena approach tough players, who have beaten her in the past? And does she ever feel sorry for badly beating opponents?
"Every match is a brand new match and you have to do the best you can. You can't allow yourself to feel sorry for your opponent. You have to go out there and just play and forget about who you are playing," Serena said.
How to you cope better with prematch nerves or anxiety?
Embrace the challenge and the pregame jitters – if that's what you feel prior to the match.
Avoid focusing on the outcome – only think about how you will prepare or get ready for the match.
Don't attach importance to the match – The most important you make it, the easier it is to focus on the outcome.
We help tennis players cope with prematch performance anxiety and nerves so they can perform better in matches with our one-on-one mental training programs. Read more here:
Mental Training for Tennis Programs
---
Boost Your Self-Confidence and Focus with Expert Mental Game Coaching Tennis Mindset
Learn how to boost your mental game of tennis and develop the confidence of a champion quickly and effortlessly with tennis mental game coaching!
If you're not performing up to your potential in matches, most likely your mental game is holding you back. Are you so frustrated with your performance you feel like giving up? Does your confidence evaporate when you play in tournaments? Are you tired of working hard in practice and not getting any results in matches?
We can help you uncover the beliefs and attitudes that keep you from performing to your potential.
Complimentary 15-Minute Coaching Session
Call Us Today to Schedule Your Free 15-Minute Session.
Find Out How You Can Benefit From One-on-One Mental Coaching!
888-742-7225 | 407-909-1700
Please contact us today to learn how mental coaching works and to request pricing on all mental training programs for tennis players. Complete the form below to contact us via email or call us toll-free at 888-742-7225