Boost Your Self-Confidence and Focus with Expert Mental Game Coaching
Learn how to boost your mental game of tennis and develop the confidence of a champion quickly and effortlessly with tennis mental game coaching! If you're not performing up to your potential in matches, most likely your mental game is holding you back. Are you so frustrated with your performance you feel like giving up? Does your confidence evaporate when you play in tournaments? Are you tired of working hard in practice and not getting any results in matches?
We can help you uncover the beliefs and attitudes that keep you from performing to your potential.
You'll learn proven mental strategies they teach to help nationally-ranked Junior tennis players get into the winner's circle (see what players are saying below).
We have helped 1000s of athletes over the past 30 years to improve their mental toughness and get the mental edge.
Our exclusive mental game coaching programs will help you:
Take your practice game to matches consistently
Uncover doubts and be more proactive with your self-confidence
Increase the consistency of your performance with prematch and service routines
Learn mental strategies to get into the zone
Manage distractions and perform with laser-like focus
Get the Mental Edge – With Mental Training
Uncover the mindsets that prevent you from performing your best.
Master the mental strategies that will help you play with focus and composure.
Learn how to increase confidence and overcome self-doubt.
Receive a customized mental game plan based on your individual needs.
About Patrick J. Cohn, Ph.D.
Dr. Patrick Cohn is a mental training expert at Peak Performance Sports. Dr. Cohn works with athletes and teams worldwide from a variety of sport backgrounds including soccer players and coaches. As the president and founder of Peak Performance Sports (Orlando, Florida), Dr. Patrick J. Cohn is dedicated to instilling confidence and composure, and teaching effective mental game skills to help athletes, teams and corporate professionals perform at maximum levels.
In addition to working with athletes and teams, Dr. Cohn teaches parents, coaches and athletic trainers how to help soccer players achieve peak performance through mental game skills.
He's the author of the popular Tennis Confidence 2.0: Mental Toughness for Tournament Players Workbook and CD Program and The Confident Athlete CD Series. He also created the Mental Game Coaching Professional Certification.
About Jaclyn Ellis, M.S., MGCP
Jaclyn Ellis, M.S., MGCP, is a mental performance coach for Peak Performance Sports. She earned a Master's degree from Illinois State University. Her passion is working with athletes, coaches and parents to enhance both performance and enjoyment of sports.
She has a background in competitive sports including soccer, volleyball, and tennis. She also performed in advanced show choirs for many years. Additionally, she was a competitive youth head soccer coach in Bloomington, IL.
She has provided mental performance coaching to youth and elite athletes in various sports including soccer. Jaclyn has experience using cognitive programs like NeuroTracker and Eye Matrix to improve an athlete's eye-tracking movements and cognitive functioning.
About Georgia Miller, M.E., MGCP
Georgia Miller, M.E., MGCP, is a mental performance coach for Peak Performance Sports. She is a certified Mental Game Coaching Professional (MGCP) and is working towards becoming a Certified Mental Performance Consultant (CMPC) with AASP.
She has delivered mental performance programs for various teams at the high school and collegiate levels. Additionally, she has provided one-on-one mental performance coaching for athletes in all sports, including tennis.
After playing collegiate volleyball and serving as a three year captain, she earned a master's degree in Athletic Counseling from Springfield College. She is passionate about working with athletes, coaches, and teams. She applies a personalized approach to helping athletes develop the mental skills to enhance performance in sports.
Our Tennis Psychology Programs Include:
1. Athlete's Mental Aptitude Assessment (AMAP)
Our assessment will help you identify what mental game barriers are hurting your performance in tennis.
2. Personalized Mental Game Plan
You will be given a custom game plan based on your specific challenges. The mental game plan will act as a road-map for your mental training sessions. The mental game plan will outline exactly what mental strategies will help your performance.
3. Weekly Coaching Sessions
In-person, or by Zoom, FaceTime, Skype, or phone call (Four, 45-minute coaching sessions). Each session is designed to teach you how to apply mental strategies for practice and games. You will work directly with one of our coaches and learn how to improve your mindset and performance in tennis.
4. Unlimited email correspondence with our staff
You are welcome to email our staff with any and all questions you have during the course of your mental training program.
5. Tennis Confidence audio and workbook program
After each session, you will receive a workbook specific to the topic discussed that day. You will be able to practice and apply the strategies between sessions.
Improve Your Mental Game From Anywhere In The World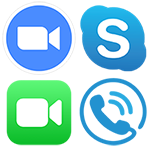 You can get expert mental coaching with us from anywhere. Meet with us via Zoom, Skype, FaceTime or phone call. With today's video technology, we are able to connect with athletes and coaches all over the globe.
**Complimentary 15-Minute Coaching Session**
Call Us Today to Schedule Your Free 15-Minute Session.
Find Out How You Can Benefit From One-on-One Mental Coaching!
888-742-7225 | 407-909-1700
Please contact us today to learn how mental coaching works and to request pricing on all mental training programs for tennis players. Complete the form below to contact us via email or call us toll-free at 888-742-7225.
What Tennis Players Say About Our Coaching:
"She's more grounded and focused after working with you…"
"Maggie had such a great weekend. As always, after she works with you she just seems more grounded and focused. She's less likely to look around and get distracted during her match. She's more focused on one point at a time. Also, as a parent, I've learned to encourage her process goals and not outcomes. Consequently, she played well and won her first doubles match, upsetting a seeded team in a really really close match!"*
~Katherine Johnson Cannata, Maggie's mother
"He kept his cool with an amazing attitude…"
"Patrick played very well this week at the U14 national championships. He won both singles and doubles. Most importantly he kept his cool with an amazing attitude in the singles semis (playing his best friend) in the final against the number two. It has been a joy watching staying calm instead of getting angry."*
~Christian Schoen, Tennis Parent
"The changes we saw in 24 hours were awesome…"
"Danielle did really well with controlling her emotions during the matches today. We were very proud of her for not showing her frustrations during the match; I think that was a big accomplishment. She really looked in control of her emotions even when she double faulted or made mistakes. The changes we saw on Danielle's behavior in less than 24 hours were AWESOME! Thank you for your guidance!"*
~Jennifer Alamo, Tennis Parent
"I already have improved my mental game…"
"I have really enjoyed listening to your tennis psychology podcasts on iTunes and reading your E-books. I already have improved in my mental game. I played in a tennis tournament this past weekend and played with the amount of confidence I should have in myself. If I lost a point or made a stupid error, I knew how to deal with it and move on to the next point. I didn't get frustrated."*
~Melanie Lewis, Junior Tennis Player
"Thank you for all the guidance…"
"Thank you for all the knowledge, tools, material, and guidance you have given me throughout this course. It was truly a great experience. I am looking forward to integrating this mental training system not only to students at the club, but as well bring this wonderful education outside to athletes that truly are committed, and strive towards reaching their peak performance."*
~Tim Whitehead, Head Tennis Professional, MGCP
"Helped my niece play her best tennis…"
"We are amazed at how much 'The Confident Athlete' program has helped my niece play her best tennis during matches. She literally made it to the farthest round of a tournament (semifinals) after finishing the CDs and workbook. We are going to do all 3 in the series."*
~Jason Bourguignon, Uncle
"I overcame a lifetime of tournament performance anxiety…"
"I want to let you know that your Tennis Confidence CDs have been extremely helpful to me. I listen to them in the car, and the program is helping me overcome a lifetime of tournament performance anxiety. Thank you!"*
~Wing Wu
---
Disclaimer
*Testimonials found on this site are examples of what we have done for other clients, and what some of our clients have said about us. However, we cannot guarantee the results in any case. Your results may vary and every situation is different. No compensation was provided for these testimonials.