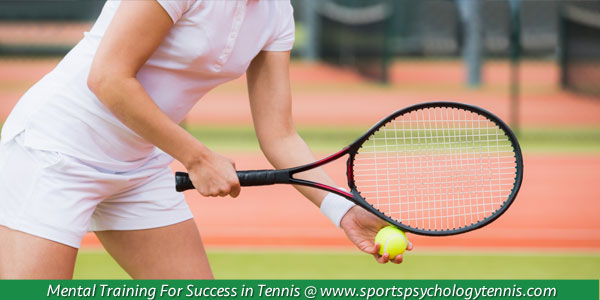 Are Early Exits Mental or Physical Errors?
Have you watched the action at the U.S. Open? A lot of surprises this year. We've seen some early exits by top seeded players…
Are these early exits caused by a poor mental game or physical game?
For example, Ana Ivanovic lost to Kateryna Bondarenko of Ukraine in the opening round of the US Open. In this case, her first round exit was caused by a poor mental game, as she confessed…
"I think I've been thinking about everything too much and trying to address lots of issues with my game," Ivanovic said.
"My fitness is at one level, mind at another, my game is at another level. I think these all these things have to marry to get into the right direction and have to fit."
What's the culprit?
Ivanovic has lost trust in her game. She got sidetracked with too many methods or solutions…
"But I think it has also to do with the confidence, because many times when I'm in a position, I just don't trust myself like I did before," said Ana.
It's easy for players to abandon what works for them when they don't play up to expectations. She, like so many other players I know, got lost by trying to "fix" her game unnecessarily…
Her mind plays tricks. In her own words:
"When I start to not have the results that's expected, I was going to have, that's when my mind games play. That's when I started to think and analyze about everything that's been happening and trying to, you know, fix something that maybe it wasn't broken," said Ivanovic.
"But I tried to go different directions and tried to search for it elsewhere. And that's when I feel like I went on a little, forcing, trying to change technique and some kind of areas of my game that were not necessary to do so."
When you don't play up to your expectations, do you make radical changes in your game? Do you change your technique or change instructors often?
I believe you have to make changes sometimes to improve your game.
However, if you constantly search for "the secret" to great tennis, trust and confidence will suffer.
Practice is the time to improve your physical game. At match time, nothing is more important than trusting your practice and being mentally tough.
Why? Your training is complete (for the time being). No time to fix or make changes. You only have one option–you have to make the most of what you have and trust in your game!
If you want to learn all my secrets for boosting your confidence and trust in matches, grab your copy of my new CD program "Tennis Confidence":
Tennis Confidence CD and Workbook Program
Be one of the first 25 people to snag my new CD program, and get a complementary membership to peaksports network.
There, you can access over 500 pages of mental training videos, articles, interviews, and tips on the mental game:
Tennis Confidence CD and Workbook Program
---
Boost Your Self-Confidence and Focus with Expert Mental Game Coaching Tennis Mindset
Learn how to boost your mental game of tennis and develop the confidence of a champion quickly and effortlessly with tennis mental game coaching!
If you're not performing up to your potential in matches, most likely your mental game is holding you back. Are you so frustrated with your performance you feel like giving up? Does your confidence evaporate when you play in tournaments? Are you tired of working hard in practice and not getting any results in matches?
We can help you uncover the beliefs and attitudes that keep you from performing to your potential.
Complimentary 15-Minute Coaching Session
Call Us Today to Schedule Your Free 15-Minute Session.
Find Out How You Can Benefit From One-on-One Mental Coaching!
888-742-7225 | 407-909-1700
Please contact us today to learn how mental coaching works and to request pricing on all mental training programs for tennis players. Complete the form below to contact us via email or call us toll-free at 888-742-7225