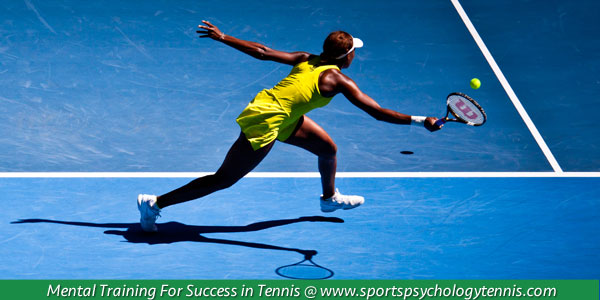 Managing Your Tennis Anxiety
Have you ever missed an easy shot in a match and then followed it up with a series of mistakes?
Are you afraid that if you make a mistake early in a match that you will implode and play horribly?
Many tennis players fear that early mistakes in a match will lead to further mistakes, errors and poor performance.
Some tennis players will internally beat themselves up after an error and experience a flood of negative emotion, self-doubt and anxiety.
Anxiety increases muscle tension and interferes with your focus on the court.
You lose the fluidity of your game and become rigid and mechanical. You may try to force shots and over-think your play which results in tanking the match.
Many of these tennis players will point to "choking" as the reason for their poor performance.
What is "choking"?
"Choking" refers to an inability to perform up to what you show in practice daily.
Sian Beilock, author of the book Choke, has dedicated a lot of time researching "choking."
Beilock: "Choking isn't just poor performance. It is worse performance than you are capable of precisely because there is a lot on the line."
Once a tennis players starts "choking" in a match, the player will lose focus and his sense of control over his play.
What are the causes of choking?
Anxiety and fear of failure are the main cause of "choking."
Tennis players become anxious during matches for a number of reasons:
fear of making mistakes

the need to be perfect

unrealistic goals or an over-emphasis with what others may think of their performance
Tennis players who experience higher levels of anxiety tend to have a higher probability of "choking" during tennis matches.
Try these tips to focus on your game and avoid choking in matches:
Tip #1: You want to focus on smaller objectives that help you focus in the moment. Let go of outcome and your stats as these can induce worry.
Tip #2: Remind yourself to focus on your game and your skills. Play for yourself, play to your strengths and play in the moment.
Tip #3: Become a master at refocusing during competition. If you begin to over-think or recognize that you are dwelling on a previous error, refocus quickly on the current point.
Most importantly, you have to let go of the fear of failure and worrying about what others think. This is the number one reason tennis players mentally hurt themselves in matches. Change your objectives when you compete to more manageable ones.
Successful tennis players have learned how to perform with ultimate confidence in tournaments. We've developed Tennis Confidence: Mental Toughness For Tournament Players to help you do this.
---
Learn Proven Mental Game Strategies To Perform Your Best On The Court!
Are you (or your players) performing up to your ability in competition?
Do you bring your best and most confident game to matches?
Successful tennis players have learned how to perform with ultimate confidence in tournaments.
If you are ready to improve your mental toughness and perform with ultimate self-confidence in matches, Tennis Confidence: Mental Toughness For Tournament Players can help you do this!
Use Tennis Confidence to help boost your mental toughness in tennis and discover powerful and proven mental game strategies that have helped professional athletes win!
Tennis Confidence: Mental Toughness For Tournament Players
What are mental game customers saying?
"I want to let you know that your Tennis Confidence CDs have been extremely helpful to me. I listen to them in the car, and the program is helping me overcome a lifetime of tournament performance anxiety. Thank you!"
~Wing Wu

---
Download Our Free Tennis Psychology Report!

Discover if you are making one or more of these "costly" unforced mental game errors during matches!
Download our free Tennis Psychology Report:
Six Unforced 'Mental Game' Errors Tennis Players Make Between Points
You'll discover:
How your mind can be your best or worst asset on the court.
If you are using your mind effectively between points.
One strategy that can help you let of go the last point.
The top mental game skills you need to master to boost your confidence and performance between points.
Click here to download your FREE report today: Six Unforced 'Mental Game' Errors Tennis Players Make Between Points
What are tennis players saying?
"Dr. Cohn, one of my goals is to become a world-class-coach, There are a few coaches from the US who inspired me the most-John Wooden, Son Shula, and Pat Riley. After working with you, I now also list your name among the most influential coaches in my field!"
~Franz
---
Boost Your Self-Confidence And Focus With Expert Mental Game Coaching!
Master mental game coach Dr. Patrick Cohn can help you overcome your mental game issues with personal coaching.
You can work with Dr. Patrick Cohn himself in Orlando, Florida or via Skype, FaceTime, or telephone. Call us toll free at 888-742-7225 or contact us for more information about the different coaching programs we offer!
What are our mental coaching students saying?
"Since you last worked with AJ in early September, his National ranking has improved from 349 to 148. His tournament record at one point, since talking with you was 17-4, with 3 of the 4 being in third sets or tiebreakers and 2 of those matches being the same player, whom he has since beaten (you may recall he was on an 0-9 losing streak when we contacted you). His tie-breaker record is at least 90% through last weekend when he won the 18s District tournament with a semi and final match tiebreak win. Your help has definitely improved AJ's results and his on-court demeanor has substantially improved."
~Dawn Woodman, A.J.'s Mother