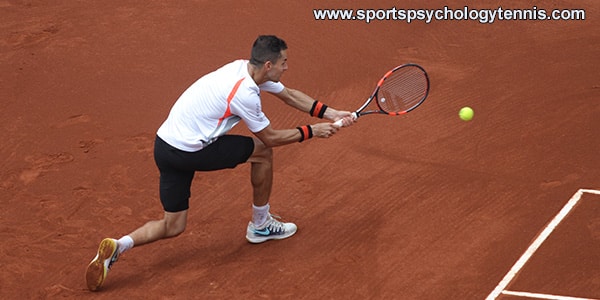 How to Think When in the Lead
When something works why change it? This appears like a logical concept, but many tennis players deviate from the plan even when the plan proves to be working.
This change in mindset can result in being overly aggressive, serving with more pace, and trying to paint the lines. Deviating from an already successful game plan causes you to overthink, lose focus and allows your opponent to slowly chip away at your lead.
Why change when things are going well?
A tennis player recently responded to our Mental Game of Tennis Survey with the following response:
"How can I finish a match just as strong as I started? I tend to change my style of play when I have a big lead. I seem to blow big leads and always let my opponent back in the match. Is there anything I can do to help me close out matches?"
The problem you are experiencing is a frequent problem for many players.
You probably can relate to the following scenario… You dominated the first set.
You felt great. All aspects of your game clicked, and your game plan was going well. Midway through the second set, you decided to alter your serve strategy. Instead of hitting well-placed deep serves, you decided to add more pace on the ball and try to ace your serves.
After several double faults, your opponent started to climb back into the match. You couldn't seem to regain your form and you felt yourself becoming angry and frustrated. You felt the match slipping away from you and started to wonder, "Why can't I close out matches?"
The reality is that you can close out matches if you stay focused on what is working and stay aggressive or don't protect the lead.
Even professional players need to resist the urge to deviate from an already effective game plan.
At the 2020 Western & Southern Open, No.13 seed Maria Sakkari beat Coco Gauff in just 65 minutes in the first round of the tournament. Sakkari lost only four games against Gauff and won the match 6-1, 6-3.
After the match, Sakkari commented on the importance of staying focused on her game plan.
SAKKARI: "I think my serve was one thing that really worked well today and gave me a lot of cheap points, if I can call them like that. I think the toughest spot was just to follow the tactic the whole time, like always, but I'm very satisfied, because after a long time I got to play on that level."
When you stay focused on what is working, your confidence stays at a high level and energizes your body and mind to finish out the match.
Closing out Tennis Matches When Leading
Remember, if it ain't broke, don't fix it. Continue with the same style that helped you get into the lead in the first place.
Avoid slamming on the breaks and protecting the lead when up in the match…
Instead, focus on closing the points out quickly and staying on offense. You do this by swinging freely or taking full swings and not bunting the ball down the middle.
---
Related Tennis Psychology Articles:
*Subscribe to The Tennis Psychology Podcast on iTunes
*Subscribe to The Tennis Psychology Podcast on Spotify
---
Improve Your Mental Game for Tennis
Tennis Confidence 2.0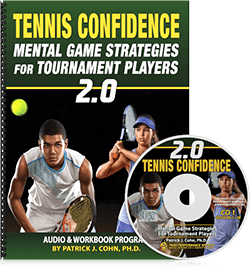 "Tennis Confidence: Mental Game Strategies for Tournament Players" is Dr. Cohn's program to help tennis players, coaches, and instructors improve the mental game of tennis is just 8 easy to learn sessions. Tennis Confidence: Mental Game Strategies for Tournament Players Audio and Workbook program is ideal for any junior, collegiate, and tour professional player. Tennis coaches and instructors would also be wise to teach the strategies in "Tennis Confidence 2.0."
Tennis Confidence is a complete mental training program developed Dr. Cohn. You learn the same strategies Dr. Cohn teaches his personal students to help them improve mental toughness and consistency – from managing unrealistic expectations to coping with perfectionism. 
Read more about Tennis Confidence Program>>