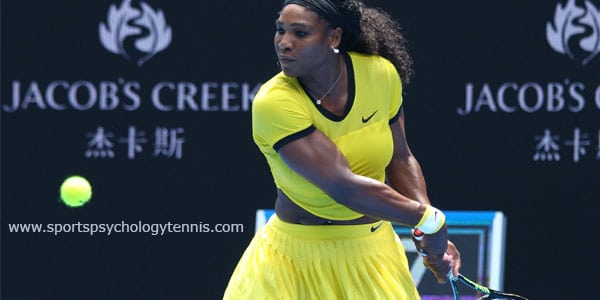 How to Evaluate Your Tennis Game After Losing a Match
Do you see a loss as a failure? More importantly, after a loss do you FEEL as if you failed?
Many tennis players feel totally dejected after losing a match. For these players, it makes no difference if they lost to a lower ranked opponent or the best tennis player in the world…
When you judge your performance by wins and losses, your confidence will yo-yo up and down.
A common challenge for tennis players–who respond to our Mental Game of Tennis Needs Survey–is how to keep confidence and composure despite losing.
"How do I not get frustrated over mistakes or losses?"
Evaluating your performance in a kinder way can help you. When you lose, you become your harshest critic, "My serve was horrible. My return game was pathetic, I'm too slow, I can't win against opponents who are close to my ranking."
Beating yourself up over mistakes and losses negates any part of your game that was strong and positive. Berating yourself hurts confidence and gives you ZERO feedback on aspects of your game that you could improve for future matches.
When you base success on wins and losses, your confidence rides the confidence roller coaster. When you win, your confidence will be high. When you lose, your confidence will be low.
When confidence is low after a loss and frustration is high, you will lack the necessary motivation to train for the next tournament.
Whether you win or lose, you can always find positive takeaways as long as you evaluate your game objectively. Objective evaluation of a match helps keep you confident and focused on your goals.
For example, Serena Williams is chasing a record (24 career singles Grand Slam titles) set by Mary Court in the mid-70s. Heading into the 2020 US Open, Williams had earned 23 Grand Slam titles with her last Grand Slam finals victory coming in 2017.
Unfortunately, Serena fell short of her goal at the 2020 US Open semifinals, losing her semi-final match to Victoria Azarenka, 1-6, 6-3, 6-3. In her post-match interview, Williams maintained her perspective and objectivity when evaluating her performance.
Objective evaluation keeps Serena confident and playing at an elite level at the age of 39.
SERENA: "Maybe I took a little too much off the gas pedal at some point… it's obviously disappointing. At the same time, you know, I did what I could today. I feel like other times I've been close and I could have done better. Today I felt like I gave a lot."
Serena evaluates her game by seeing the larger picture. Serena was not happy about losing, but she identified something she needs to do differently in future matches (keeping her foot on the pedal) and credits herself for the positives from the match (her effort).
How to Use an Objective Post-match Evaluation:
Improving your game requires objectivity. Objectivity puts your performance in perspective and keeps confidence stable. Dwelling on your shortcomings doesn't.
How do you assess your performance objectively? Start with numbers that you can't deny. For example, look at your statistics, such as first serve percentage or first serve points won.
You also want to assess your mental game as well without being critical of yourself. How well did you focus on one point at a time, for example? Did you let go of mistakes quickly? Did you follow your service routine?
After you assess your game, move on to growth and how you will improve in the next week of practice.
---
Learn Proven Tennis Mental Game Strategies To Perform Your Best On The Court!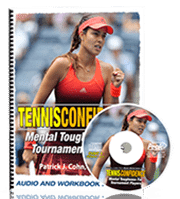 Are you (or your players) performing up to your ability in competition?
Do you bring your best and most confident game to matches?
I often hear players complain about the following problems when they play in matches…
"I get so tight or tense before matches that I can't think straight or have any rhythm in my game."
"I get so frustrated with hitting bad shots or with errors and it snowballs."
"I expect so much when I play that I unravel and lose confidence when the match does not go as planned."
"My confidence seems to disappear when I go from practice to matches and I don't know why."
Successful tennis players have learned how to perform with ultimate confidence in tournaments.
If you are ready to improve your mental toughness and perform with ultimate self-confidence in matches, Tennis Confidence: Mental Toughness For Tournament Players can help you do this!
Players: Learn how to take control of your confidence, focus your best, and win more close matches.
Parents: Help boost your junior tennis player's confidence for tournaments. Just load the program on your player's IPod!
Coaches: Boost your team's confidence using simple, proven mental strategies.
Instructors: Learn how to give your students the mental game advantage.
Use Tennis Confidence to help boost your mental toughness in tennis and discover powerful and proven mental game strategies that have helped professional athletes win!