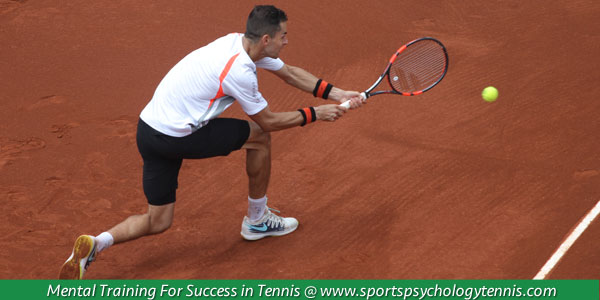 Do You Have Confidence In Your Tennis Game?
Do you have a tennis rival or some player you just want to beat no matter how important the match is?
Do you wonder how you can gain an advantage over your rival and tip the scales of victory in your favor?
Rivalries add another component to competitions… the stakes seem higher when facing off against your rival.
You want to beat your rival not just for the sake of winning the match, but because of the competitive history you have developed with your rival over time.
Think of your biggest rival… You and your rival are probably pretty evenly matched. You have probably had some epic battles and matches that went back and forth.
When you are at similar performance levels, what gives one player an advantage over the other?
Well, if your physical games are similar, it is the mental game that becomes the difference-maker.
The level of confidence you take to the court will affect your approach to the game:
How aggressive you play
How often you go for the big first serve
What match strategy you choose
A high level of confidence can give you the mental edge over your rival.
Novak Djokovic and Rafael Nadal's rivalry is one of the biggest rivalries in modern tennis.
Djokovic and Nadal have played against each other 46 times. In the beginning, from 2006-2010, Nadal had the edge in victories winning 16 matches to Djokovic's seven.
Lately, Djokovic exerted his dominance winning seven of their last eight matches including a straight set victory against Nadal, 6-3, 6-3 in their semi-final match up at the 2015 Barclays ATP World Tour. With his latest victory, Djokovic has tied the series record with Nadal 23-23.
DJOKOVIC: "In terms of matches played, it's the greatest rivalry we had in [our] sport because we played 46 times against each other and we still keep on going."
After the match, Nadal described Djokovic's performance of recent as "unbeatable."
Djokovic credits his confidence as the reason he has played consistently well, especially in his rivalry against Nadal.
DJOKOVIC: "I don't feel unbeatable, but it does definitely feel great when I'm playing the way I played today, when I feel like I'm dictating the pace, the match itself, most of the rallies, I feel like I'm on top of my opponent."
In his match against Nadal at the Barclays ATP, Djokovic's confident approach gave him a mental edge in spite of the fact that Nadal was having a great tournament.
DJOKOVIC: "Even though he [Nadal] has played well given the results and the matches he won during the week. I still felt like today I could have done most of the things that I intended to do."
Confidence frees you up to play aggressively and take the risks necessary to be successful over your rivals.
Tip for playing confidently against your rival:
Confidence comes from past success and preparation. If you hold close to the memories of losing tough matches against your rival, you will approach the next match with apprehension.
The key is to focus on the successes you had against your rival. Even if you lost a match, maybe you had a high first serve percentage or you committed less unforced errors.
By focusing on your successes or improvements, even the minor ones, you will be able to approach upcoming matches against your rival with confidence.
---
Learn Proven Mental Game Strategies To Perform Your Best On The Court!
Are you (or your players) performing up to your ability in competition?
Do you bring your best and most confident game to matches?
Successful tennis players have learned how to perform with ultimate confidence in tournaments.
If you are ready to improve your mental toughness and perform with ultimate self-confidence in matches, Tennis Confidence: Mental Toughness For Tournament Players can help you do this!
Use Tennis Confidence to help boost your mental toughness in tennis and discover powerful and proven mental game strategies that have helped professional athletes win!
Tennis Confidence: Mental Toughness For Tournament Players
What are mental game customers saying?
"We are amazed at how much 'The Confident Athlete' program has helped my niece play her best tennis during matches. She literally made it to the farthest round of a tournament (semifinals) after finishing the CDs/workbook. We are going to do all five in the series."
~Jason Bourguignon, Uncle
---
Download Our Free Tennis Psychology Report!

Discover if you are making one or more of these "costly" unforced mental game errors during matches!
Download our free Tennis Psychology Report:
Six Unforced 'Mental Game' Errors Tennis Players Make Between Points
You'll discover:
How your mind can be your best or worst asset on the court.
If you are using your mind effectively between points.
One strategy that can help you let of go the last point.
The top mental game skills you need to master to boost your confidence and performance between points.
Click here to download your FREE report today: Six Unforced 'Mental Game' Errors Tennis Players Make Between Points
What are tennis players saying?
"Dr. Cohn, one of my goals is to become a world-class-coach, There are a few coaches from the US who inspired me the most-John Wooden, Son Shula, and Pat Riley. After working with you, I now also list your name among the most influential coaches in my field!"
~Franz
---
Boost Your Self-Confidence And Focus With Expert Mental Game Coaching!
Master mental game coach Dr. Patrick Cohn can help you overcome your mental game issues with personal coaching.
You can work with Dr. Patrick Cohn himself in Orlando, Florida or via Skype, FaceTime, or telephone. Call us toll free at 888-742-7225 or contact us for more information about the different coaching programs we offer!
What are our mental coaching students saying?
"Maggie had such a great weekend. As always, after she works with you she just seems more grounded and focused. She's less likely to look around and get distracted during her match. She's more focused on one point at a time. Also, as a parent, I've learned to encourage her process goals and not outcomes. Consequently, she played well and won her first doubles match, upsetting a seeded team in a really really close match!"
~Katherine Johnson Cannata, Maggie's mother