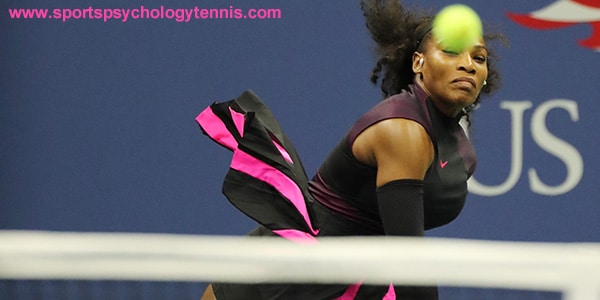 "Practice makes perfect" is a common axiom in tennis and sports. We are bombarded by commentary on perfect games, perfect hits, and perfect serves yet simultaneously know that perfection is an unattainable ideal. Tennis coaches tell you to "strive for perfection" even though the consensus is this often leads to feelings of inadequacy and frustration.
There has been a lot of discussion in the world of tennis as to whether Serena Williams is a perfectionist. Her on-court outbursts can be seen as characteristic of a perfectionist attitude. Early in Serena's career, she admitted to being a perfectionist, "I'm a perfectionist. I'm pretty much insatiable. I feel there are so many things I can improve on." Is that necessarily the definition of a perfectionist?
As defined in psychology, perfectionism is a personality trait characterized by a person's striving for flawlessness and setting excessively high performance standards, accompanied by overly critical self-evaluations. When a person fails to achieve these unrealistic performance standards or high expectations, the result is often frustration and lack of confidence. When a person is frustrated, they don't seek to improve upon things. Players tend to give up!
Despite some adverse circumstances in the 2013 US Open finals, Serena, the No. 1-seed defeated No. 2 – seed Victoria Azarenka 7-5, 6-7 (6), 6-1 for her fifth US Open championship and 17th Grand Slam singles title.
Serena battled through bad shots, frustration of missing, a blown lead in the second set, swirling winds and a tough opponent. She looked frustrated as she threw her racket and declared, "I can't play in this wind." Or maybe she was really thinking: "I can't hit perfect shots and winners in this wind," as would a perfectionist tennis player. And it almost cost her the championship.
And how did Serena respond? She rebounded just in time in the third set with an impressive 6-1 final set to win. Maybe her outbursts are about not playing perfectly. Maybe she expects to play better. Her tantrums could possibly be her way of releasing negative emotion and psyching herself for the next point, but they hurt her mind game in the second set.
In the 2012 documentary entitled, Venus and Serena, Serena recognizes the self-destructive nature of perfectionism, "I think perfectionist people are nuts. The problem with perfectionist tennis players is they miss a few shots and then start to get mental. They make my job a whole lot easier because they beat themselves." Serena should remind herself of this when she misses shots in the wind.

Are you a perfectionist? Here's a test for you:
Do mistakes cause a downward spiral in your performance?
Even when you are playing well, do you berate yourself for small errors?
Do you consider everything you do as not good enough?
Do you second guess yourself constantly and never feel like you are doing things "right?"
Remember, perfectionism is a learned behavior and, thus can be unlearned. Perfectionism can derail your performance. Adopt the mindset of constantly improving each day while giving yourself credit for your daily successes. This mindset will allow you to take more risks, improve as an athlete and enjoy tennis more.
Want to overcome your perfectionism and play to your potential in tennis? Check out Dr. Cohn's tennis psychology programs.