How to Become More Confident in Matches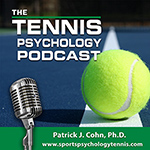 In this week's tennis psychology podcast, mental game of tennis expert, Dr. Patrick Cohn interviews David Sammel, author of "Locker Room Power."
Dr. Cohn and Sammel talk about:
Locker room power and how to be more confident in matches.
Listen to this month's tennis psychology podcast to learn how to improve your performance in tennis and other mental game barriers that limit your performance.
COHN: "You're the author of the new book called Locker Room Power. Talk to me a little bit about the philosophy around Locker Room Power, which I'm understanding is really more of the mental game components of tennis."
SAMMEL: "Yes, I think the easiest way to explain Locker Room Power, this is my main contention and belief and I've seen it manifested many times, is if a young player is coming through and they play against a top player, like Federer or Nadal, they hit an approach shot and Federer hits a good passing shot. Because its Roger Federer hitting that passing shot, there's a little bit of panic, a little bit of hesitation that 'oh my goodness, what a great shot off my approach' … Because of that slight hesitation or panic that such a good shot has come because it's Roger Federer. And I call that Roger Federer's locker room power, the mojo or aura that top performers have around them that creates nervousness and fear in opponents. You can actually actively work to build your locker room power."
Listen to the audio below to hear Dr. Cohn and Sammel talking about "Locker Room Power":
---
Related Tennis Psychology Articles
*Subscribe to The Tennis Psychology Podcast on iTunes
*Subscribe to The Tennis Psychology Podcast on Spotify
---
Improve Your Mental Game for Tennis
Tennis Confidence 2.0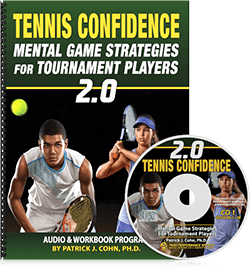 "Tennis Confidence: Mental Game Strategies for Tournament Players" is an audio and workbook program to help tennis players, coaches, and instructors improve the mental game of tennis is just 10 easy to learn sessions. Tennis Confidence: Mental Game Strategies for Tournament Players Audio and Workbook program is ideal for any junior, collegiate, and tour professional player. Tennis coaches and instructors would also be wise to teach the strategies "Tennis Confidence."
Tennis Confidence is a complete mental training program developed Peak Performance Sports. You learn the same strategies Dr. Cohn teaches his tennis players to help them improve mental toughness and consistency – from managing unrealistic expectations to coping with perfectionism.
Read more about Tennis Confidence Program>>