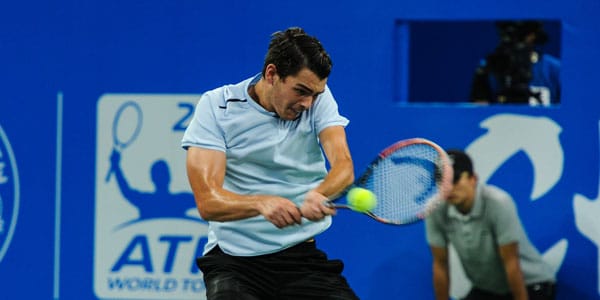 Focus on Self-Motivations for Success
What motivates you to play your best tennis? What drives you to succeed in your sport?
Obviously, you would agree that motivation is needed if you are to play your best tennis.
When you lack motivation, you will put forth less effort in practice, neglect working on your technique, let up in your matches, feel less confident, find overcoming mistakes more difficult, and focus less on improving your game.
Without motivation, walking on the tennis court seems like a waste of time
and effort.
Still, many parents wonder what they can do to help motivate their child.
One parent, who responded to our Mental Game of Tennis Survey, asked for help to keep her child motivated to work hard throughout the season.
"How can I help my child to focus on just playing tennis instead of winning trophies and awards? He gets so upset when he doesn't win a tournament that he doesn't want to practice. How can I keep my child motivated without constantly worrying about winning awards?"
Motivation can come from many sources. Some sources of motivation are better or have a longer lasting effect than others.
Trophies, awards, monetary rewards, and media acknowledgement are external sources of motivation (extrinsic motivation) that can be very rewarding for young tennis players. When your child wins an award, they will feel good and excited for the next tournament…
Unfortunately, external rewards have a downside as you have mentioned. External rewards only motivate for a short period of time. After a while, the same trophies and awards are not enough for some tennis players. When your child doesn't win a tournament trophy, motivation, confidence and enjoyment for tennis take a hit.
A better type of motivation is internal (self-motivation). Sources of self-motivation are mastering tennis skills, striving to improve and uncovering potential. Intrinsic motivation looks to answer the question, "How far can I go in the sport of tennis?"
All tennis players have their own specific combinations of motivational sources that help them maximize their tennis performance. World No.2 Rafael Nadal, the winner of 19 Grand Slam titles, is seeking to win at least one more Grand Slam title to tie rival, Roger Federer.
However, Nadal is more focused on improving and enjoying playing tennis than solely chasing down titles.
NADAL: "I can't go crazy thinking about 20th grand slam. I just try to keep my way. I just try to keep enjoying tennis. Of course, I would love to finish my career with 25[Grand Slam titles] if it's possible. But the thing I hope is to keep producing [and giving] myself the opportunity in the next couple of years."
The best way to help motivation is to move away from extrinsic sources and move towards self-motivation.
Helping Kids with Self-Motivation in Tennis
Trophies and awards help with your child's motivation but should not the primary source of motivation.
To help your child improve motivation, instead of rewarding them for each match they win, reward them for effort in practice and tournaments.
You will help your athletes improve self-motivation by helping them have more fun in tennis and play with flow. Fun and flow are both internal sources of motivation for athletes.
This means less pressure and expectations to win or perform great every match from parents!
---
Related Tennis Psychology Articles:
*Subscribe to The Tennis Psychology Podcast on iTunes
*Subscribe to The Tennis Psychology Podcast on Spotify
---
Improve Your Mental Game for Tennis
Tennis Confidence 2.0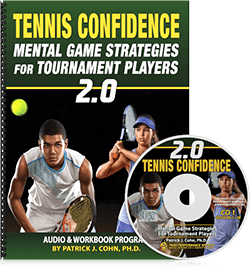 "Tennis Confidence: Mental Game Strategies for Tournament Players" is Dr. Cohn's program to help tennis players, coaches, and instructors improve the mental game of tennis is just 8 easy to learn sessions. Tennis Confidence: Mental Game Strategies for Tournament Players Audio and Workbook program is ideal for any junior, collegiate, and tour professional player. Tennis coaches and instructors would also be wise to teach the strategies in "Tennis Confidence 2.0."
Tennis Confidence is a complete mental training program developed Dr. Cohn. You learn the same strategies Dr. Cohn teaches his personal students to help them improve mental toughness and consistency – from managing unrealistic expectations to coping with perfectionism. 
Read more about Tennis Confidence Program>>