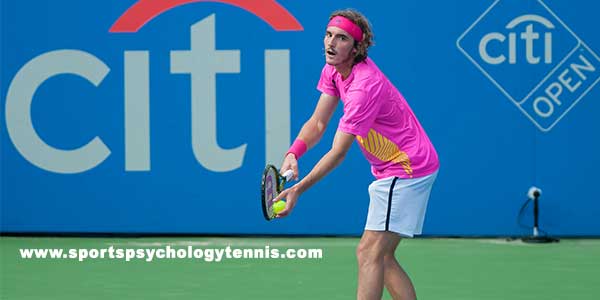 How to have a Strong Mental Game
What do you rely on most when you are in a tough match? Is it putting pace on your first serve or placement on your second serve? Is it your capacity to chase down balls to keep rallies alive? Is it a powerful forehand or backhand? Is it your conditioning?
Being physically strong and technically sound are of tremendous benefit during tough matches. But when you are tired or off your game a bit under stressful conditions, focusing on your physical may seem impossible.
That is the reason your mental game is invaluable during tough matches.
Having a strong mental game, also referred to as "mental toughness," helps you maintain confidence when your first serve is off.
Having a strong mental game helps you stay focused when you are tired with the hot sun beating down upon you.
Relying on your mental game helps you refocus after an unforced error or losing a string of points.
Using your mind allows you to keep your head in the game so you can take advantage of your strengths such as power, quickness, conditioning and technical skills.
In fact, without a strong mental game, it is impossible to rely on your physical game when you are facing pressure in tough matches.
Relying on a strong mental game is how Stefanos Tsitsipas was able to beat Rafael Nadal at the 2019 Madrid Open.
Ninth-ranked Tsitsipas was up against Nadal, who has the nickname "King of Clay", in the semifinals. In their previous meetings, Tsitsipas lost all three matches to Nadal without even winning one set.
Tsitsipas was mentally strong throughout the match breaking Nadal's serve six times and winning 6-4, 2-6, 6-3.
TSITSIPAS: "I'm really happy that I managed to keep my nerves down and fight back. Probably one of the toughest victories I've had in my life… I really liked my fighting spirit. I went on the court and I was mentally prepared for a fight."
Tsitsipas understands that physical strength is not the key to victory in tough matches. If you are not mentally prepared and mentally tough, it won't matter how skilled you are, how strong you are or how well-conditioned you are.
If you are just falling short in tough matches, it's a sign that you need to improve your mental game. If you work to develop a strong mental game, you will be able to rely on those skills when needed in tough matches.
Having a strong mental game requires trust in your skills and trust is developed through practice.
Think of it in terms of developing trust in your serve. You spend hours upon hours honing your swing, working with your coach to improve your technique and strengthening your body to generate more power. Eventually, you feel confident and comfortable enough to take advantage of that serve in matches.
Your mental game also requires practice, repetition and commitment in order to develop a level of trust that allows you to benefit from those skills in competition.
Develop Trust in Your Skills
Practice and repetition leads to muscle memory (motor memory). When you trust in your strokes, you rely on what you trained already.
Trust is playing freely and relying on your motor memory; letting go of controlling your strokes.
You must practice to improve your trust in training. Work on trusting your strokes in practice sets, points, and tie breakers in your training.
Visualization helps you trust in your strokes. Rehearse yourself playing freely, aggressively, and letting it happen during tight matches.
---
Related Tennis Psychology Articles:
*Subscribe to The Tennis Psychology Podcast on iTunes
*Subscribe to The Tennis Psychology Podcast on Spotify
---
Improve Your Mental Game for Tennis
Tennis Confidence 2.0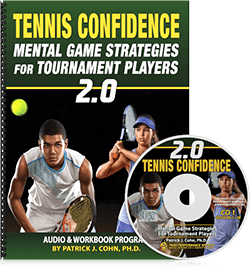 "Tennis Confidence: Mental Game Strategies for Tournament Players" is Dr. Cohn's program to help tennis players, coaches, and instructors improve the mental game of tennis is just 8 easy to learn sessions. Tennis Confidence: Mental Game Strategies for Tournament Players Audio and Workbook program is ideal for any junior, collegiate, and tour professional player. Tennis coaches and instructors would also be wise to teach the strategies in "Tennis Confidence 2.0."
Tennis Confidence is a complete mental training program developed Dr. Cohn. You learn the same strategies Dr. Cohn teaches his personal students to help them improve mental toughness and consistency – from managing unrealistic expectations to coping with perfectionism. 
Read more about Tennis Confidence Program>>