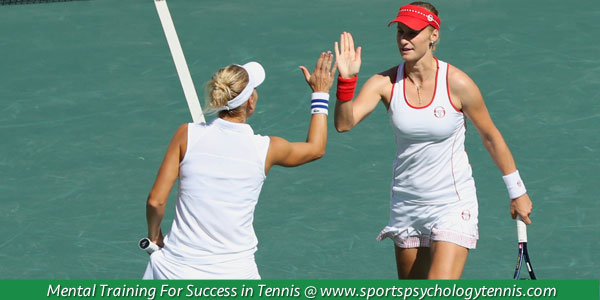 Mental Toughness to Beat Stronger Opponents
When athletes perform without expectations, they can do amazing things… Like beat the number one tennis player in the world!
In a dramatic upset this past week, No. 1 ranked Serena Williams was defeated by Roberta Vinci, ranked number 43 in the world. This defeat marked the end of Williams' pursuit of a Grand Slam, a feat only five singles tennis players have achieved.
The defeat was devastating to Serena, who had surely not expected to be defeated before the Finals.
Following her defeat, Williams denied the idea that the pressure of obtaining this elusive record had negatively impacted her play.
"I told you guys I don't feel pressure. I never felt pressure. … I never felt that pressure to win here. I said that from the beginning," Williams told reporters.
Despite her insistence that this pressure had not affected her, it seems clear that Williams' mental game was not sharp probably as a result of her high expectations.
Following her defeat, Williams' coach, Patrick Mouratoglou, spoke about the pressure she had faced and the effect it had had on her play.
"Players are humans. How many times did it happen this year where she felt like this and she still found her way through? She didn't find her way today," said Mouratoglou.
"I think she lost her way mentally. Tactically she didn't know what to do. When you make the wrong choices, you lose the points you're supposed to win and then you make more and more wrong choices. She lost her way on the path tactically."
Williams' opponent Vinci shared a similar sentiment.
"(In) my mind, I say, 'Think about this, she's nervous. So I tried to keep fighting for every single point."
Despite Serena's post-game response, her nerves were undeniable. Nervousness and anxiety in important matches is a problem that all athletes face from time to time.
Often, when the stakes are raised, athletes may succumb to the pressure we are experiencing from their personal expectations for success.
When you are the better player and expected to win, the possibility of loss can be threatening. The fear of losing can cause you to perform tentatively, and become afraid to make mistakes. Energy and attention are wasted on anxiety or frustration.
Keep in mind that anxiety or the pressure you perceive comes from within, not the situation. The pressure you feel is self-induced.
When you perceive the threat of losing, you allow yourself to be defeated by, rather than motivated by the challenge.
When under pressure to succeed, it's important to remember a few key tips that will prevent you from falling to sports anxiety.
Do not be afraid to admit your fear. In refusing to acknowledge your stress, you are unable to face and eventually overcome it.
Remember that the pressure you are feeling is self-induced. You are the only one who can change your mindset and begin to see pressure as motivation rather than a source of anxiety.
Change your perspective and look at the situation as a positive challenge rather than a threat.
---
Boost Your Self-Confidence and Focus with Expert Mental Game Coaching Tennis Mindset
Learn how to boost your mental game of tennis and develop the confidence of a champion quickly and effortlessly with tennis mental game coaching!
If you're not performing up to your potential in matches, most likely your mental game is holding you back. Are you so frustrated with your performance you feel like giving up? Does your confidence evaporate when you play in tournaments? Are you tired of working hard in practice and not getting any results in matches?
We can help you uncover the beliefs and attitudes that keep you from performing to your potential.
Complimentary 15-Minute Coaching Session
Call Us Today to Schedule Your Free 15-Minute Session.
Find Out How You Can Benefit From One-on-One Mental Coaching!
888-742-7225 | 407-909-1700
Please contact us today to learn how mental coaching works and to request pricing on all mental training programs for tennis players. Complete the form below to contact us via email or call us toll-free at 888-742-7225