Are you struggling playing in comfort zones?
In this week's tennis psychology podcast, mental game of tennis expert, Dr. Patrick Cohn speaks to Alon Khakshouri about comfort zones and pressure in tennis.
Allon is a sports entrepreneur and former manager of three world #1 tennis players, including Novak Djokovic and member of the ATP council.

Listen to the podcast to hear what Dr. Cohn suggests to do when stuck in comfort zones.
*Subscribe to The Tennis Psychology Podcast at iTunes!
Listen to the Podcast here:
Subscribe to The Tennis Psychology Podcast at iTunes!
---
Download Our Free Tennis Psychology Report!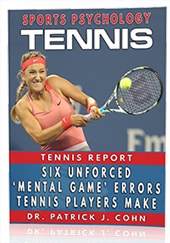 Discover if you are making one or more of these "costly" unforced mental game errors during matches!
Download our free Tennis Psychology Report:
Six Unforced 'Mental Game' Errors Tennis Players Make Between Points
You'll discover:
How your mind can be your best or worst asset on the court.
If you are using your mind effectively between points.
One strategy that can help you let of go the last point.
The top mental game skills you need to master to boost your confidence and performance between points.
Click here to download your FREE report today: Six Unforced 'Mental Game' Errors Tennis Players Make Between Points
---
Learn Proven Tennis Mental Game Strategies To Perform Your Best On The Court!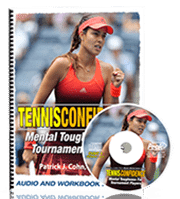 Are you (or your players) performing up to your ability in competition?
Do you bring your best and most confident game to matches?
I often hear players complain about the following problems when they play in matches…
"I get so tight or tense before matches that I can't think straight or have any rhythm in my game."
"I get so frustrated with hitting bad shots or with errors and it snowballs."
"I expect so much when I play that I unravel and lose confidence when the match does not go as planned."
"My confidence seems to disappear when I go from practice to matches and I don't know why."
Successful tennis players have learned how to perform with ultimate confidence in tournaments.
If you are ready to improve your mental toughness and perform with ultimate self-confidence in matches, Tennis Confidence: Mental Toughness For Tournament Players can help you do this!
Players: Learn how to take control of your confidence, focus your best, and win more close matches.
Parents: Help boost your junior tennis player's confidence for tournaments. Just load the program on your player's IPod!
Coaches: Boost your team's confidence using simple, proven mental strategies.
Instructors: Learn how to give your students the mental game advantage.
Use Tennis Confidence to help boost your mental toughness in tennis and discover powerful and proven mental game strategies that have helped professional athletes win!
Tennis Confidence: Mental Toughness For Tournament Players
What are mental game customers saying?
"I have really enjoyed listening to your tennis psychology podcasts on iTunes and reading your E-books. I just found your web site and I already have improved in my mental game. I played in a tennis tournament this past weekend and played with the amount of confidence I should have in myself."
~Melanie Lewis, Junior Tennis Player

"Danielle did really well with controlling her emotions during the matches today. We were very proud of her for not showing her frustrations during the match; I think that was a big accomplishment. She really looked in control of her emotions even when she double faulted or made mistakes. The changes we saw on Danielle's behavior in less than 24 hours were AWESOME! Thank you for your guidance!"
~Jennifer Alamo, Tennis Parent
---
Boost Your Self-Confidence And Focus With Expert Mental Game Coaching!
Master mental game coach Dr. Patrick Cohn can help you overcome your mental game issues with personal coaching.
You can work with Dr. Patrick Cohn himself in Orlando, Florida or via Skype, FaceTime, or telephone. Call us toll free at 888-742-7225 or contact us for more information about the different coaching programs we offer!
What are our mental coaching students saying?
"We are amazed at how much 'The Confident Athlete' program has helped my niece play her best tennis during matches. She literally made it to the farthest round of a tournament (semifinals) after finishing the CDs and workbook. We are going to do all 3 in the series."
~Jason Bourguignon, Uncle

"So far the program has been going really well! My son is doing the workbook and listening to the audio part and has been enjoying it! He has played better the past couple of weeks and he said the program is helping him focus and not get quite so frustrated."
~Tara Mariano, Sports Parent