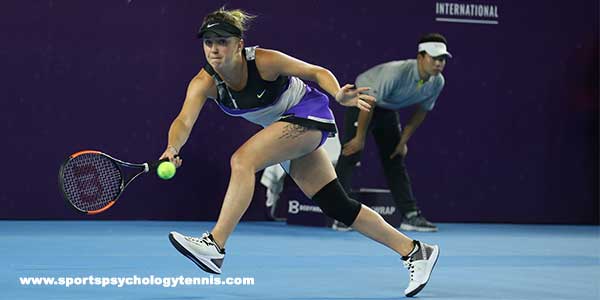 Focusing on Your Pre-Match Preparation
How many times have you played in a tournament where you were worried about who you were going to play next?
Have you ever watched and waited for the result of a match hoping that you were going to face a player that was a more favorable match up?
It is understandable that you would want to play against a player that you feel is an easy opponent to beat.
Do you see a problem with that mindset? What if you had to play the opponent you were rooting against?
You have an underlying tone that you fear you are going to lose. Feelings of uneasiness and anxiety will build throughout the time you wait for the match.
This apprehension will affect your preparation and your mental approach for the match. At that point, you have given your opponent an advantage even before the match has begun.
Playing the waiting game is what Elina Svitolina had to do after her semifinal win over Belinda Bencic at the 2019 Shiseido WTA Finals Shenzhen.
No.8 seed and defending champion Svitolina had to wait for semifinal matchup between World No.1 Ashleigh Barty and World No.2 Karolina Pliskova to see who she was going to face in the finals of the tournament.
SVITOLINA: "It doesn't matter who I'm going to play, Ashleigh or Karolina, No. 1 and No. 2 in the world, so you have to be ready, you have to fight."
For Svitolina, it doesn't matter who she plays; she is going to prepare the same way both mentally and physically.
SVITOLINA: "I have an important match tomorrow to win. For me, I try to take one match at a time. You don't have to think so much ahead, so much what's going on… It's every match from the beginning you have to be on it, have to be focused, have to be presenting your best game, your best mental conditions, physical conditions. I always like to push my limits. That's what I try to do."
You never know who you are going to play next. It is totally outside of your control, so why waste mental energy that could be spent on something you can control and something that benefits your performance…
Your PREPARATION!
Focusing on your preparation takes you out of a fear mindset. Focusing on you and your preparation minimizes anxiety.
Focusing on preparation gets you fully ready to be your best no matter who is your next opponent.
Focusing on preparation is a positive mindset that enables you to play your best tennis every time you step on the court for a competitive tennis match.
Focusing on Your Pre-Match Preparation:
Get yourself in a regular prematch routine for every tournament and every match. What will you do to physically prepare for the match?
What will you do to mentally prepare for the match?
You might: (1) Have a prepared game plan based on your opponent, Visualize executing your game plan, fuel up your confidence, remind self to take it one point at a time, and prepare to trust in your skills and swing away.
---
Learn Proven Tennis Mental Game Strategies To Perform Your Best On The Court!
Are you (or your players) performing up to your ability in competition?
Do you bring your best and most confident game to matches?
I often hear players complain about the following problems when they play in matches…
"I get so tight or tense before matches that I can't think straight or have any rhythm in my game."
"I get so frustrated with hitting bad shots or with errors and it snowballs."
"I expect so much when I play that I unravel and lose confidence when the match does not go as planned."
"My confidence seems to disappear when I go from practice to matches and I don't know why."
Successful tennis players have learned how to perform with ultimate confidence in tournaments.
If you are ready to improve your mental toughness and perform with ultimate self-confidence in matches, Tennis Confidence: Mental Toughness For Tournament Players can help you do this!
Players: Learn how to take control of your confidence, focus your best, and win more close matches.
Parents: Help boost your junior tennis player's confidence for tournaments. Just load the program on your player's IPod!
Coaches: Boost your team's confidence using simple, proven mental strategies.
Instructors: Learn how to give your students the mental game advantage.
Use Tennis Confidence to help boost your mental toughness in tennis and discover powerful and proven mental game strategies that have helped professional athletes win!
Tennis Confidence: Mental Toughness For Tournament Players
---
Download Our Free Tennis Psychology Report!

Discover if you are making one or more of these "costly" unforced mental game errors during matches!
Download our free Tennis Psychology Report:
Six Unforced 'Mental Game' Errors Tennis Players Make Between Points
You'll discover:
How your mind can be your best or worst asset on the court.
If you are using your mind effectively between points.
One strategy that can help you let of go the last point.
The top mental game skills you need to master to boost your confidence and performance between points.
Click here to download your FREE report today: Six Unforced 'Mental Game' Errors Tennis Players Make Between Points