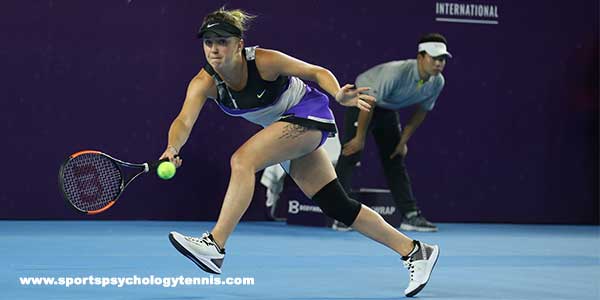 Focusing on Your Pre-Match Preparation
How many times have you played in a tournament where you were worried about who you were going to play next?
Have you ever watched and waited for the result of a match hoping that you were going to face a player that was a more favorable match up?
It is understandable that you would want to play against a player that you feel is an easy opponent to beat.
Do you see a problem with that mindset? What if you had to play the opponent you were rooting against?
You have an underlying tone that you fear you are going to lose. Feelings of uneasiness and anxiety will build throughout the time you wait for the match.
This apprehension will affect your preparation and your mental approach for the match. At that point, you have given your opponent an advantage even before the match has begun.
Playing the waiting game is what Elina Svitolina had to do after her semifinal win over Belinda Bencic at the 2019 Shiseido WTA Finals Shenzhen.
No.8 seed and defending champion Svitolina had to wait for semifinal matchup between World No.1 Ashleigh Barty and World No.2 Karolina Pliskova to see who she was going to face in the finals of the tournament.
SVITOLINA: "It doesn't matter who I'm going to play, Ashleigh or Karolina, No. 1 and No. 2 in the world, so you have to be ready, you have to fight."
For Svitolina, it doesn't matter who she plays; she is going to prepare the same way both mentally and physically.
SVITOLINA: "I have an important match tomorrow to win. For me, I try to take one match at a time. You don't have to think so much ahead, so much what's going on… It's every match from the beginning you have to be on it, have to be focused, have to be presenting your best game, your best mental conditions, physical conditions. I always like to push my limits. That's what I try to do."
You never know who you are going to play next. It is totally outside of your control, so why waste mental energy that could be spent on something you can control and something that benefits your performance…
Your PREPARATION!
Focusing on your preparation takes you out of a fear mindset. Focusing on you and your preparation minimizes anxiety.
Focusing on preparation gets you fully ready to be your best no matter who is your next opponent.
Focusing on preparation is a positive mindset that enables you to play your best tennis every time you step on the court for a competitive tennis match.
Focusing on Your Pre-Match Preparation:
Get yourself in a regular prematch routine for every tournament and every match. What will you do to physically prepare for the match?
What will you do to mentally prepare for the match?
You might: (1) Have a prepared game plan based on your opponent, Visualize executing your game plan, fuel up your confidence, remind self to take it one point at a time, and prepare to trust in your skills and swing away.
---
Related Tennis Psychology Articles:
*Subscribe to The Tennis Psychology Podcast on iTunes
*Subscribe to The Tennis Psychology Podcast on Spotify
---
Improve Your Mental Game for Tennis
Tennis Confidence 2.0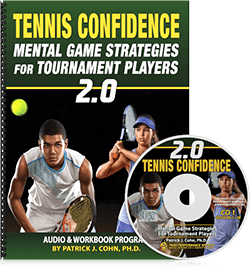 "Tennis Confidence: Mental Game Strategies for Tournament Players" is Dr. Cohn's program to help tennis players, coaches, and instructors improve the mental game of tennis is just 8 easy to learn sessions. Tennis Confidence: Mental Game Strategies for Tournament Players Audio and Workbook program is ideal for any junior, collegiate, and tour professional player. Tennis coaches and instructors would also be wise to teach the strategies in "Tennis Confidence 2.0."
Tennis Confidence is a complete mental training program developed Dr. Cohn. You learn the same strategies Dr. Cohn teaches his personal students to help them improve mental toughness and consistency – from managing unrealistic expectations to coping with perfectionism. 
Read more about Tennis Confidence Program>>