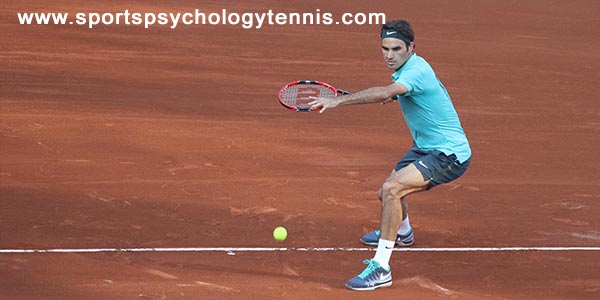 Expect the Unexpected in Tennis
"Unknown," "Uncomfortable," "Unusual," "Unfamiliar," "Unexpected"
Do any of these terms describe what you experienced in a tennis match that might undermine your mindset for playing great tennis?
The unknown, uncomfortable, unusual, unfamiliar, and unexpected are the five biggest distractions that can generate anxiety and hurt your performance in tennis matches.
In our mental game of tennis survey, one player identified the 'unfamiliar' as the one distraction that causes the most amount of trouble:
"Unfamiliar courts, the wind, dumb variables like time of day the match occurs — these mess with my mind and make me tense up and lose."
Unknown, uncomfortable, unusual, unfamiliar and unexpected are internal distractions and, if you are not prepared, can send distract you from focusing on what's important.
For instance, you had a great week of practices and the serve you have been working on is finally clicking as you ready yourself to play in a new tournament five hours from your home.
Your family decides to leave a day early and stay at a hotel. After you arrive at the hotel, an unpredictable heavy rain hits the town.
The tournament director posted that the tournament would be delayed for 2 hours due to the rain. You already felt a bit uncomfortable sleeping in the hotel and now the unexpected weather and unknown start time is making you feel a bit anxious.
After a rough night of tossing and turning, you arrive at the unfamiliar competition site, wondering about your first round opponent.
To make matters worse, it's a little bit chilly and windy; conditions that have always thrown off your game. All these variables have your mind reeling, leaving you to feeling tense and ANXIOUS!
Internal distractions, such as unfamiliar courts, winds and the starting time of a match we refer to as UNCONTROLLABLES and over thinking these uncontrollable factors will hurt your performance.
When you try to control a variable that you have no control over, you are wasting time, energy and focus.
Instead of trying to focus on uncontrollable factors "that mess with your mind and make you tense up and lose", focus on what you can control, such as your mindset, preparation, and game plan.
Strategies to Focus on What's Important
Arrive to the competition site early and do a walk-through. This simple strategy can help familiarize yourself with the locker rooms, courts, spectator seating, etc.
Adjust your game plan according to weather and court conditions. For example, on a cold day, the ball will be less "bouncy", so you will need to adjust your shots.
Practice under various adverse conditions. For example, the previous strategy highlighted the effects of cold on a ball. Try throwing a few balls in the refrigerator prior to practice so you simulate playing with a ball in cold conditions.
The lesson is to focus on what you can do to feel prepared when you play a match… and that's where mental training comes into play.
Mental training can help you respond to the unknown or unexpected with confidence and composure instead of doubt and panic.
Remind yourself to focus on what's important when you step on the court. Your tactics, seeing the ball, and separating each point from another are what's important, not the unfamiliar and other external distractions.
---
Related Tennis Psychology Articles:
*Subscribe to The Tennis Psychology Podcast on iTunes
*Subscribe to The Tennis Psychology Podcast on Spotify
---
Improve Your Mental Game for Tennis
Tennis Confidence 2.0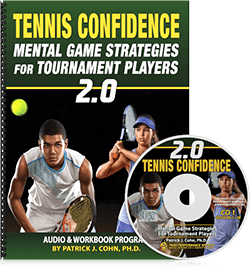 "Tennis Confidence: Mental Game Strategies for Tournament Players" is Dr. Cohn's program to help tennis players, coaches, and instructors improve the mental game of tennis is just 8 easy to learn sessions. Tennis Confidence: Mental Game Strategies for Tournament Players Audio and Workbook program is ideal for any junior, collegiate, and tour professional player. Tennis coaches and instructors would also be wise to teach the strategies in "Tennis Confidence 2.0."
Tennis Confidence is a complete mental training program developed Dr. Cohn. You learn the same strategies Dr. Cohn teaches his personal students to help them improve mental toughness and consistency – from managing unrealistic expectations to coping with perfectionism. 
Read more about Tennis Confidence Program>>