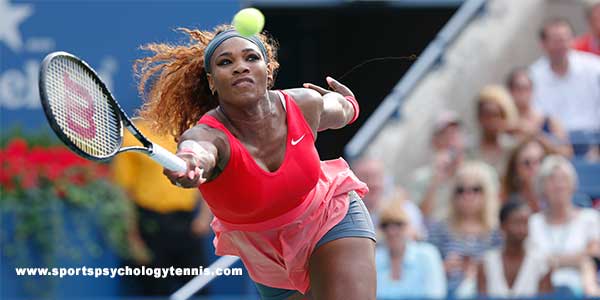 Cori Gauff Copes with Pressure at Wimdbleon
15-year-old tennis star Cori Gauff is making major headlines after defeating Venus Williams in the first round of Wimbledon.
Gauff was ranked 313th in the world before being given the wild card entry to the qualifying tournament. Now now she's making sure the Wimbledon organizers know they made the right decision to give her the opportunity to play.
She became the youngest woman to qualify for Wimbledon in the open era after sweeping through all three of her qualifying matches in straight sets.
After drawing Venus Williams as her first-round opponent, Gauff knew that she would have to be in the right frame of mind for the match.
Playing idols can be intimidating for most tennis players, but she treated her opponent as just another opponent. "On the court, I was not thinking about Venus," Gauff said. "I was just playing my game. No matter who I play against, I want to win. So that's what I was just thinking about the whole time. I wasn't really thinking about who I was facing on the other side of the net."
Being the youngest ever Wimbledon qualifier and playing against one of her idols could cause a lot of mental havok for any player, yet alone 15-year-old Cori Gauff. Pressure is something Gauff has struggled with in the past when losing to Amanda Anisimova at the Junior U.S.
After losing to Anisimova, Gauff's dad, Corey, (a former Georgia State University basketball player) said that they've worked hard on normalizing big moments. Normalizing means getting used to playing under pressure.
Candi Gauff (Cori's mother) told Cori: "Don't make things bigger than they are, pretend you're at your home park having a match with your hitting partner." Past experiences like these helped Gauff learn how to control her emotions and not put too much pressure on herself.
Before the match Gauff reminded herself to stay calm despite the "big stage" she would be playing on and her impressive opponent.
Gauff: "I definitely had to tell myself to stay calm. I have never played on a court so big, but I had to remind myself that the lines on the court are the same size, everything around it might be bigger, but the lines are the same and after every point I was just telling myself to stay calm."
This thought process highlights Gauff's mental game—through experience of playing at other major events (U.S. Open and French Open) as she was able to stay focused on her game, relaxed and confident in her own skills.
Patrick Mouratoglou is championing for younger athletes to have the ability to play in more matches since the WTA has limited the number of tournaments teenagers can play.
Mouratoglou: "The learning experience of a match, there's nothing that can replace that. Of course it's very difficult when you're not allowed to play as much as you need to, to gain experience. The pressure: You don't have the right to mess up one match, because you have so few."
It will be fun to watch her journey as she compete on the big stage. Will she be able to normalize the pressure if she plays other idols at Wimbledon.
---
Related Tennis Psychology Articles:
*Subscribe to The Tennis Psychology Podcast on iTunes
*Subscribe to The Tennis Psychology Podcast on Spotify
---
Improve Your Mental Game for Tennis
Tennis Confidence 2.0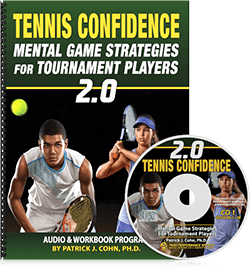 "Tennis Confidence: Mental Game Strategies for Tournament Players" is Dr. Cohn's program to help tennis players, coaches, and instructors improve the mental game of tennis is just 8 easy to learn sessions. Tennis Confidence: Mental Game Strategies for Tournament Players Audio and Workbook program is ideal for any junior, collegiate, and tour professional player. Tennis coaches and instructors would also be wise to teach the strategies in "Tennis Confidence 2.0."
Tennis Confidence is a complete mental training program developed Dr. Cohn. You learn the same strategies Dr. Cohn teaches his personal students to help them improve mental toughness and consistency – from managing unrealistic expectations to coping with perfectionism. 
Read more about Tennis Confidence Program>>