Mental Skills to Improve On-Court Behavior in Tennis
In "Sports Psychology Sessions with Doc," Dr. Patrick Cohn answers a question from a sports parent who doesn't know what to do with her 10 year old tennis player when he gets upset on the tennis court.
Visit Sports Psychology for Athletes at Peaksports.com and click on contact us to submit your mental game question for Dr. Cohn to answer in his mental game videocast or podcast.
Do you have a young tennis player that tends to either give up, tank or get really upset emotionally because they're playing a tough opponent or losing?
Here's the topic Dr. Patrick Cohn discusses this week:
How can you help your young tennis player stay composed on the tennis court?
Suzy wrote in and said:
"My 10 year old son plays tennis four times a week at his club. However, when he's in a tournament, a bad shot, tough opponent and a double fault will literally have him crying his way through the match.He shouts at himself and his negativity is unbearable to watch as a parent. I need help, I don't know how to help him anymore."
This is the #1 complaint that we get from sports parents about how kids tend to act out, check out, tank, get emotionally upset and frustrated and then their performance snowballs out of control because they can't regain emotional control.
One of the worst things you can do as a parent is bring attention to their frustration and punish them for it.
Why?
They only learn that the behavior is wrong but not the skills to improve that behavior.
What can you do as a sports parent to give them the skills to stay composed?
Watch the video to see what mental game tips Dr. Cohn gives to sports parents to help their young athletes deal with their frustration.
---
Related Tennis Psychology Articles:
*Subscribe to The Tennis Psychology Podcast on iTunes
*Subscribe to The Tennis Psychology Podcast on Spotify
---
Improve Your Mental Game for Tennis
Tennis Confidence 2.0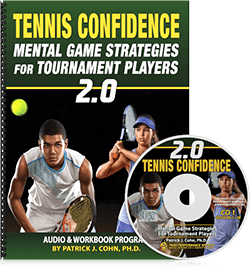 "Tennis Confidence: Mental Game Strategies for Tournament Players" is Dr. Cohn's program to help tennis players, coaches, and instructors improve the mental game of tennis is just 8 easy to learn sessions. Tennis Confidence: Mental Game Strategies for Tournament Players Audio and Workbook program is ideal for any junior, collegiate, and tour professional player. Tennis coaches and instructors would also be wise to teach the strategies in "Tennis Confidence 2.0."
Tennis Confidence is a complete mental training program developed Dr. Cohn. You learn the same strategies Dr. Cohn teaches his personal students to help them improve mental toughness and consistency – from managing unrealistic expectations to coping with perfectionism. 
Read more about Tennis Confidence Program>>