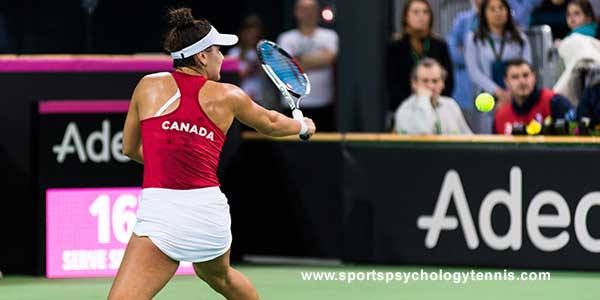 Playing to Win or Playing Not To Lose
Is there really a difference?
Ultimately, both mindsets are focused on the same thing, right?
The underlying theme may be to win but each mindset focuses on entirely different strategies.
Playing to win leads to many more victories than playing not to lose.
On the other hand, it is practically impossible to win when you are focused on trying not to lose.
How is that even possible?
In our tennis survey, a tennis player identifies the underlying issue as she seeks out how to develop the best mindset to earn more victories:
"How do I play aggressively and smart and not play tentative because I don't want to lose?"
You really get at the heart of the issue and identify the effect of each mindset. The "Playing Not to Lose" is a mindset based on fear. You try to avoid missing and making mistakes.
As you identified, playing not to lose causes you to play tentative and not take risks. Here, you react to what your opponent does instead of dictating play on the court.
The "Playing Not to Lose" mindset puts your opponent in the driver's seat and gives them the edge in the match.
The "Playing to Win" mindset is solely focused on one point and that is the current point. You may recall many players, coaches and mental coaches refer to this mindset as go-for-it mindset.
By freeing your mind to just play, you think about your strategy for each point. You earn more victories when you are able to play freely and aggressively in the moment.
How do Tour player incorporate a Playing to Win Mindset in competitive matches?
At the 2020 Australian Open, No. 67 Coco Gauff talked about how she focuses on playing to win.
GAUFF: "I think in general my mindset has always been nothing to lose really. Even when I was in juniors, even though I was ranked pretty high and I was technically supposed to win, I still felt like I had nothing to lose. I still feel that now. I think my mindset just is I'm going to fight. If I lose, the world is not going to end. I'm going to have another match in maybe a week or so. I think it's just less pressure to win. I feel like for me, I'm not trying to win so much but trying to play my best tennis on the court. Winning comes with that if I play good."
You can deal with the pressure if you don't focus on winning or losing.
You really have nothing to lose. Losing is nothing to worry about. No player in tennis has been undefeated throughout their career. If you focus on not losing, then losing is a foregone conclusion.
How do you play to win?
First, stop stressing about the outcome. Focusing on the process will bring the win.
Second, have a strategy or a game plan based on your strengths as a player. Do you need to be in control of the points to play well?
Third, you must hit out on the ball from the start of the match. This means that you can't guide or push your shots. Swing freely and trust your strokes–even if you miss.
---
Related Tennis Psychology Articles:
*Subscribe to The Tennis Psychology Podcast on iTunes
*Subscribe to The Tennis Psychology Podcast on Spotify
---
Improve Your Mental Game for Tennis
Tennis Confidence 2.0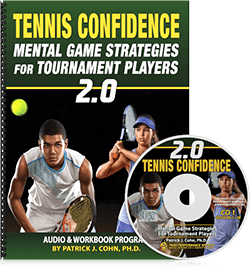 "Tennis Confidence: Mental Game Strategies for Tournament Players" is Dr. Cohn's program to help tennis players, coaches, and instructors improve the mental game of tennis is just 8 easy to learn sessions. Tennis Confidence: Mental Game Strategies for Tournament Players Audio and Workbook program is ideal for any junior, collegiate, and tour professional player. Tennis coaches and instructors would also be wise to teach the strategies in "Tennis Confidence 2.0."
Tennis Confidence is a complete mental training program developed Dr. Cohn. You learn the same strategies Dr. Cohn teaches his personal students to help them improve mental toughness and consistency – from managing unrealistic expectations to coping with perfectionism. 
Read more about Tennis Confidence Program>>