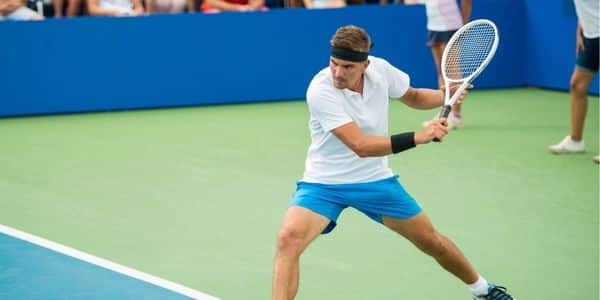 How Pro Players Develop Self-Confidence
Confidence is a necessary element of peak performance in tennis. Without some level of confidence, you will constantly fall short of your aspirations and goals.
"Somewhat" confident can help you climb upward and win some more matches but "high" confidence can launch you even higher.
High confidence is a steadfast belief that you have the ability, can learn the necessary (technical and mental) skills and will overcome obstacles to succeed in a broad range of circumstances.
High confidence can take you from being a good tennis player and make you a great tennis player.
High confidence is the defining characteristic of the 2020 Australian Open champion, 21-year-old Sofia Kenin.
Kenin won her first Grand Slam title by rallying from a set down to defeat former World No. 1 Garbiñe Muguruza 4-6, 6-2, 6-2. The victory earned Kenin the honor of becoming the youngest American woman to win a major tournament since Serena Williams in 1999.
In a post tournament press conference, Kenin was asked: "You play on the court with a lot of self-belief and confidence. Where did that come from? When was the last time you felt doubt?"
Kenin answered in emphatic fashion talking about her high confidence.
KENIN: "I've always had that. I knew I needed to establish myself to get to where I am. All the confidence has come with all the matches that I've had, the success I've had in 2019. WTA Most Improved Player of the Year, so… FYI."
What an answer! When Kenin added , "FYI", she was saying, "Why wouldn't I be confident? Of course, I am confident and here are the reasons…"
As the interview progressed, Kenin alluded to certain circumstances that helped her play with high confidence.
When Kenin lost the first set, she made the conscious decision to be aggressive, "I knew I had to take my chance. I had to be brave." Kenin sees things "falling into place" and not "falling apart".
When asked how she handled the pressure of playing on the big stage, Kenin responded, "Well, I've played in big stadiums… I love the big stages. That's where I'm playing."
Kenin was asked if she was nervous before the match, "I was nervous before. I've been nervous every match."
Kenin let go of her mistakes and rough start, "I knew I needed to put that aside and just go out there, play, show the best I am, show my abilities, some great tennis."
Kenin responded to a question asking if she ever believed her short stature would hold back, "No, I didn't think anything about my height… Size doesn't matter at this point. You can play at this level. You can make incredible things happen. So size doesn't really matter. Just matters how tough you are and mental toughness."
Kenin's responses are characteristic of a player with high confidence. Instead of making a case against herself, Kenin made a case for herself. For every argument that could go against her, Kenin found evidence to counter those negative statements.
Let's apply this to your game. What self-statements are holding you back?
What thoughts are detracting from your ability to play with high confidence?
"I'm not tall enough."
"My first serve doesn't have enough pace."
"I am not very quick."
"I always choke when I have the lead."
"I have never won a tournament"
Obviously, you can see how these negative self-statements can detract from your confidence. Even if you are somewhat confident heading into a tournament, a few bad serves or unforced errors could cause your confidence to drop enough to lose a match that you could have easily have won.
Building a case for yourself is a proactive strategy that elevates confidence. You want to work on positive self-labels, not negative self-labels, such as I'm a choker.
When you continue to build a case for yourself, you are engaging in building confidence every day.
Building High Tennis Confidence
Take the negative labels that keep you stuck and hurt confidence and find three pieces of evidence as a counter-argument.
For example, "I can't hit my first serve with enough pace" can be countered with:
"My first serve has improved so much over the past year."
"I have good placement on my serve."
"With a bit more training I can build my strength and add pace on my serve."
Therefore, building a case for yourself not only builds confidence, it builds high confidence that you can rely on in tough matches.
---
Related Tennis Psychology Articles:
*Subscribe to The Tennis Psychology Podcast on iTunes
*Subscribe to The Tennis Psychology Podcast on Spotify
---
Improve Your Mental Game for Tennis
Tennis Confidence 2.0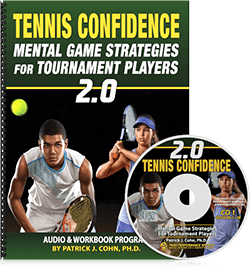 "Tennis Confidence: Mental Game Strategies for Tournament Players" is Dr. Cohn's program to help tennis players, coaches, and instructors improve the mental game of tennis is just 8 easy to learn sessions. Tennis Confidence: Mental Game Strategies for Tournament Players Audio and Workbook program is ideal for any junior, collegiate, and tour professional player. Tennis coaches and instructors would also be wise to teach the strategies in "Tennis Confidence 2.0."
Tennis Confidence is a complete mental training program developed Dr. Cohn. You learn the same strategies Dr. Cohn teaches his personal students to help them improve mental toughness and consistency – from managing unrealistic expectations to coping with perfectionism. 
Read more about Tennis Confidence Program>>