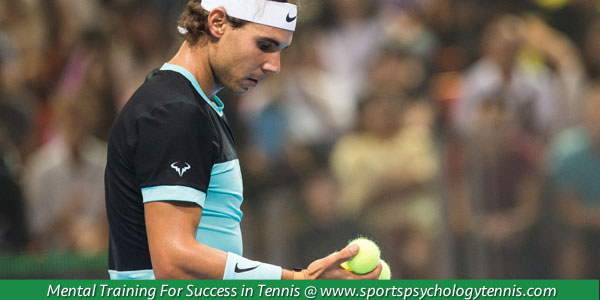 Staying Composed After Mistakes in a Match
How do you react when you're down in a match? Do you try harder, tighten up and try to avoid making mistakes?
Do you get frustrated and try to end the point as quick as you can by trying to hit a winner on every shot? Or do you give up, tank the match, and want the match to be over–fast?
If you said yes, you must learn how to comeback after losing a game or set and fight to win the match. Let's examine a resent example at the French Open…
Jurgen Melzer is one of those players who can mount a comeback. Melzer upset number 3 seed Novak Djokovic in the quarterfinals of the French Open. He was down two sets and 2-0 in the third before he started to change the momentum in the match. Melzer went on to win the match 3-6, 2-6, 6-2, 7-6 (3), 6-4.
When he was down two sets and 2-0 in the third, Melzer commented on how he was able to stay in the match mentally.
"I changed the match. Well, the only thing I told myself, It's my first quarterfinals in my life in a Grand Slam. Just don't go away. Just don't make it easy for him. Fight as much as you can, and I was I wasn't playing so bad. I just missed a lot of easy shots when I had the chance and the opportunity to finish the point. And after that, I mean, I got back in, and at 2 All in the third it was an open match," said Melzer.
"Well, at the end, it's just like getting to another chance and just believing you're gonna win. I think all those break points I played good points. I came in and won. And then at the end, it's just a battle. You just I mean, of course we were both tired and everything hurt. I just got through."
Melzer also believed that he could win the match. When asked what keeps him going, he said:
"That I'm a good tennis player. It was just a few links here and there were missing. As long as you believe in yourself I had enough as I said earlier, I have enough game or I had enough game all the time. I played good matches.
It's just the more matches you win on a high level, the more confidence you get. For me, it was never a question of talent. It was more in the head."
Do you lose confidence when you are down or enjoy the battle of making a comeback?
First, you have to believe you can't win a tight match or comeback when down early, so you don't tank the match and give up. You will learn to win more matches when you can enjoy the battle instead of be frustrated with losing. You must embrace these moments when you can, which will make you a better player.
Your Tennis Psychology Tip For Today
Love the challenge of coming from behind. Stay confident in your ability to make a comeback instead of tanking the match.
---
Boost Your Self-Confidence and Focus with Expert Mental Game Coaching Tennis Mindset
Learn how to boost your mental game of tennis and develop the confidence of a champion quickly and effortlessly with tennis mental game coaching!
If you're not performing up to your potential in matches, most likely your mental game is holding you back. Are you so frustrated with your performance you feel like giving up? Does your confidence evaporate when you play in tournaments? Are you tired of working hard in practice and not getting any results in matches?
We can help you uncover the beliefs and attitudes that keep you from performing to your potential.
Complimentary 15-Minute Coaching Session
Call Us Today to Schedule Your Free 15-Minute Session.
Find Out How You Can Benefit From One-on-One Mental Coaching!
888-742-7225 | 407-909-1700
Please contact us today to learn how mental coaching works and to request pricing on all mental training programs for tennis players. Complete the form below to contact us via email or call us toll-free at 888-742-7225