Tennis Podcast Interviews With Dr. Cohn
Kevin McClure, Director of Tennis at Sport Fit recently interviewed me on the Tennis Podcast Show.
Kevin and I discussed a wide range of tennis psychology topics and the importance mental toughness in tennis.
Coach Keven asked some excellent tennis psychology questions about how I teach the mental game of tennis to my students and my own daughter.
He asked an interesting question about how I, as a mental game expert, interact with my daughter's tennis coach.
We also discussed how academy players or instructors focus too much on the mechanics of the game and do not balance this with learning how to play the game. Most academy tennis players can hit the ball great becasue that's what coaches focus their time on, but they can't play matches well because of the lack of playing experience.
You can listen to the interview by Kevin with myself by visiting the site link below. You'll be able to download the MP3 at The Tennis Podcast website:
The Tennis Podcast Interview with Dr. Cohn
---
Learn Proven Mental Game Strategies To Perform Your Best On The Court!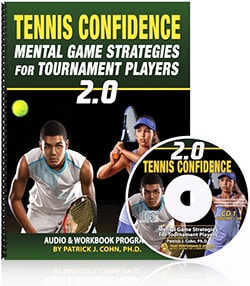 Are you (or your players) performing up to your ability in competition?
Do you bring your best and most confident game to matches?
Successful tennis players have learned how to perform with ultimate confidence in tournaments.
If you are ready to improve your mental toughness and perform with ultimate self-confidence in matches, Tennis Confidence: Mental Toughness For Tournament Players can help you do this!
Use Tennis Confidence to help boost your mental toughness in tennis and discover powerful and proven mental game strategies that have helped professional athletes win!
Tennis Confidence: Mental Toughness For Tournament Players
What are mental game customers saying?
"We are amazed at how much 'The Confident Athlete' program has helped my niece play her best tennis during matches. She literally made it to the farthest round of a tournament (semifinals) after finishing the CDs/workbook. We are going to do all five in the series."
~Jason Bourguignon, Uncle
---
Download Our Free Tennis Psychology Report!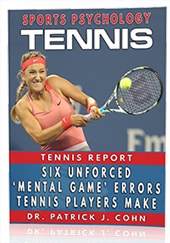 Discover if you are making one or more of these "costly" unforced mental game errors during matches!
Download our free Tennis Psychology Report:
Six Unforced 'Mental Game' Errors Tennis Players Make Between Points
You'll discover:
How your mind can be your best or worst asset on the court.
If you are using your mind effectively between points.
One strategy that can help you let of go the last point.
The top mental game skills you need to master to boost your confidence and performance between points.
Click here to download your FREE report today: Six Unforced 'Mental Game' Errors Tennis Players Make Between Points
What are tennis players saying?
"Dr. Cohn, one of my goals is to become a world-class-coach, There are a few coaches from the US who inspired me the most-John Wooden, Son Shula, and Pat Riley. After working with you, I now also list your name among the most influential coaches in my field!"
~Franz