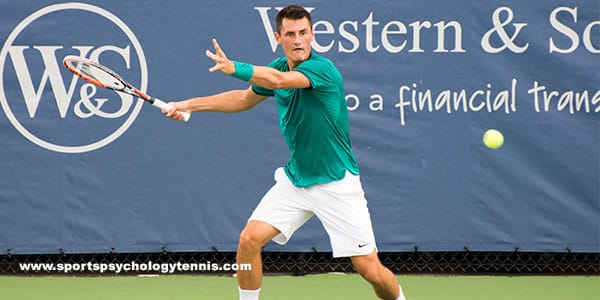 How to Improve your Tennis Game
Are you currently in a performance rut? Do you feel stuck at the same level and can't seem to get over the hump?
Are you searching for a way to improve your game but nothing seems to work?
You are not alone! Many tennis players search for a way to break out of their rut and advance their game.
Why is it that so many tennis players find it difficult to improve or raise their game to the next level?
First, let's examine the issue of improvement. See if you can identify with any of the following statements in regards to ways you have tried to raise your game to a higher level:
You have hired a private coach to work on technical aspects of your game.
You have sought out a more competitive club to practice with better players.
You go to a nutritionist to improve your diet.
You attend tennis camps and clinics to work on your game.
You pay for personal training sessions in an attempt to improve your conditioning, strength, flexibility, reaction time or power output.
Almost every tennis player has tried at least one of these methods and yet many have not seen significant results.
The question again is why, after soliciting the help from so many specialists, do some players fail to see improvement?
The answer is that many tennis players are looking for the "quick fix."
Just because you work with a private coach doesn't mean you focus on those skills consistently in practice…
Working with a personal trainer doesn't ensure that you are pushing to your max in those sessions… Seeing a nutritionist doesn't guarantee that you will make healthier dietary choices.
Improvement starts and ends with YOU. If you are not giving full effort and focus or not applying those strategies and methods in practices and matches, then additional training and education is useless.
One tennis player really drives home this point and that is Bernard Tomic…
Tomic has had his share of ups and downs in the sport of tennis. Nonetheless, Tomic is seeking to raise his game and, hopefully, win his first Grand Slam tournament in the near future.
Despite two years of lackluster play, Tomic believes he can raise his game and enjoy greater success in the future but he knows it all starts with him.
TOMIC: "[I] can get good coaches and this is no problem for me but I don't think I really want it… the years I was in the top 20, I was with one of my friends that's not even a coach. He was helping me for the year, and I got there. It was all myself that pushed to succeed and to play well [those] years."
This does not mean you shouldn't put together a strong team of resources around you. What it means those resources will help little if you don't take responsibility for improving your game!
Commit to Improving your Game:
Improving your tennis game requires that you take over the reins and full responsibility for your performance.
Start by assessing what areas need to improve or what resources are missing in your game:
–Fitness
–Agility
–Flexibility
–Nutrition
–Mental Game
–Tactics
–Equipment
–Specialized coaching
Commit to improving the areas you are missing in your tennis improvement…
Next, create small, attainable goals for each area you want to improve.
Make sure your goals are specific, measurable, and have a time-line for achievement: "In the next 6 weeks, I'll improve my speed in __ by X number."
Remind yourself every day of your new goal improvement plan by reading them each morning or before practice.
---
Learn Proven Tennis Mental Game Strategies To Perform Your Best On The Court!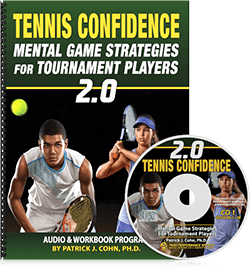 Are you (or your players) performing up to your ability in competition?
Do you bring your best and most confident game to matches?
I often hear players complain about the following problems when they play in matches…
"I get so tight or tense before matches that I can't think straight or have any rhythm in my game."
"I get so frustrated with hitting bad shots or with errors and it snowballs."
"I expect so much when I play that I unravel and lose confidence when the match does not go as planned."
"My confidence seems to disappear when I go from practice to matches and I don't know why."
Successful tennis players have learned how to perform with ultimate confidence in tournaments.
If you are ready to improve your mental toughness and perform with ultimate self-confidence in matches, Tennis Confidence: Mental Toughness For Tournament Players can help you do this!
Players: Learn how to take control of your confidence, focus your best, and win more close matches.
Parents: Help boost your junior tennis player's confidence for tournaments. Just load the program on your player's IPod!
Coaches: Boost your team's confidence using simple, proven mental strategies.
Instructors: Learn how to give your students the mental game advantage.
Use Tennis Confidence to help boost your mental toughness in tennis and discover powerful and proven mental game strategies that have helped professional athletes win!
Tennis Confidence: Mental Toughness For Tournament Players
What are mental game customers saying?
"Dr. Cohn did a great job working with my son Joe on his mental skills for tennis. He taught him the mental skills and discipline necessary to move to the next level."
~Mike Withers, dad of Joe Withers
"Since you last worked with AJ in early September, his National ranking has improved from 349 to 148. His tournament record at one point, since talking with you was 17-4, with 3 of the 4 being in third sets or tiebreakers and 2 of those matches being the same player, whom he has since beaten (you may recall he was on an 0-9 losing streak when we contacted you). His tie-breaker record is at least 90% through last weekend when he won the 18s District tournament with a semi and final match tiebreak win. Your help has definitely improved AJ's results and his on-court demeanor has substantially improved."
~Dawn Woodman, A.J.'s Mother
Disclaimer
*Testimonials found on this site are examples of what we have done for other clients, and what some of our clients have said about us. However, we cannot guarantee the results in any case. Your results may vary and every situation is different. No compensation was provided for these testimonials.