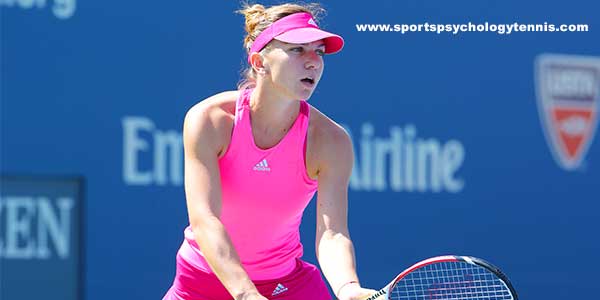 How to Beat Idols in Tennis
How do you win a "best of 3" match in tennis? That seems like a relatively easy answer… win two sets.
While, ultimately, that is true, there is much more to it.
There is a huge problem with the "I-have-to-win-two-sets" mindset. This mindset creates self-generated obstacles, such as, pressure, distraction and anxiety.
When tennis players have the "I-have-to-win-two-sets" mindset, the entire match takes on a life-or-death feel and every point takes on an extreme amount of importance. Players carry missed opportunities into the next point.
This is the reason many tennis players get bumped out of tournaments early, lose to lower ranked opponents, or just under-perform.
So, back to the original question… How do you win a "best of 3" match in tennis?
Well, it's not a set at a time but one point at a time… But, if you break it down even further, it's one shot at a time.
This mindset is one in which you place full effort and focus into winning the small battles or challenges in the moment. Winning small battles leads to winning the war.
That is the exact mindset that Simona Halep brought to the 2019 Wimbledon Final against Serena Williams.
Halep was totally focused on winning every small battle as she went on to dominate Williams 6-2, 6-2 en route to winning her second Grand Slam title of her career.
Halep never let up. Halep kept her foot on the gas and won in only 56 minutes. Halep was the epitome of focus and was immersed in the moment for the entire match.
In fact, Halep made a mere three unforced errors in the match, which is mentally and physically impressive.
HALEP: "I knew that I have to be aggressive, being 100% for every ball, that I don't have to let her come back to the match because [Williams is] so powerful and so strong. She knows how to manage every moment. So I knew that I have to stay there, which I did pretty well today."
In her post-match interview, Halep talked about how she was able to "shut off her mind and let her body take over."
HALEP: "Today I decided before the match that I'm going to focus on myself and on the final of Grand Slam, not on [Williams]. That's why I was able to play my best, to be relaxed, and to be able to be positive and confident against [Williams]."
As you see, laser focus is not passive; it is not something that happens to you. Having a laser focus is a choice that starts before the match begins.
By improving and choosing your competitive focus, you can quiet your mind and allow your body to do what you trained it to do.
Mental Keys to Halep's Success:
Developing a laser focus when you step on the court. Avoiding focusing on your opponent's abilities and past success. Forget about UTR and ranking of your opponent.
Decide on the best strategy to play your opponent. Be sure to have a backup if plan A is not working.
Trust in your strokes that day–use what you have instead of try to be more perfect than what you do in practice.
This means playing athletically by shutting off "SELF 1" – your conscious mind that wants to direct every move you make and over coach under pressure.
---
Learn Proven Tennis Mental Game Strategies To Perform Your Best On The Court!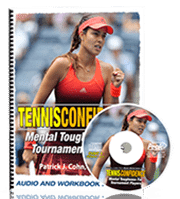 Are you (or your players) performing up to your ability in competition?
Do you bring your best and most confident game to matches?
I often hear players complain about the following problems when they play in matches…
"I get so tight or tense before matches that I can't think straight or have any rhythm in my game."
"I get so frustrated with hitting bad shots or with errors and it snowballs."
"I expect so much when I play that I unravel and lose confidence when the match does not go as planned."
"My confidence seems to disappear when I go from practice to matches and I don't know why."
Successful tennis players have learned how to perform with ultimate confidence in tournaments.
If you are ready to improve your mental toughness and perform with ultimate self-confidence in matches, Tennis Confidence: Mental Toughness For Tournament Players can help you do this!
Players: Learn how to take control of your confidence, focus your best, and win more close matches.
Parents: Help boost your junior tennis player's confidence for tournaments. Just load the program on your player's IPod!
Coaches: Boost your team's confidence using simple, proven mental strategies.
Instructors: Learn how to give your students the mental game advantage.
Use Tennis Confidence to help boost your mental toughness in tennis and discover powerful and proven mental game strategies that have helped professional athletes win!
Tennis Confidence: Mental Toughness For Tournament Players
---
Download Our Free Tennis Psychology Report!

Discover if you are making one or more of these "costly" unforced mental game errors during matches!
Download our free Tennis Psychology Report:
Six Unforced 'Mental Game' Errors Tennis Players Make Between Points
You'll discover:
How your mind can be your best or worst asset on the court.
If you are using your mind effectively between points.
One strategy that can help you let of go the last point.
The top mental game skills you need to master to boost your confidence and performance between points.
Click here to download your FREE report today: Six Unforced 'Mental Game' Errors Tennis Players Make Between Points