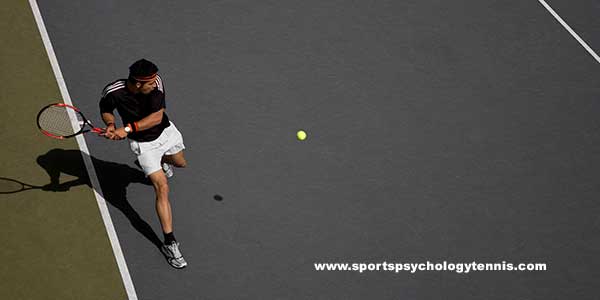 Developing a Competitive Mindset
Have you heard the idea that tennis players will "play up to the level of the competition"?
This refers to the phenomenon of lifting the level of your game against higher-ranked opponents, creating inconsistency.
Some tennis players will approach these matches with a different mindset… These players prepare more and will "go for it" or play more aggressively against top opponents.
On the flip side, these same players often "play down to the level of lesser competition."
Some players approach these matches as easy wins and prepare less because they expect to win.
Players who expect an easy time during matches tend to be overly relaxed prior to the start of the match and it often takes them longer to get into the flow of a match. Many times, this approach leads to under-performance and upsets.
Why would a tennis player have two different approaches depending upon their competition?
The answer revolves around talent, preparation and work.
When a player is competing against someone ranked higher, that player knows he has to pay close attention to all aspects of his preparation and outwork his opponent.
When that same player faces a low-ranked opponent, he may believe that his talent supersedes preparation.
Tennis players that take an opponent lightly have the mentality, "I don't need to prepare much for this opponent because I am better than that player" and this is reflected in their reduced level of effort during the match.
This "play to the level of an opponent" mentality results in inconsistent play.
Consistent results require consistent preparation and consistent work.
When you approach each match the same, no matter the opponent, your competitive mindset becomes a habit. Positive habits reap positive results.
Daniil Medvedev understands the need for maintaining a consistent approach for each opponent. At the 2019 Cincinati Masters, Medvedev upset top seed and defending champion Novak Djokovic 3-6, 6-3, 6-3. Medvedev played strong consistent tennis from his very first match in the tournament until his finals win against David Goffin 7-6, 6-4.
MEDVEDEV: "Actually, my mentality is always I take every match the same, from the first round, because I always say if you lose in the first round you won't be in the final, so why to take it different?"
After the finals match, Goffin gave a Medvedev high praise for his play throughout the tournament.
GOFFIN: "That's why everybody is struggling [playing against him], because Medvedev is so consistent, now [he's playing] with more confidence."
Medvedev's consistent approach has helped him reach three event finals in three weeks (Citi Open, Coupe Rogers and the Cincinnati Masters) and earn a No. 5 career-high ranking.
Improving your consistency first starts with developing the habit of a consistent approach to each and every match.
With a consistent approach, you will perform with more consistency on the court and achieve more consistent results.
Improving Consistency in Tennis Matches:
Prior to every match, ask yourself, "How will this match help me achieve my seasonal goals?"
Consistent mental and physical preparation leads to consistent performance on the court.
Develop a prematch warm up routine that helps you prepare the same way before matches–both mentally and physically.
Be sure to get your HR and intensity up to optimal levels prior to the match.
Prepare mentally and get your game face on so you will be focused, confident, and ready to trust your practice before the match.
---
Related Tennis Psychology Articles:
*Subscribe to The Tennis Psychology Podcast on iTunes
*Subscribe to The Tennis Psychology Podcast on Spotify
---
Improve Your Mental Game for Tennis
Tennis Confidence 2.0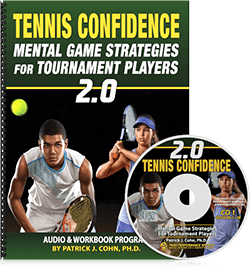 "Tennis Confidence: Mental Game Strategies for Tournament Players" is Dr. Cohn's program to help tennis players, coaches, and instructors improve the mental game of tennis is just 8 easy to learn sessions. Tennis Confidence: Mental Game Strategies for Tournament Players Audio and Workbook program is ideal for any junior, collegiate, and tour professional player. Tennis coaches and instructors would also be wise to teach the strategies in "Tennis Confidence 2.0."
Tennis Confidence is a complete mental training program developed Dr. Cohn. You learn the same strategies Dr. Cohn teaches his personal students to help them improve mental toughness and consistency – from managing unrealistic expectations to coping with perfectionism. 
Read more about Tennis Confidence Program>>