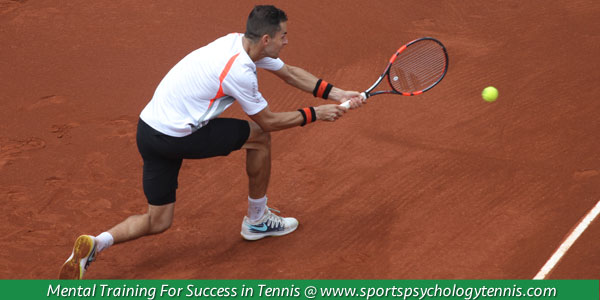 The Mindset of Playing Your Strengths
Which strategy do you utilize in tennis matches? Do you play to your strengths or do you look to minimize your weaknesses?
Trying to minimize weakness is the strategy of playing it safe to avoid failure. Avoiding mistakes is a reactive method of playing tennis that allows your opponent to dictate the flow of the game.
If you avoid mistakes, you:
Avoid making missing
Avoid double faulting
Worry about losing
Worry about embarrassing yourself
Trying to minimize your weaknesses on the court is emotionally and physically exhausting.
When you play to your strengths, you are playing to win.
There are several benefits when you have the mindset of playing to your strengths:
You make fewer errors.
You play with more confidence.
You play aggressively and go for winners.
You play with a sharp focus on your game.
You are able to persist through tough sets and keep attacking.
You are more equipped to stay in control emotionally and overcome mistakes or bad calls.
Rohan Bopanna and Daniel Nestor utilized the strategy of playing to their strengths at the 2015 Dubai Tennis Championships.
Bopanna and Nestor played an aggressive, attacking style and won the doubles title 6?4, 6?1 in just 50 minutes. The win gave Bopanna and Nestor their second title of the season.
Playing to your strengths is an effective strategy to play winning tennis.
This is not to say you shouldn't seek to develop your overall game and try to improve your weaknesses in practice. Playing to your strengths is the right option for your match focus.
Try these tips to develop your strategy of "playing to your strengths":
Tip #1: Think about your top tennis performances. Were you competing from strengths or managing weakness? What was your mindset prior to the match?
By identifying your past successful competitive mindset, you can use that as a template for future matches.
Tip #2: Make a list of your strengths. How can you best utilize your strengths in future matches? To play winning tennis, outline your match strategy prior to competing.
Successful tennis players have learned how to perform with ultimate confidence in tournaments. We've developed Tennis Confidence: Mental Toughness For Tournament Players to help you do this.
---
Boost Your Self-Confidence and Focus with Expert Mental Game Coaching Tennis Mindset
Learn how to boost your mental game of tennis and develop the confidence of a champion quickly and effortlessly with tennis mental game coaching!
If you're not performing up to your potential in matches, most likely your mental game is holding you back. Are you so frustrated with your performance you feel like giving up? Does your confidence evaporate when you play in tournaments? Are you tired of working hard in practice and not getting any results in matches?
We can help you uncover the beliefs and attitudes that keep you from performing to your potential.
Complimentary 15-Minute Coaching Session
Call Us Today to Schedule Your Free 15-Minute Session.
Find Out How You Can Benefit From One-on-One Mental Coaching!
888-742-7225 | 407-909-1700
Please contact us today to learn how mental coaching works and to request pricing on all mental training programs for tennis players. Complete the form below to contact us via email or call us toll-free at 888-742-7225