Letting Go of Self-Limiting Beliefs
If you ever want to know why a particular part of your game may be lacking… look no further than your own beliefs about that part of your game.
You see, what you believe to be true directly impacts how you approach a situation.
For example, if you think you do not have a big serve, you will probably play your serve safe during matches…
In fact, you will probably go through the motions of working on your serve in practice because you believe you lack the ability in that part of your game…
Without that added focused, hard, dedicated work, you will prove your limited belief to be true and perpetuate a lackluster serve.
Improved performance requires a change in mentality. In order to change a belief, you must first start by challenging that belief.
When you challenge a limited self-belief, you begin to see that belief for what it truly is… a thought: a thought that, for whatever reason, you have internalized as the truth.
Andy Murray, winner of 36 ATP titles, knows how a change in mentality can reap great rewards on the tennis court.
Murray was never known as a top competitor on clay surfaces early in his career.
Over the first four years on the tour, Murray compiled an 11-14 record on clay surfaces.
It took 47 final appearances before Murray advanced to a final on a clay surface, the 2015 BMW Open.
Since earning the 2015 BMW Open title, Murray has a 3-1 finals record on clay surfaces including a recent victory over No. 1 ranked Novak Djokovic, 6-3, 6-3 at the 2016 Italian Open.
Murray turned around his fortune on clay surfaces and amassed a record of 29-3 during the last two seasons by reexamining what he believed was true about his ability.
After his latest clay victory, Murray was asked, "In the beginning of your career, did you ever think about that you would one day become a specialist on clay?"
MURRAY: "I never expected to be having the results I have been having on clay… Maybe, you know, maybe I didn't believe enough in myself. I always thought clay was my worst and hardest surface for me, but then last year, getting some wins against the best players made me realize a little bit — you know, I had always been told, my coaches had said to me that clay should really be my best surface, but it took me a long time probably to gain a little bit of confidence."
Murray credits his change in mentality and footwork for his improved performance on clay surfaces.
MURRAY: "I don't feel like I'm off-balance anymore, and I feel like I can chase most balls down. And, you know, it's an easy surface for me to move on now."
Imagine how much better you could play if you were to let go of those self-limiting thoughts that you have accepted as truths.
Strategy for Challenging Self-Limiting Beliefs:
Identify a belief of yours that limits your game. I call these self-labels, such as "I'm a poor closer" or "I'm a slow starter."
Ask yourself the following questions:
–What caused me to believe this in the first place?
–Is this true 100% of the time?
–When have I performed successfully despite this belief?
–What is the real truth about my ability?
What you do on court is a product of what you believe about your game… so choose beliefs that will enhance your game.
Contact me for a one-page mental game test to help you identify beliefs or mindsets that might hold you back from consistent tennis. Send an email over to peaksportshelp@gmail.com and we'll send over the test.
---
Related Tennis Psychology Articles
*Subscribe to The Tennis Psychology Podcast on iTunes
*Subscribe to The Tennis Psychology Podcast on Spotify
---
Improve Your Mental Game for Tennis
Tennis Confidence 2.0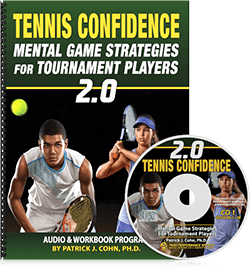 "Tennis Confidence: Mental Game Strategies for Tournament Players" is an audio and workbook program to help tennis players, coaches, and instructors improve the mental game of tennis is just 10 easy to learn sessions. Tennis Confidence: Mental Game Strategies for Tournament Players Audio and Workbook program is ideal for any junior, collegiate, and tour professional player. Tennis coaches and instructors would also be wise to teach the strategies "Tennis Confidence."
Tennis Confidence is a complete mental training program developed Peak Performance Sports. You learn the same strategies Dr. Cohn teaches his tennis players to help them improve mental toughness and consistency – from managing unrealistic expectations to coping with perfectionism.
Read more about Tennis Confidence Program>>