Winning Tennis When You Don't Have Your A-Game
You know it's hard for athletes to perform at a high level week in and week out.
Injuries, being tired or sick, technique flaws, a string of losses or bad weather are factors that may affect how well you play in a match.
Many tennis players, if they are not firing on all cylinders early in a match, will feel less confident and decide not to fight through…
"Why give maximum effort today if I just don't have it… I will lose anyway."
But you certainly don't have a crystal ball. No one can predict with 100% accuracy how a match will end.
Maybe your opponent will not be on top of their game either…
Maybe some unforced errors by your opponent will cause them to mentally collapse in the middle of a match…
Maybe your opponent hasn't done the training necessary to fight through a long match.
The outcome is determined at the end of the match, unless you mentally bow out early. So if you want to win more matches, you need to be mentally tough when you are not on top of your game.
Andy Murray won the gold medal at the 2016 Rio Olympics despite not being on top of his game.
Murray had a tough road to haul since his last Olympic gold medal in London.
MURRAY: "It hasn't been easy, because a lot can happen in four years, especially for tennis players. We have so many events. Since London, I had back surgery. My ranking dropped a lot during that period, and I've gone through some tough times on the court as well."
Heading into Rio, Murray already wasn't on top of his game but that didn't stop him from competing and fighting for each victory until he made it to the gold medal match.
Murray displayed his grit and mental toughness in the finals at the Rio Games when he faced Argentina's Juan Martin del Potro and defeated him in a hard-fought match 7-5, 4-6, 6-2, 7-5, to defend his Olympic title.
Even though Murray had 45 unforced errors, was broken six times and put only 51 percent of his first serves in play, he consistently retrieved balls that seemed un-returnable and hit them for winners.
Murray's mental toughness carried him through despite not playing his best tennis.
MURRAY: "I was tired. We played four hours. It was humid and a slower court. I didn't serve well, so that made it tougher. I had to find a way to get through it."
Murray is now the first tennis player in history to win back-to-back singles gold medals, an accomplishment that would have never been achieved if he decided to just pack it in because he felt he didn't have it.
How to keep your head in the match when you are not on top of your game:
Sometimes you have a grind out a match when your don't have your A-game. Focus on your level of effort and winning points, not the fact that you don't have it today.
Don't assume that you will lose the match even though you only have your B-game. A lot can happen during a long match–as we have seen at the 2016 US Open this year.
Effort begins with the mental decision that you will not let your circumstances beat you.
Staying mentally tough and fighting for every point can be the game changers you need to succeed. And it can be even more gratifying to win when you are not at your best.
Learn all my secrets for mental toughness strategies in tennis!
---
Related Tennis Psychology Articles
*Subscribe to The Tennis Psychology Podcast on iTunes
*Subscribe to The Tennis Psychology Podcast on Spotify
---
Improve Your Mental Game for Tennis
Tennis Confidence 2.0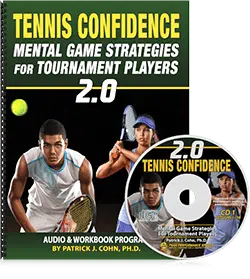 "Tennis Confidence: Mental Game Strategies for Tournament Players" is an audio and workbook program to help tennis players, coaches, and instructors improve the mental game of tennis is just 10 easy to learn sessions. Tennis Confidence: Mental Game Strategies for Tournament Players Audio and Workbook program is ideal for any junior, collegiate, and tour professional player. Tennis coaches and instructors would also be wise to teach the strategies "Tennis Confidence."
Tennis Confidence is a complete mental training program developed Peak Performance Sports. You learn the same strategies Dr. Cohn teaches his tennis players to help them improve mental toughness and consistency – from managing unrealistic expectations to coping with perfectionism.
Read more about Tennis Confidence Program>>