Stop Worrying About What You SHOULD Do
Do you find yourself struggling with your mental game, your expectations, when you have a play an opponent that is younger or has a lower UTR than you?
In this week's tennis psychology podcast, mental game of tennis expert, Dr. Patrick Cohn answers a question from Nathan.
Here's what Nathan had to say about his game:
"My problem in matches is playing an opponent younger than I am. I'm afraid to lose to this kid, I get really frustrated for every point. My tennis in practice and matches are very different for example in practice. I get scared when I get easy shots. I miss the easiest of shots. How can I play better when I know I should win the match?"
Listen to the podcast to hear what Dr. Cohn suggests to overcome your expectations of beating certain players!
Subscribe to The Tennis Psychology Podcast at iTunes!
---
Download Our Free Tennis Psychology Report!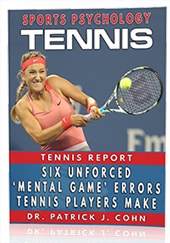 Discover if you are making one or more of these "costly" unforced mental game errors during matches!
Download our free Tennis Psychology Report:
Six Unforced 'Mental Game' Errors Tennis Players Make Between Points
You'll discover:
How your mind can be your best or worst asset on the court.
If you are using your mind effectively between points.
One strategy that can help you let of go the last point.
The top mental game skills you need to master to boost your confidence and performance between points.
Click here to download your FREE report today: Six Unforced 'Mental Game' Errors Tennis Players Make Between Points
---
Boost Your Self-Confidence And Focus With Expert Mental Game Coaching!
Master mental game coach Dr. Patrick Cohn can help you overcome your mental game issues with personal coaching.
You can work with Dr. Patrick Cohn himself in Orlando, Florida or via Skype, FaceTime, or telephone. Call us toll free at 888-742-7225 or contact us for more information about the different coaching programs we offer!
What are our mental coaching students saying?
"We are amazed at how much 'The Confident Athlete' program has helped my niece play her best tennis during matches. She literally made it to the farthest round of a tournament (semifinals) after finishing the CDs and workbook. We are going to do all 3 in the series."
~Jason Bourguignon, Uncle

"So far the program has been going really well! My son is doing the workbook and listening to the audio part and has been enjoying it! He has played better the past couple of weeks and he said the program is helping him focus and not get quite so frustrated."
~Tara Mariano, Sports Parent