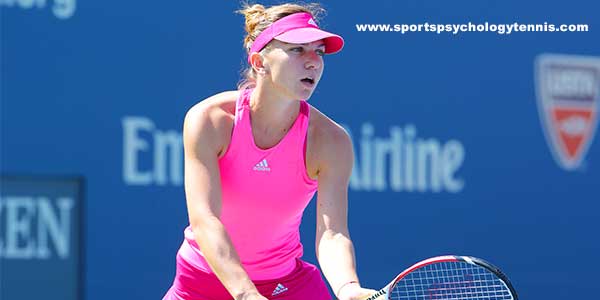 Managing Negative Emotions in Tennis
Do you get upset when you're missing or down a few games in a tennis match?
In other words, do you get upset during or after a tennis match because you "allowed" negative emotions to take over your game?
The word "allow" is a tricky term. When you use the term "allow", it implies you can prevent negative emotions from happening or have complete control over your emotions.
When you believe you have 100 percent control over your emotions, you are buying into a false narrative. Every tennis player will experience negative emotions throughout their career… it's a part of the human experience.
Negative emotions are a simple fact that you need to accept. If you attempt to put a lid on negative emotions, those emotions will eventually boil over, explode, and affect your play.
Your perceived failure to prevent negative emotions to surface will only generate more negative, intense emotions.
Imagine experiencing this scenario in a tennis match…
You are playing your best, quick on your feet, powerful backhand, confident and good pace on your serve. You hit three consecutive easy returns long to lose one game. You feel frustrated and angry.
Those negative emotions are followed by thoughts such as, "I can't believe I can't pull it together." You feel you should be able to block out these negative emotions.
The result is that you berate yourself about your inability to "control" your emotions causing further anger. At that point, that emotional flare-up becomes a seemingly uncontrollable emotional outburst on the court. You ask yourself, "Why can't I be positive?" You feel that you lost that inner battle.
In this instance, you are upset about becoming upset. You become focused solely on those negative emotions to the point that you negate all the positive aspects of your game. Even though you are playing your best tennis, you are upset because you believe you should be able to stop negative emotions from surfacing.
This same process affects your ability to manage other situations outside of your control like injury. When you believe you should be able to control your circumstances and your emotions, you become devastated when you feel like you "failed. "
Expecting to experience only positive emotions is impossible, similar to expecting perfection on the tennis court.
When you look at your circumstances inside and outside of tennis, you need to see both sides of the coin to maintain emotional balance.
For example, former No. 1 WTA player Simona Halep recognizes that the disruption caused by COVID-19 has presented emotional, mental and physical challenges to her tennis game.
HALEP: "My longest break before the lockdown has been of 3-4 weeks and [returning to competitions] was very difficult for me. You lose pace, you lose focus, and then physically, if you idle about for a whole week you've lost half a year."
Yet, Halep also extracted the positives from her circumstances.
HALEP: "I learned a lot from the two-month isolation… It occurred to me that I have to change something in my life, in order to also develop on the emotional and personal side. But now, for me to have a happy life without tennis, I am slowly trying to experience new feelings, see something else."
Emotions are meant to be managed, not controlled. You can be upset and still recognize the positive successes in the match at the same relative moment. It is not an all-or-nothing proposition.
How to Manage Emotions in Tennis
Follow this 3-step process
Accept that negative emotions will arise and that it is normal.
Understand that you can successfully manage those emotions.
Work to develop a coping response for each emotion you typically experience when playing a match.
For example, if you get frustrated with missing a routine shot, how will you react better to that mistake the next time?
You might think: "Even the pros miss easy balls, let it go and focus on the next point."
---
Related Tennis Psychology Articles:
*Subscribe to The Tennis Psychology Podcast on iTunes
*Subscribe to The Tennis Psychology Podcast on Spotify
---
Improve Your Mental Game for Tennis
Tennis Confidence 2.0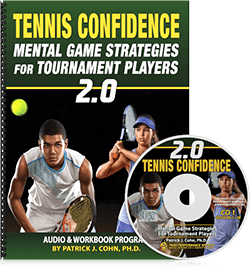 "Tennis Confidence: Mental Game Strategies for Tournament Players" is Dr. Cohn's program to help tennis players, coaches, and instructors improve the mental game of tennis is just 8 easy to learn sessions. Tennis Confidence: Mental Game Strategies for Tournament Players Audio and Workbook program is ideal for any junior, collegiate, and tour professional player. Tennis coaches and instructors would also be wise to teach the strategies in "Tennis Confidence 2.0."
Tennis Confidence is a complete mental training program developed Dr. Cohn. You learn the same strategies Dr. Cohn teaches his personal students to help them improve mental toughness and consistency – from managing unrealistic expectations to coping with perfectionism. 
Read more about Tennis Confidence Program>>