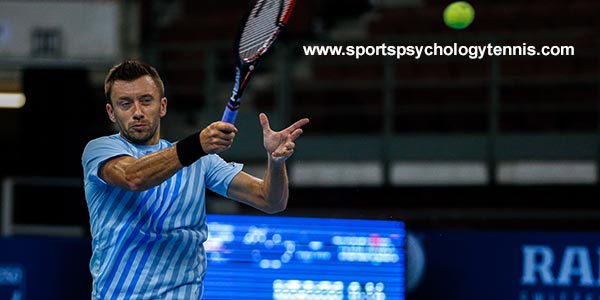 How High Expectations Lead to Poor Performance
Do you believe setting the bar as high as possible will lead to better tennis?
This belief is held by many tennis players. The thought process is, "If I set the bar as high as possible, even though I may not reach the bar, I will rise to the next level."
The truth is when you set expectations excessively high, not only do you miss the mark, you will most likely play worse than usual. The reason is that your high expectations lead to frustration when not met.
The underlying message is not, "I will try to do my best" but "I have to do my best." Imagine the anxiety you would feel if you upped the ante for every match you played. You would be a nervous wreck on the court.
Even worse is when you perceive high expectations from others, like a parent, coach, teammate or doubles partner.
Here is a question from a tennis player, regarding expectations, in our Mental Game of Tennis Survey:
"How can I focus on my own game and not worry about a doubles partner who is a perfectionist and has high expectation of me?"
Let's see how this could play out and cause difficulty during a match…
You have little difficulty playing singles matches, after all, if you lose, you are only responsible for yourself. In doubles matches, you feel extra pressure because you don't want to be the one who loses the match for your team.
When you step on the court with a perfectionist partner, you feel you need to be perfect as well. You feel immense pressure. Every mistake and unforced error weigh heavily on you.
You feel your doubles partner is judging you every step of the way. Even if your partner is playing poorly, you think it's up to you to carry the team. You feel expected to run down every ball, place the ball perfectly down the line and never fault on your serve.
This is a recipe for disaster and it all started with high expectations. With high expectations comes high pressure, that is the reason you have such difficulty playing doubles matches.
With high expectations, you either met or failed to meet them. When you lose, not only do you feel like you failed, you feel like a failure. Winning won't even feel like a tremendous success. After the victory, you will feel a sense of relief rather than a sense of pride. After all, you were EXPECTED to win.
In essence, high expectations become a no-win proposition.
Playing your best requires playing with the added pressure you feel from being great for a teammates. You can't worry about what your doubles partner thinks if you want to have fun.
Playing Freely in Doubles Matches
Have a conversation with your doubles partner before the match. Get on the same page so you can have supportive and positive communication on the court.
Your goal is not to live up to others' expectations. The goal is to have fun, play freely, and not judge your performance.
---
Learn Proven Tennis Mental Game Strategies To Perform Your Best On The Court!
Are you (or your players) performing up to your ability in competition?
Do you bring your best and most confident game to matches?
I often hear players complain about the following problems when they play in matches…
"I get so tight or tense before matches that I can't think straight or have any rhythm in my game."
"I get so frustrated with hitting bad shots or with errors and it snowballs."
"I expect so much when I play that I unravel and lose confidence when the match does not go as planned."
"My confidence seems to disappear when I go from practice to matches and I don't know why."
Successful tennis players have learned how to perform with ultimate confidence in tournaments.
If you are ready to improve your mental toughness and perform with ultimate self-confidence in matches, Tennis Confidence: Mental Toughness For Tournament Players can help you do this!
Players: Learn how to take control of your confidence, focus your best, and win more close matches.
Parents: Help boost your junior tennis player's confidence for tournaments. Just load the program on your player's IPod!
Coaches: Boost your team's confidence using simple, proven mental strategies.
Instructors: Learn how to give your students the mental game advantage.
Use Tennis Confidence to help boost your mental toughness in tennis and discover powerful and proven mental game strategies that have helped professional athletes win!
Tennis Confidence: Mental Toughness For Tournament Players
---