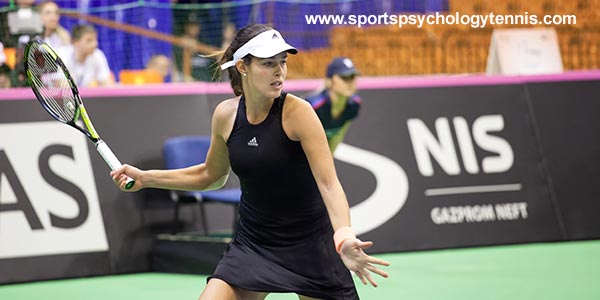 Kenin Uses Feedback to Reach the Top
In tennis, achieving mental balance is crucial for success…
Balance between celebrating success and resting on your laurels…
Balance between working hard and over-training…
Balance between improving technique and over-analyzing technique…
And balance between setting easy goals and setting unrealistic goals.
One particular aspect of balance is difficult for many tennis players…
The balance between self-evaluation and harsh self-criticism. Achieving the balance between evaluating your game and harsh self-criticism helps a tennis player improve and pushes themselves to excel without losing confidence or stirring negative emotions.
In our Mental Game of Tennis survey, one tennis player stated that she is too hard on herself, which prevents her from taking her game to the next level:
"I am so hard on myself after a loss that, sometimes, I don't want to even go to practice. I can't seem to forget about my mistakes. How can I be less critical of myself?"
Understandably, you want to win so mistakes or losses can sting. Falling short of your objectives, in a tennis match, causes you to become upset with yourself and excessively self-critical.
You highlight every mistake you made and mentally put yourself down. Each mistake and loss becomes mounting evidence that you don't have what it takes to succeed in tennis. Your excessive self-criticism chips away at your confidence and further affects your overall game.
Evaluating your game so you can improve is important to growth. But being self-critical with your performance only drags down your confidence.
Striking a balance between self-evaluation and excessive self-criticism is the goal of WTA player Sofia Kenin. Kenin, winner of the 2020 Australian Open, knows that balance is the key to winning more matches and improving her ranking.
After losing to Elena Rybakina 6-7, 3-6, 3-6 at the 2020 Dubai Duty Free Tennis Championships, Kenin was asked in her post-match press conference:
"It seems like you're someone who can be hard on yourself a bit. You're not cutting yourself slack at all for today it seems. Is that a fair assessment?"
KENIN: "Yeah, I think if I wouldn't be hard on myself, I wouldn't have good results. I feel like I need to be hard on myself in order to make sure I'm still in check and doing what I want to do and playing how I want to play."
Kenin is not suggesting that tennis players need to be excessively self-critical.
Telling yourself that you need better placement on your first serve is not the same as saying to yourself, "I'm pathetic at tennis. My serve is horrible.
How can I possibly get better when my first serve is always returned for winners?"
Kenin is referring to objectively assessing her match play and identifying areas that need to be improved. Peak performance is only achieved through a commitment to hard work, pushing yourself to the max and acknowledging your successes along the way.
Honest evaluation is necessary for growth. You cannot improve your game if you remain static or if you keep doing what you have done in the past.
You have to be objective but you also have to be honest with yourself and push yourself to greater heights.
How to Evaluate your Matches
Review you match several hours after it is finished. The time delay will help your emotions settle down a bit. Avoid beating up yourself for loses or mistakes.
Next, identify 1-2 areas that you can dedicate your time and effort to improve. This process should be as objective as possible.
Finally, set a plan for the next week of practice that will help you improve those weaker areas of your game. Don't just rely on your coach to tell you what to work on.
---
Related Tennis Psychology Articles:
*Subscribe to The Tennis Psychology Podcast on iTunes
*Subscribe to The Tennis Psychology Podcast on Spotify
---
Improve Your Mental Game for Tennis
Tennis Confidence 2.0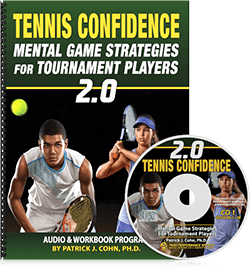 "Tennis Confidence: Mental Game Strategies for Tournament Players" is Dr. Cohn's program to help tennis players, coaches, and instructors improve the mental game of tennis is just 8 easy to learn sessions. Tennis Confidence: Mental Game Strategies for Tournament Players Audio and Workbook program is ideal for any junior, collegiate, and tour professional player. Tennis coaches and instructors would also be wise to teach the strategies in "Tennis Confidence 2.0."
Tennis Confidence is a complete mental training program developed Dr. Cohn. You learn the same strategies Dr. Cohn teaches his personal students to help them improve mental toughness and consistency – from managing unrealistic expectations to coping with perfectionism. 
Read more about Tennis Confidence Program>>