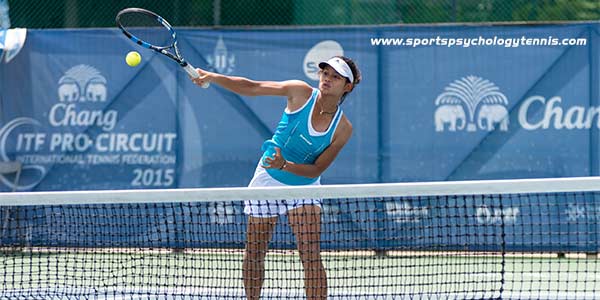 Create a Comeback Mindset for Tennis Players
What is a comeback mentality? Making a comeback is what tennis players dream about.
How many times, when you were younger, did you play out scenarios in your head of making an odds-defying comeback to win a tennis match in the finals of a tournament?
Playing from behind, sun beating down on you, sweat pouring down from your head, pushing through near exhaustion, going for every point to snatch victory from what looked like an inevitable defeat.
You could imagine the joy of victory, fans cheering and being awarded that big winner's trophy. You even had a spot in the house for that trophy so you could see it every day.
What makes one player stay motivated to overcome obstacles in a tennis match while other tennis players resign themselves to defeat?
A similar question was raised by a tennis player in our Mental Game of Tennis Survey: "When I am playing an opponent who is dominating me early in the match, I kinda give up mentally and don't try hard for the rest of the match. I have no idea what to do. Are there any tips you can give me to stay in the match mentally and still fight for points?"
Making a comeback isn't easy. When you are behind early in a match, many distractions can bombard you such as:
"It's too hot."
"I'm so tired."
"I am losing by too many points."
"My opponent is unbeatable."
"I can barely move."
"I don't have it today."
"Why should I chase balls down when my opponent will just smash the ball down the line for winners."
When you have negative thoughts, you'll foster negative emotions such as frustration, anger, and resignation.
You can't rethink, but you can choose to focus on thoughts that enhance your play such as: your strategy for the next point (hit the ball side to side to keep your opponent moving), your preserve routine, deep breaths or a cue word.
Deficits can be overcome if you keep your head in the game.
Case in point… Andy Murray pulled off a challenging comeback against Yoshihito Nishioka. Murray battled back from two sets down to win in the first round of the 2020 US Open 4-6, 4-6, 7-6, 7-6, 6-4.
Not only was Murray trailing early in the match, he needed a medical timeout due to pervasive pain in his toes.
MURRAY: "Once I got two sets down, I had to put the after-burners on, and I managed to come through. I had to start striking the ball better. I was hitting it late and was a little bit tentative. Then I went and took too many chances and made too many errors."
Murray could have fallen into the trap of concluding the match was a lost cause, but Murray chose to focus on playing each point individually and striking the ball better.
Focusing on the small battles helped Murray make a comeback, but this strategy is universal. Staying focused on winning each point is the foundation of all comebacks.
Creating a Comeback Mindset:
Focus on the small battles within the war. Focusing on the small battles is a matter of focusing on one point at a time–even one ball at a time.
When you are behind in the match, remind yourself to "battle" and refocus on the current point you are about to play. Focus on your tactics, not the scoreline.
Look for the shots you hit and points you win to build momentum. Always keep in mind that your opponent might get tight or lose momentum.
---
Learn Proven Tennis Mental Game Strategies To Perform Your Best On The Court!
Are you (or your players) performing up to your ability in competition?
Do you bring your best and most confident game to matches?
I often hear players complain about the following problems when they play in matches…
"I get so tight or tense before matches that I can't think straight or have any rhythm in my game."
"I get so frustrated with hitting bad shots or with errors and it snowballs."
"I expect so much when I play that I unravel and lose confidence when the match does not go as planned."
"My confidence seems to disappear when I go from practice to matches and I don't know why."
Successful tennis players have learned how to perform with ultimate confidence in tournaments.
If you are ready to improve your mental toughness and perform with ultimate self-confidence in matches, Tennis Confidence: Mental Toughness For Tournament Players can help you do this!
Players: Learn how to take control of your confidence, focus your best, and win more close matches.
Parents: Help boost your junior tennis player's confidence for tournaments. Just load the program on your player's IPod!
Coaches: Boost your team's confidence using simple, proven mental strategies.
Instructors: Learn how to give your students the mental game advantage.
Use Tennis Confidence to help boost your mental toughness in tennis and discover powerful and proven mental game strategies that have helped professional athletes win!