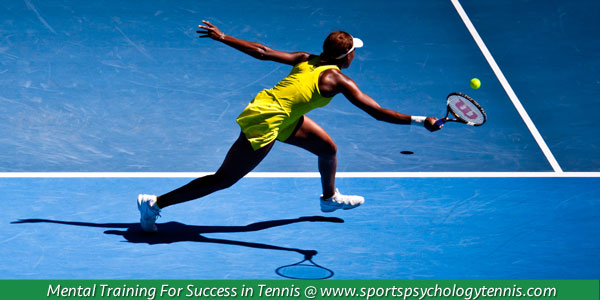 Do You Feel Pressure in Important Matches?
Do you feel pressure when you play important tennis matches? Do you tend to crumble under the weight of pressure?
So many tennis players feel pressure even before they step on the tennis court.
When you feel the pressure to win or live up to expectations, your focus becomes compromised…
Your mind starts dwelling on all those question marks…
"…What if I don't win?"
"…What will my parents say?"
"…What will the coach say?"
"…What will people think?"
"…What will this loss say about me?"
As your sense of pressure increases, so does your anxiety. You desperately want to meet those high expectations you have set for yourself but every missed shot causes your frustration to fester…
You start to wonder if you might miss the mark in this match… Your anxiety builds during the match as you desperately try to find your groove.
Another bad shot… another unforced error… more frustration and anger and soon you have totally taken yourself out of your game.
Tennis players often experience a sense of pressure when they start imagining what might happen if they don't play up to personal expectations.
As Former LA Dodger manager Tommy Lasorda stated:
"When you start thinking of pressure, it's because you've started to think of failure."
Pressure causes you to fear the outcome of a set or match instead of playing each point.
No tennis player has been in the limelight in 2015 more than Serena Williams.
Serena has put together a tremendous 2015 season year winning three Majors (Australian Open, French Open and Wimbledon).
With just one title away from achieving the "Grand Slam," Serena constantly fielded questions about the pressure to win the US Open and achieve elite tennis status.
Serena consistently went about her business preparing for her matches and playing her game.
Something changed at the 2015 US Open. While facing unseeded Roberta Vinci in the semifinals, Serena didn't seem to have the look of composure.
In fact, Serena struggled to find her groove and appeared frustrated, dejected and flustered in the second and third sets after missing shots she normally hits with ease.
In the end, Serena lost the match 6-2, 4-6, 4-6 in one of the greatest upsets in tennis history and ending her Grand Slam bid.
In a post-match interview, Serena disputed the loss was due to feeling pressure to complete the Grand Slam.
SERENA: "No. I told you guys I don't feel pressure. I never felt pressure. I don't know. I never felt that pressure to win here. I said that from the beginning."
Some degree of pressure helps athletes to thrive within their sport.
Too much pressure causes athletes to implode, that is, they self-destruct mentally causing their play on the court to be frantic.
But most people know that Serena is a perfectionist…
Perfection-like expectations are the hidden pressure all perfectionists must cope with.
With each new miss, comes more frustration and dejection.
In this mindset, it's easy to search for answers:
Do I hit it harder?
Do I go for less?
Do I play more aggressive tennis?
Do I back off and play safe?
Is my stroke off?
Although Serena did not feel the pressure to win the Grand Slam, she did struggle with the hidden pressures associated with trying to play perfect tennis.
Check out our video of the week, How Self-Intimidation Destroys Confidence
---
Related Tennis Psychology Articles
*Subscribe to The Tennis Psychology Podcast on iTunes
*Subscribe to The Tennis Psychology Podcast on Spotify
---
Improve Your Mental Game for Tennis
Tennis Confidence 2.0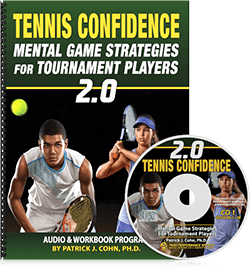 "Tennis Confidence: Mental Game Strategies for Tournament Players" is an audio and workbook program to help tennis players, coaches, and instructors improve the mental game of tennis is just 10 easy to learn sessions. Tennis Confidence: Mental Game Strategies for Tournament Players Audio and Workbook program is ideal for any junior, collegiate, and tour professional player. Tennis coaches and instructors would also be wise to teach the strategies "Tennis Confidence."
Tennis Confidence is a complete mental training program developed Peak Performance Sports. You learn the same strategies Dr. Cohn teaches his tennis players to help them improve mental toughness and consistency – from managing unrealistic expectations to coping with perfectionism.
Read more about Tennis Confidence Program>>