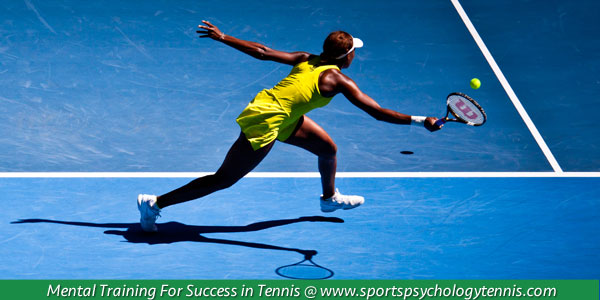 Do You Feel Pressure in Important Matches?
Do you feel pressure when you play important tennis matches? Do you tend to crumble under the weight of pressure?
So many tennis players feel pressure even before they step on the tennis court.
When you feel the pressure to win or live up to expectations, your focus becomes compromised…
Your mind starts dwelling on all those question marks…
"…What if I don't win?"
"…What will my parents say?"
"…What will the coach say?"
"…What will people think?"
"…What will this loss say about me?"
As your sense of pressure increases, so does your anxiety. You desperately want to meet those high expectations you have set for yourself but every missed shot causes your frustration to fester…
You start to wonder if you might miss the mark in this match… Your anxiety builds during the match as you desperately try to find your groove.
Another bad shot… another unforced error… more frustration and anger and soon you have totally taken yourself out of your game.
Tennis players often experience a sense of pressure when they start imagining what might happen if they don't play up to personal expectations.
As Former LA Dodger manager Tommy Lasorda stated:
"When you start thinking of pressure, it's because you've started to think of failure."
Pressure causes you to fear the outcome of a set or match instead of playing each point.
No tennis player has been in the limelight in 2015 more than Serena Williams.
Serena has put together a tremendous 2015 season year winning three Majors (Australian Open, French Open and Wimbledon).
With just one title away from achieving the "Grand Slam," Serena constantly fielded questions about the pressure to win the US Open and achieve elite tennis status.
Serena consistently went about her business preparing for her matches and playing her game.
Something changed at the 2015 US Open. While facing unseeded Roberta Vinci in the semifinals, Serena didn't seem to have the look of composure.
In fact, Serena struggled to find her groove and appeared frustrated, dejected and flustered in the second and third sets after missing shots she normally hits with ease.
In the end, Serena lost the match 6-2, 4-6, 4-6 in one of the greatest upsets in tennis history and ending her Grand Slam bid.
In a post-match interview, Serena disputed the loss was due to feeling pressure to complete the Grand Slam.
SERENA: "No. I told you guys I don't feel pressure. I never felt pressure. I don't know. I never felt that pressure to win here. I said that from the beginning."
Some degree of pressure helps athletes to thrive within their sport.
Too much pressure causes athletes to implode, that is, they self-destruct mentally causing their play on the court to be frantic.
But most people know that Serena is a perfectionist…
Perfection-like expectations are the hidden pressure all perfectionists must cope with.
With each new miss, comes more frustration and dejection.
In this mindset, it's easy to search for answers:
Do I hit it harder?
Do I go for less?
Do I play more aggressive tennis?
Do I back off and play safe?
Is my stroke off?
Although Serena did not feel the pressure to win the Grand Slam, she did struggle with the hidden pressures associated with trying to play perfect tennis.
Check out our video of the week, How Self-Intimidation Destroys Confidence
---
Learn Proven Mental Game Strategies To Perform Your Best On The Court!
Are you (or your players) performing up to your ability in competition?
Do you bring your best and most confident game to matches?
Successful tennis players have learned how to perform with ultimate confidence in tournaments.
If you are ready to improve your mental toughness and perform with ultimate self-confidence in matches, Tennis Confidence: Mental Toughness For Tournament Players can help you do this!
Use Tennis Confidence to help boost your mental toughness in tennis and discover powerful and proven mental game strategies that have helped professional athletes win!
Tennis Confidence: Mental Toughness For Tournament Players
What are mental game customers saying?
"I want to let you know that your Tennis Confidence CDs have been extremely helpful to me. I listen to them in the car, and the program is helping me overcome a lifetime of tournament performance anxiety. Thank you!"
~Wing Wu

---
Download Our Free Tennis Psychology Report!

Discover if you are making one or more of these "costly" unforced mental game errors during matches!
Download our free Tennis Psychology Report:
Six Unforced 'Mental Game' Errors Tennis Players Make Between Points
You'll discover:
How your mind can be your best or worst asset on the court.
If you are using your mind effectively between points.
One strategy that can help you let of go the last point.
The top mental game skills you need to master to boost your confidence and performance between points.
Click here to download your FREE report today: Six Unforced 'Mental Game' Errors Tennis Players Make Between Points
What are tennis players saying?
"Dr. Cohn, one of my goals is to become a world-class-coach, There are a few coaches from the US who inspired me the most-John Wooden, Son Shula, and Pat Riley. After working with you, I now also list your name among the most influential coaches in my field!"
~Franz
---
Boost Your Self-Confidence And Focus With Expert Mental Game Coaching!
Master mental game coach Dr. Patrick Cohn can help you overcome your mental game issues with personal coaching.
You can work with Dr. Patrick Cohn himself in Orlando, Florida or via Skype, FaceTime, or telephone. Call us toll free at 888-742-7225 or contact us for more information about the different coaching programs we offer!
What are our mental coaching students saying?
"Since you last worked with AJ in early September, his National ranking has improved from 349 to 148. His tournament record at one point, since talking with you was 17-4, with 3 of the 4 being in third sets or tiebreakers and 2 of those matches being the same player, whom he has since beaten (you may recall he was on an 0-9 losing streak when we contacted you). His tie-breaker record is at least 90% through last weekend when he won the 18s District tournament with a semi and final match tiebreak win. Your help has definitely improved AJ's results and his on-court demeanor has substantially improved."
~Dawn Woodman, A.J.'s Mother