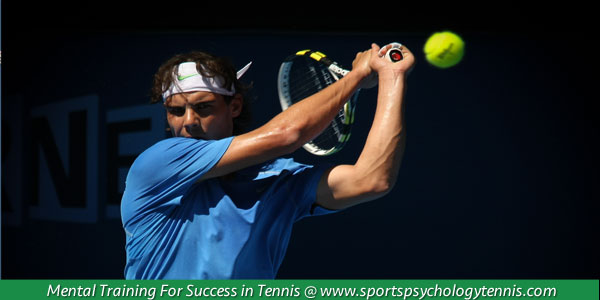 Why Do Players Choke in Matches?
Do you have trouble performing as well in matches as you do in practice? Are you losing to players who you should beat? Or, do you get so frustrated after mistakes that it affects your game for several points?
Many players have asked me help them solve these mental game issues. And I've started to do this with my podcasts and videos at SportsPsychologyTennis.com.
If you are not playing to your real level in competition, your mental game is getting in the way of peak performance.
Knowing this is the easy part… The hard part is trying to find out how your mental game is hampering success.
Get this: If you are not getting it done in matches, you're probably stuck in old, ineffective ways of thinking that hold you back.
Why would you play great in practice, but not in tournaments? I have seven big reasons to share with your today…
You might not perform as well in matches because:
You want to win too badly, try too hard, and focus too much on results
You are afraid to fail and thus tighten up and over control in competition
You are too concerned with others' opinions or not disappointing others
You lack competitive self-confidence in matches and are overcome with self-doubt
Your high expectations cause you to feel frustrated quickly after errors
You focus too much on making perfect strokes and thus limit your ability
The pressure of match time causes you to become anxious or tighten up
To play to your potential in competition, you must first understand how your mindset limits your game.
Here's why: I take a different approach for all seven of the above scenarios when helping my students improve their mental game.
On another note… I promised more details today about my new mental toughness program for tennis players.
I'm gong to teach you how to overcome all the above mental game scenarios and more with my new program titled: "Tennis Confidence: Mental Toughness for Tournament Players."
You'll learn the top eight mental game lessons for tennis players – the same lessons I teach my personal coaching students.
How will you learn my top lessons?
I've made it easy and effortless for you to improve your mental game.
You'll download all eight sessions from my website to your computer:
Eight powerful 25-30 minute mental game lessons on MP3 audio
Eight tennis confidence workbooks to guide your through the lessons
Eight post-match tennis confidence assessments to measure your progress
As a bonus, you'll also appreciate:
Eight prematch mental preparation podcasts to tune up your mind prior to matches
Prematch tennis confidence and mental preparation guide
Learn more about Tennis Confidence…
Make sure you grab my tennis psychology report to help you stay focused between points and get weekly tips.
---
Learn Proven Mental Game Strategies To Perform Your Best On The Court!
Are you (or your players) performing up to your ability in competition?
Do you bring your best and most confident game to matches?
Successful tennis players have learned how to perform with ultimate confidence in tournaments.
If you are ready to improve your mental toughness and perform with ultimate self-confidence in matches, Tennis Confidence: Mental Toughness For Tournament Players can help you do this!
Use Tennis Confidence to help boost your mental toughness in tennis and discover powerful and proven mental game strategies that have helped professional athletes win!
Tennis Confidence: Mental Toughness For Tournament Players
What are mental game customers saying?
"I have really enjoyed listening to your tennis psychology podcasts on iTunes and reading your E-books. I already have improved in my mental game. I played in a tennis tournament this past weekend and played with the amount of confidence I should have in myself. If I lost a point or made a stupid error, I knew how to deal with it and move on to the next point. I didn't get frustrated."
~Melanie Lewis, Junior Tennis Player
---
Download Our Free Tennis Psychology Report!

Discover if you are making one or more of these "costly" unforced mental game errors during matches!
Download our free Tennis Psychology Report:
Six Unforced 'Mental Game' Errors Tennis Players Make Between Points
You'll discover:
How your mind can be your best or worst asset on the court.
If you are using your mind effectively between points.
One strategy that can help you let of go the last point.
The top mental game skills you need to master to boost your confidence and performance between points.
Click here to download your FREE report today: Six Unforced 'Mental Game' Errors Tennis Players Make Between Points
What are tennis players saying?
"Dr. Cohn, one of my goals is to become a world-class-coach, There are a few coaches from the US who inspired me the most-John Wooden, Son Shula, and Pat Riley. After working with you, I now also list your name among the most influential coaches in my field!"
~Franz
---
Boost Your Self-Confidence And Focus With Expert Mental Game Coaching!
Master mental game coach Dr. Patrick Cohn can help you overcome your mental game issues with personal coaching.
You can work with Dr. Patrick Cohn himself in Orlando, Florida or via Skype, FaceTime, or telephone. Call us toll free at 888-742-7225 or contact us for more information about the different coaching programs we offer!
What are our mental coaching students saying?
"Maggie had such a great weekend. As always, after she works with you she just seems more grounded and focused. She's less likely to look around and get distracted during her match. She's more focused on one point at a time. Also, as a parent, I've learned to encourage her process goals and not outcomes. Consequently, she played well and won her first doubles match, upsetting a seeded team in a really really close match!"
~Katherine Johnson Cannata, Maggie's mother