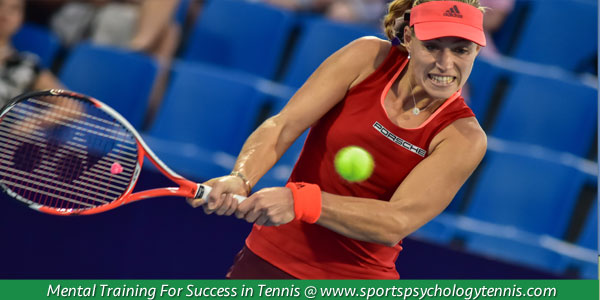 Trusting Your Skills in Tennis
How much practice time do you think about technique and how to hit good shots?
In Tennis Confidence video 1, I discussed the "academy mindset" and how young tennis players get trapped into a training mentality, which can lead to choking in matches.
This mindset is OK for some of your practice, but not all of your practice time…
Two mindsets are important to playing to your potential in practice:
The training mindset, which you use in practice when trying to improve your game.
The performance mindset, which you use for matches when trying to perform your best and you are not worried about "how to" hit a good shot.
This leads me to a recent question that I received in my tennis psychology survey:
"Why is it that I hit better when I don't think about my technique? My shots are worse when I try too hard to think about how to hit."
The problem starts in practice when you spend too much time in the practice mindset working on your strokes. Some of this is critical to your improvement, but you don't want to get trapped in this mindset when you play. And that's the mental game challenge.
Can you trust in your skills learned in practice when you go play matches?
You have to perform your best in matches, not hit perfect shots.
Let me digress for a moment…
As you progress through the stages of learning a motor skill, the skill becomes more refined and more consistent. With overlearning – or a ton of practice – you can perform the skill without much thought.
It just happens and you react to what's happening on the court. At the advanced or expert stage of learning, your skills are well-learned, which allows you to play virtually on autopilot. This level of learning allows you to think more about strategy and targets instead of how to hit a good shot.
With a well-learned forehand, you can make a good stroke without thinking about how to make a good stroke because of your prior practice. But you get in your own way when you try to "coach" yourself through the shot (well-learned skill), thus reverting to an earlier stage of learning. You regress to a learning stage instead of playing shots based on instinct or practice.
You get in your own way because you are giving your body too many instructions or "verbal commands" such as how to follow through properly, as Tim Gallewey would argue.
Your Tennis Psychology Tip For Today
You have to simplify your thinking on the court when you play. You have to trust what you have practiced.
I refer to this as the study and take the test analogy:
You study hard (through practice) and then take the closed-book test in matches. You test the effectiveness of your practice in competition – you don't continue to study in competition.
One option is to perform with simple feelings or images instead of coaching yourself with verbal commands. For example, maybe you focus on tempo or balance only instead of all the "how-to" of stroke technique. Less is often better when it comes to how many thoughts and feelings you play with.
---
Learn Proven Mental Game Strategies To Perform Your Best On The Court!
Are you (or your players) performing up to your ability in competition?
Do you bring your best and most confident game to matches?
Successful tennis players have learned how to perform with ultimate confidence in tournaments.
If you are ready to improve your mental toughness and perform with ultimate self-confidence in matches, Tennis Confidence: Mental Toughness For Tournament Players can help you do this!
Use Tennis Confidence to help boost your mental toughness in tennis and discover powerful and proven mental game strategies that have helped professional athletes win!
Tennis Confidence: Mental Toughness For Tournament Players
What are mental game customers saying?
"Thank you for all the knowledge, tools, material, and guidance you have given me throughout this course. It was truly a great experience. I am looking forward to integrating this mental training system not only to students at the club, but as well bring this wonderful education outside to athletes that truly are committed, and strive towards reaching their peak performance."
~Tim Whitehead, Head Tennis Professional, MGCP
---
Download Our Free Tennis Psychology Report!

Discover if you are making one or more of these "costly" unforced mental game errors during matches!
Download our free Tennis Psychology Report:
Six Unforced 'Mental Game' Errors Tennis Players Make Between Points
You'll discover:
How your mind can be your best or worst asset on the court.
If you are using your mind effectively between points.
One strategy that can help you let of go the last point.
The top mental game skills you need to master to boost your confidence and performance between points.
Click here to download your FREE report today: Six Unforced 'Mental Game' Errors Tennis Players Make Between Points
What are tennis players saying?
"Dr. Cohn, one of my goals is to become a world-class-coach, There are a few coaches from the US who inspired me the most-John Wooden, Son Shula, and Pat Riley. After working with you, I now also list your name among the most influential coaches in my field!"
~Franz
---
Boost Your Self-Confidence And Focus With Expert Mental Game Coaching!
Master mental game coach Dr. Patrick Cohn can help you overcome your mental game issues with personal coaching.
You can work with Dr. Patrick Cohn himself in Orlando, Florida or via Skype, FaceTime, or telephone. Call us toll free at 888-742-7225 or contact us for more information about the different coaching programs we offer!
What are our mental coaching students saying?
"I have really enjoyed listening to your tennis psychology podcasts on iTunes and reading your E-books. I already have improved in my mental game. I played in a tennis tournament this past weekend and played with the amount of confidence I should have in myself. If I lost a point or made a stupid error, I knew how to deal with it and move on to the next point. I didn't get frustrated."
~Melanie Lewis, Junior Tennis Player