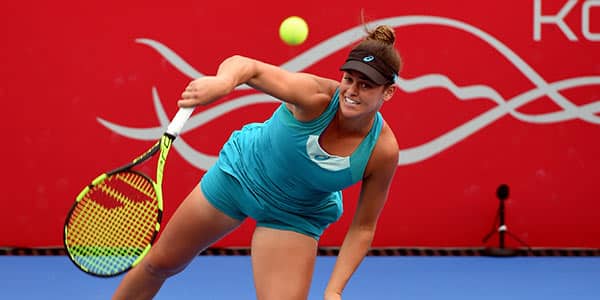 Turn Your Losses to a Learning Experience
Do you try to find the lesson in a loss, or do you become too emotionally overwhelmed?
No tennis player wants or enjoys losing a match. Though losing is never fun, the experience can be valuable.
Unfortunately, many players walk off the court after a lost match only to wallow in negative emotions for a significant period of time. In these instances, no feedback is extracted from the player's performance.
The enduring thoughts are, "I am horrible. I have no talent. I don't know why I continue to play. I hate this game." Why do some players never move past their negative emotions after a loss?
These players see losses as a statement that they lack talent. They see talent as being set. In other words, either you are a good tennis player, or you are a bad tennis player. These players believe they can improve but not significantly.
If you see talent as being set or have a fixed mindset, you will not put in the effort to improve your game.
If you have a growth mindset, you might still be upset and angry after a loss. However, when you have a growth mindset, you understand skills can be developed through feedback and work.
Losses, eventually, provide valuable information about what needs to improve and how to improve.
If you genuinely want to explore your potential, you will look for the lessons in your losses. Learning from losses separates the good from the great tennis players.
WTA player Ons Jabeur had never beaten Elina Svitolina. In fact, Jabeur was 0-3 against Svitolina, most recently losing in 2019 at Dubai. At the 2021 Chicago Fall Tennis Classic, Jabeur rallied from 1-4 in the first set to win 6-4, 6-2 over top-seeded Svitolina in the quarterfinals.
Armed with a growth mindset, Jabeur has taken advantage of the feedback from past losses to lift her game to new levels
JABEUR: "I'm glad that I'm learning from my losses against [Svitolina] or against any other player. The most important thing is the hard work through the years. I'm a different player right now. I have played a lot of matches, I have much more experience, and to manage the stress, to manage the fact that I had opportunities, it's amazing to see that it's paying off."
Jabeur has played her best tennis during the 2021 season. Jabeur's improved play supports the benefits of having a growth mindset.
You can think of a growth mindset in these terms: "Win, learn. Lose, learn." With a growth mindset, you are always learning and moving forward, whether you win or lose.
Having a Growth Mindset and Learning from Losses:
An objective post-match evaluation should be a part of the process every time you play a match.
The two most important questions you should ask yourself after a match are, "What can I learn from today's match" and "What can I do to improve future performances?"
Remember, feedback and focusing on improvement (not faults) are two essential factors in a growth mindset.
---
Related Tennis Psychology Articles
*Subscribe to The Tennis Psychology Podcast on iTunes
*Subscribe to The Tennis Psychology Podcast on Spotify
---
Improve Your Mental Game for Tennis
Tennis Confidence 2.0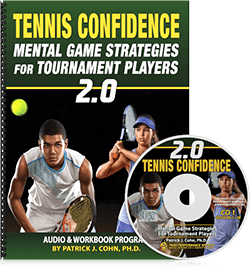 "Tennis Confidence: Mental Game Strategies for Tournament Players" is Dr. Cohn's program to help tennis players, coaches, and instructors improve the mental game of tennis is just 8 easy to learn sessions. Tennis Confidence: Mental Game Strategies for Tournament Players Audio and Workbook program is ideal for any junior, collegiate, and tour professional player. Tennis coaches and instructors would also be wise to teach the strategies in "Tennis Confidence 2.0."
Tennis Confidence is a complete mental training program developed Dr. Cohn. You learn the same strategies Dr. Cohn teaches his personal students to help them improve mental toughness and consistency – from managing unrealistic expectations to coping with perfectionism. 
Read more about Tennis Confidence Program>>