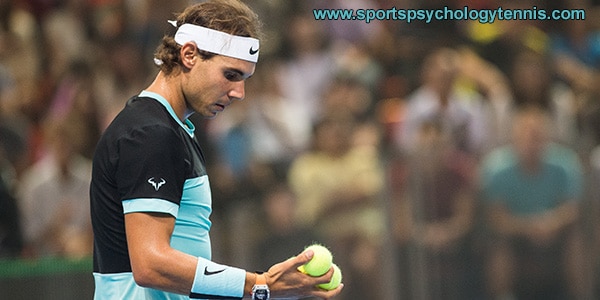 How to Help Athletes Get Past Mistakes
Do you have difficulty preventing negative emotions from affecting your game.
Once you have an emotional outburst, does it seem impossible to regain your composure?
Losing control on the court is a result of how you react internally to mistakes.
When you are calm, confident and in the flow of the game, you are focused on the present moment. That doesn't mean an unforced error won't cause a brief moment of frustration, but it is just that: brief. You are able to regain your composure and focus again on the current point.
In our Mental Game of Tennis Needs Survey, a tennis player highlighted a common problem with emotions:
"How can I stop getting so frustrated when I miss shots? I love the game. When other players on my team miss shots or hit unforced errors, I'm super encouraging and positive. But when I do it, I am so hard on myself that it affects my performance."
Frustration happens in the heat of competition. It is unrealistic to think you will or should never experience any negative emotions while playing.
When you think about early mistakes in a match, you are focused on the past. The more you pay attention to those thoughts, the more you lose control of your emotions.
As you lose more points, your frustration and anger will rise. Your performance will spiral downward. A few blown point opportunities could turn into a bad game, and a bad game can lead to a lost set.
When you think you are not performing up to your personal expectations, your emotions will get the best of you and lead to verbal and physical outbursts. Dwelling happens when you can't turn your focus away from the past and refocus in the present or on the current point.
Daniil Medvedev, the No. 2 player in the world, lost to Stefanos Tsitsipas, 6-3 7-6 7-5, in the 2021 French Open quarterfinals. During the match, Medvedev had a few emotional outbursts that contributed to his loss.
In the last set, Medvedev became angry when the scoreboard was changing during his serve. Though the umpire acknowledged the error, Medvedev lost control.
MEDVEDEV: "Why can't you change [the scoreboard]? It was showing wrong. You are wrong. As you told me, I got you on this one. Now if I lose this match, it's your fault!"
A mistake or a bad call should not be the cause of a loss. You have the power to manage your emotions by re-directing your focus. Being the master of your focus puts you in charge of your game.
How to Overcome Negative Emotions:
The first step to managing emotional flare-ups is to recognize when your negative emotions start to influence your performance. For example, do you start to rush your serve routine?
Next, re-direct your focus. You can use a word, "stop" or an action, such as tapping your thigh three times. The goal is to focus on something other than what stirred those emotions in the first place.
As you become more aware of situations that adversely affect your emotions, you will be able to recognize the early warning signs, re-focus quicker and lessen the intensity of counter-productive emotions.
---
Related Articles for Tennis Focus:
---
"Tennis Confidence: Mental Game Strategies for Tournament Players" is Dr. Cohn's program to help tennis players, coaches, and instructors improve the mental game of tennis is just 8 easy to learn sessions. Tennis Confidence: Mental Game Strategies for Tournament Players Audio and Workbook program is ideal for any junior, collegiate, and tour professional player. Tennis coaches and instructors would also be wise to teach the strategies in "Tennis Confidence 2.0."
Tennis Confidence is a complete mental training program developed Dr. Cohn. You learn the same strategies Dr. Cohn teaches his personal students to help them improve mental toughness and consistency – from managing unrealistic expectations to coping with perfectionism. Read more about Tennis Confidence Program>>