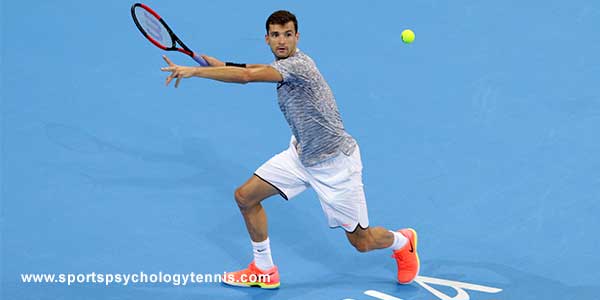 How to Focus on Your Strengths
Over 100 career wins…
Ranked No. 1…
82% winning percentage…
Doubles champion!!!
Imagine playing against this opponent and you're staring down the opposite side of the court focusing on that player with outstanding statistics, high winning percentage, top-ranking, award-winning, highly-regarding player…
What thoughts would be running through your head as you have to play an idol in your sport?
Would you be intimidated? Would you fear embarrassing yourself on the court?
Play long enough and you will find yourself in a situation similar to this in some degree.
If you have the mentality of, "The better the competition, the worse I play," then you have lost before the first point is even played.
In actuality, you are playing against an opponent, not their stats, reputation or awards.
You are competing against a player who has lost in the past… who has under-performed at some point… who has been upset by a lesser ranked opponent.
No player is invincible. Every player has strengths and weaknesses, good matches and bad matches.
Furthermore, you are likely to be much better than you think you are. What if THIS match is your "breakout" match? What if this is your opportunity to showcase your talents against tough competition?
The key to next-level play is to focus on your strengths, rather than the legacy of your opponent.
The legacy of Roger Federer did not affect 78th-ranked Grigor Dimitrov at the 2019 US Open. Federer is, without a doubt, one of the greatest tennis players of all time. Federer's stats are remarkable. Since 2003, Federer has made 31 Grand Slam appearances and won 20 Grand Slam titles.
No one would blame Dimitrov if he was overwhelmed by Federer's legacy, but Dimitrov was focused on playing an opponent, not his resume.
Despite being winless over Federer in their past seven matches, Dimitrov shocked Federer at the US Open winning their quarterfinal matchup, 3-6, 6-4, 3-6, 6-4, 6-2.
Dimitrov had been 7-0 in their head-to-head series, taking 16 of the previous 18 sets against Dimitrov, who is a decade younger.
Dimitrov credited his focus on himself rather than the legacy of Federer for his victory.
DIMITROV: "I was more present. I was more of myself throughout every point, every game that I played. In the past, it's always been very hard to play against him."
Dimitrov saw the match as a means to lift his game to the next level and that kept Dimitrov focused throughout the entirety of such a long match.
DIMITROV: "I think I raised my bar a little bit."
Raising the bar requires that you are focused on your strengths, abilities and game plan.
Past matches don't matter, your opponent's legacy is unimportant, ranking is irrelevant, nor does yesterday matter.
The only thing that truly matters is the present moment and that singular focus is the key to victory.
Playing Well Against an Idol
Obviously, you want to focus on your game plan against the opponent, not past accomplishments. It's easy to feel intimidated when you focus on the accomplishments, ranking, or seed of your opponent.
Think about your opponent being "rankless," "seedless," and nameless when on the court to help you let go of his or her past accomplishments.
"I think your biggest weapon is to be as prepared as you can. I really think that just working your mind — because at this level everyone knows how to play tennis, I think. The thing that separates the best from the rest is just the mindset," said Bianca Andreescu after winning the U.S. Open against her idol Serena Williams
---
Related Tennis Psychology Articles:
*Subscribe to The Tennis Psychology Podcast on iTunes
*Subscribe to The Tennis Psychology Podcast on Spotify
---
Improve Your Mental Game for Tennis
Tennis Confidence 2.0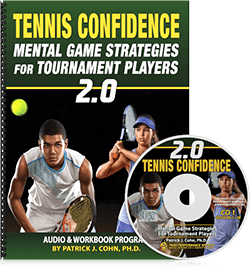 "Tennis Confidence: Mental Game Strategies for Tournament Players" is Dr. Cohn's program to help tennis players, coaches, and instructors improve the mental game of tennis is just 8 easy to learn sessions. Tennis Confidence: Mental Game Strategies for Tournament Players Audio and Workbook program is ideal for any junior, collegiate, and tour professional player. Tennis coaches and instructors would also be wise to teach the strategies in "Tennis Confidence 2.0."
Tennis Confidence is a complete mental training program developed Dr. Cohn. You learn the same strategies Dr. Cohn teaches his personal students to help them improve mental toughness and consistency – from managing unrealistic expectations to coping with perfectionism. 
Read more about Tennis Confidence Program>>