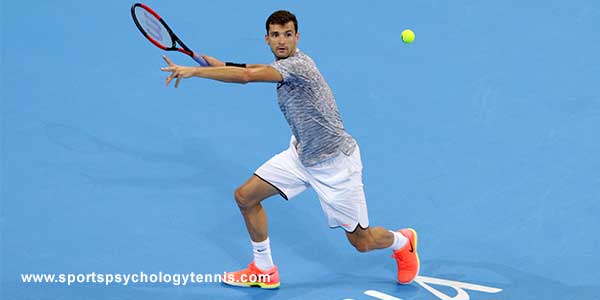 How to Focus on Your Strengths
Over 100 career wins…
Ranked No. 1…
82% winning percentage…
Doubles champion!!!
Imagine playing against this opponent and you're staring down the opposite side of the court focusing on that player with outstanding statistics, high winning percentage, top-ranking, award-winning, highly-regarding player…
What thoughts would be running through your head as you have to play an idol in your sport?
Would you be intimidated? Would you fear embarrassing yourself on the court?
Play long enough and you will find yourself in a situation similar to this in some degree.
If you have the mentality of, "The better the competition, the worse I play," then you have lost before the first point is even played.
In actuality, you are playing against an opponent, not their stats, reputation or awards.
You are competing against a player who has lost in the past… who has under-performed at some point… who has been upset by a lesser ranked opponent.
No player is invincible. Every player has strengths and weaknesses, good matches and bad matches.
Furthermore, you are likely to be much better than you think you are. What if THIS match is your "breakout" match? What if this is your opportunity to showcase your talents against tough competition?
The key to next-level play is to focus on your strengths, rather than the legacy of your opponent.
The legacy of Roger Federer did not affect 78th-ranked Grigor Dimitrov at the 2019 US Open. Federer is, without a doubt, one of the greatest tennis players of all time. Federer's stats are remarkable. Since 2003, Federer has made 31 Grand Slam appearances and won 20 Grand Slam titles.
No one would blame Dimitrov if he was overwhelmed by Federer's legacy, but Dimitrov was focused on playing an opponent, not his resume.
Despite being winless over Federer in their past seven matches, Dimitrov shocked Federer at the US Open winning their quarterfinal matchup, 3-6, 6-4, 3-6, 6-4, 6-2.
Dimitrov had been 7-0 in their head-to-head series, taking 16 of the previous 18 sets against Dimitrov, who is a decade younger.
Dimitrov credited his focus on himself rather than the legacy of Federer for his victory.
DIMITROV: "I was more present. I was more of myself throughout every point, every game that I played. In the past, it's always been very hard to play against him."
Dimitrov saw the match as a means to lift his game to the next level and that kept Dimitrov focused throughout the entirety of such a long match.
DIMITROV: "I think I raised my bar a little bit."
Raising the bar requires that you are focused on your strengths, abilities and game plan.
Past matches don't matter, your opponent's legacy is unimportant, ranking is irrelevant, nor does yesterday matter.
The only thing that truly matters is the present moment and that singular focus is the key to victory.
Playing Well Against an Idol
Obviously, you want to focus on your game plan against the opponent, not past accomplishments. It's easy to feel intimidated when you focus on the accomplishments, ranking, or seed of your opponent.
Think about your opponent being "rankless," "seedless," and nameless when on the court to help you let go of his or her past accomplishments.
"I think your biggest weapon is to be as prepared as you can. I really think that just working your mind — because at this level everyone knows how to play tennis, I think. The thing that separates the best from the rest is just the mindset," said Bianca Andreescu after winning the U.S. Open against her idol Serena Williams
---
Learn Proven Tennis Mental Game Strategies To Perform Your Best On The Court!
Are you (or your players) performing up to your ability in competition?
Do you bring your best and most confident game to matches?
I often hear players complain about the following problems when they play in matches…
"I get so tight or tense before matches that I can't think straight or have any rhythm in my game."
"I get so frustrated with hitting bad shots or with errors and it snowballs."
"I expect so much when I play that I unravel and lose confidence when the match does not go as planned."
"My confidence seems to disappear when I go from practice to matches and I don't know why."
Successful tennis players have learned how to perform with ultimate confidence in tournaments.
If you are ready to improve your mental toughness and perform with ultimate self-confidence in matches, Tennis Confidence: Mental Toughness For Tournament Players can help you do this!
Players: Learn how to take control of your confidence, focus your best, and win more close matches.
Parents: Help boost your junior tennis player's confidence for tournaments. Just load the program on your player's IPod!
Coaches: Boost your team's confidence using simple, proven mental strategies.
Instructors: Learn how to give your students the mental game advantage.
Use Tennis Confidence to help boost your mental toughness in tennis and discover powerful and proven mental game strategies that have helped professional athletes win!
Tennis Confidence: Mental Toughness For Tournament Players
---
Download Our Free Tennis Psychology Report!

Discover if you are making one or more of these "costly" unforced mental game errors during matches!
Download our free Tennis Psychology Report:
Six Unforced 'Mental Game' Errors Tennis Players Make Between Points
You'll discover:
How your mind can be your best or worst asset on the court.
If you are using your mind effectively between points.
One strategy that can help you let of go the last point.
The top mental game skills you need to master to boost your confidence and performance between points.
Click here to download your FREE report today: Six Unforced 'Mental Game' Errors Tennis Players Make Between Points