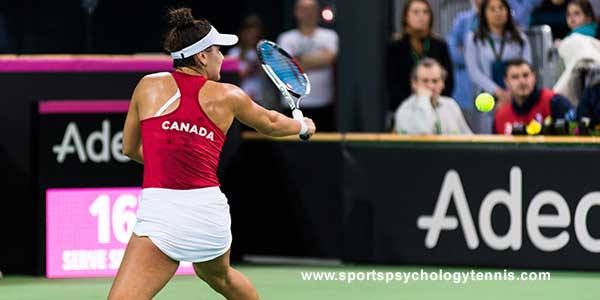 Even the Pros Can Become Distracted on Court
"I can't stand the noise when playing a match."
Distractions during a match are annoying and can be a huge issue when you are in the middle of a match.
Getting ready for a second serve and hearing a spectator call out can distract you enough to double fault in a critical moment during the match.
Many things can distract you from focusing your best during the match…
For one, crowd noise or cheering can be quite a distraction. You can feel outnumbered when the crowd is loudly rooting for your opponent which can knock you right out of your game.
The second type of noise that is a distraction is crowd jeering.
Crowd jeering is when you are booed by the crowd or a spectator makes rude or loud comments during or between points.
When a spectator directs disparaging comments your way, such as "He's got no game," it can stir negative, distracting emotions.
Lastly, and the most detrimental noise or distraction, is negative thinking.
Whether that is internalizing the comments from spectators, being excessively self-critical or doubting your abilities on the court, these types of mental noise can dominate your mind space and create tremendous challenges to focusing during a match.
Thoughts, such as, "I stink today," "I am going to get crushed this match," or "What the heck is wrong with me today?" are examples of mental noise that block you from performing at your peak.
Whatever the source of the noise, you can counter the effect by learning how to focus in the heat of battle.
Noise was the exact thing Bianca Andreescu had to manage in her Finals matchup against Serena Williams at the 2019 US Open. Andreescu maintained a strong focus and won the match 6-3, 7-5.
Not only did Andreescu need to overcome a very loud crowd who was cheering on Williams, Andreescu had to deal with the potential internal noise when Williams started making a comeback.
ANDREESCU: "Well, I was blocking out the noise, or trying to. I could barely hear myself think really. It was really, really loud. But I guess that's what makes this tournament so special. But it definitely wasn't easy, especially when she started coming back in the second set. I mean, it was expected. She's a champion… But I just tried to stay as composed as I could. It's hard to just block everything out, but I think I did a pretty good job at that."
Andreescu was able to focus on play points instead of listening to the noise.
Like Andreescu, by overcoming distractions, you can stay focused and composed throughout the match and be at your best.
Coping with Distractions
First, define what you SHOULD focus on during a point. Define your performance cues, such as moving quickly to the ball and picking a target.
Second, understand what's not important to playing point–that your mind might wander to, such as people in the stands, parents, or opponents screaming.
Next, refocus when you recognize that you're thinking about a distraction, choose to focus on your performance cues or match strategy.
Find a phrase that helps bring your attention back to your game, such as "this point" or "get present."
---
Related Tennis Psychology Articles:
*Subscribe to The Tennis Psychology Podcast on iTunes
*Subscribe to The Tennis Psychology Podcast on Spotify
---
Improve Your Mental Game for Tennis
Tennis Confidence 2.0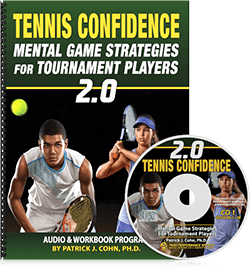 "Tennis Confidence: Mental Game Strategies for Tournament Players" is Dr. Cohn's program to help tennis players, coaches, and instructors improve the mental game of tennis is just 8 easy to learn sessions. Tennis Confidence: Mental Game Strategies for Tournament Players Audio and Workbook program is ideal for any junior, collegiate, and tour professional player. Tennis coaches and instructors would also be wise to teach the strategies in "Tennis Confidence 2.0."
Tennis Confidence is a complete mental training program developed Dr. Cohn. You learn the same strategies Dr. Cohn teaches his personal students to help them improve mental toughness and consistency – from managing unrealistic expectations to coping with perfectionism. 
Read more about Tennis Confidence Program>>