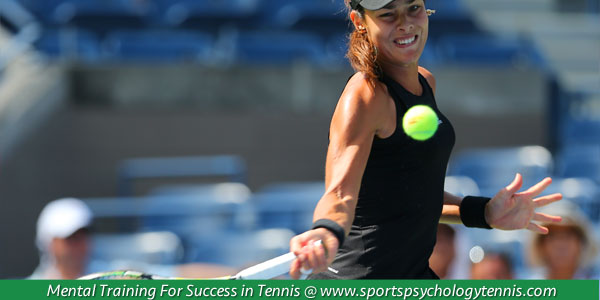 Staying Positive When Losing Matches
Many tennis players repeat the refrain, "It's not my fault…"
Some tennis players blame mistakes and losses on a wide range of sources:
bad weather
coaches
noisy spectators
bad officiating
inconvenient scheduling
long distant traveling
outside distractions
a host of other excuses that interfere with succeeding.
Blaming prevents an athlete from acquiring valuable feedback from a performance, which interferes with improvements that could be made to training, technique, and/ or strategy. Without taking ownership over your level of performance, you lose a sense of control over performance outcomes.
In essence, blaming causes an athlete to look for solutions to poor performance outside of themselves and their control.
Instead of trying to improve their performance through more focused training, better technique or managing emotions, athletes engaging in the "blame game" seek for answers through changing coaches, switching teams, blaming others or giving up all together.
Ana Ivanovic is a 26 year-old professional tennis player from Serbia.
In 2007, Ana Ivanovic was the runner-up in the French Open and in 2008, she was the runner-up in the Australian Open. Then, as a 20-year-old, Ivanovic won the French Open beating Dinara Safina 6-4 6-3. Ivanovic's grand slam victory secured her the world No. 1 rank for 12 weeks. Ivanovic was quickly off to a promising tennis career.
Since her French Open in 2008, Ivanovic's performance slumped as she has battled big-match nerves, serving problems and a rash of injuries.
Ivanovic is currently ranked 14th and has been outside of the top 10 since June 2009.Ivanovic has responded to her inconsistent play by changing coaches six times since 2006 and hiring multiple fitness trainers.
Ivanovic's coaching turnover points to a player stuck in a rut who is desperately searching for a way out of it.
Jo Durie, tennis commentator and former player, feels that Ivanovic needs to take ownership and develop her mental game instead of changing coaches:
"It's about confidence with Ana. Her sense of trust in herself is what she needs. A lot of players on tour jump around with coaches, I can never understand that."
Ivanovic has even blamed her schedule for her inconsistency despite most players having similar schedules:
"Especially at the end of the year when from America we mostly go back to Europe for a week and then we go to Asia for quite a few weeks, so that's kind of tiring and hard." After kicking off the 2014 season with a win over former No. 1 Venus Williams, Ivanovic blamed the victory for her failure to advance to the semi-finals of the Australian Open stating her victory had left her "emotionally drained."
Taking responsibility for your performance in tennis:
You need to be aware of your self-talk when you compete.
You should objectively evaluate your performance in terms of what you did or didn't do. Take responsibility for your game and improvement instead of making excuses.
You want to figure out three things you can personally change to improve your performance.
You need to plan out steps to actively to improve those areas and work on those areas in practice.
You must commit to stop make excuses for your performance and seek to gain control over your training and improvement.
Check Out Our Tennis Mental Coaching Programs
---
Boost Your Self-Confidence and Focus with Expert Mental Game Coaching Tennis Mindset
Learn how to boost your mental game of tennis and develop the confidence of a champion quickly and effortlessly with tennis mental game coaching!
If you're not performing up to your potential in matches, most likely your mental game is holding you back. Are you so frustrated with your performance you feel like giving up? Does your confidence evaporate when you play in tournaments? Are you tired of working hard in practice and not getting any results in matches?
We can help you uncover the beliefs and attitudes that keep you from performing to your potential.
Complimentary 15-Minute Coaching Session
Call Us Today to Schedule Your Free 15-Minute Session.
Find Out How You Can Benefit From One-on-One Mental Coaching!
888-742-7225 | 407-909-1700
Please contact us today to learn how mental coaching works and to request pricing on all mental training programs for tennis players. Complete the form below to contact us via email or call us toll-free at 888-742-7225