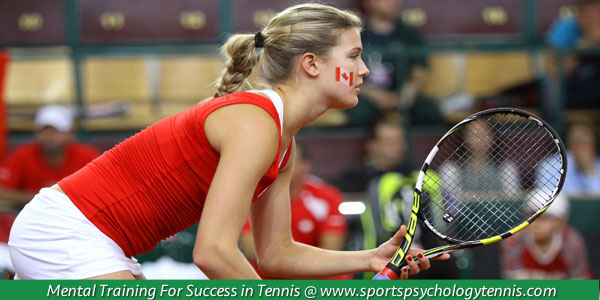 Eugenie Bouchard's Mental Toughness
When the tennis match is on the line, do you believe in your ability to perform well on the court? Are you confident that in your tennis skills to play well or win?
Superior confidence may be the single most important mental game attribute in tennis.
Self-confidence is the belief in your ability to execute good shots.
You may have a ton of physical ability, but if you don't believe in your ability to perform well in critical situations, then chances are you will not be a successful tennis player. Lack of confidence produces anxiety and drastically impairs performance.
At the 2014 Australian Open, Eugenie Bouchard, a 19-year old Canadian professional tennis player displayed the confidence of an elite athlete. Bouchard, ranked 31st in women's tennis, beat 14th ranked Ana Ivanovic in the quarterfinals of the Australian Open 5-7, 7-5, 6-2.
I enjoy readying or listening to players' post match interviews. You can gain many insights from the top players in tennis and how they maintain confidence. Eugenie Bouchard, for only 19 years old, is beyond her years with the mental game of tennis.
Bouchard said that she focused on her strengths:
"I just had to stay with her, try to control the point a little bit more. I think late in the second set I decided to use my forehand a little bit more and I think that worked well."
Bouchard seemed very composed on the outside—at least she acted the part. Sometimes you have to fake it until you make it:
"I tried to stay calm. I tried to for sure show I was calm. I did feel confident."
Bouchard said she focused on one point at a time:
"Having lost the first set and things like that, I just tried to focus on what I had to do during the point to try to win, really just try to keep pressing her and moving forward."
Bouchard believed in her ability to play well, a must for a strong mental game of tennis.
"I felt like my game was there and I just needed to relax a little bit and play."
After losing the first set, Bouchard kept battling and stayed focused on her game:
"I always believe in my ability. That's why it's two sets to win a match. You never know what can happen."
Bouchard looks for an advantage over an opponent to feel a sense of control in the match:
"I tried to be aggressive. Obviously it's good to mix it up. I think I just really try to take the ball early. I think that's good because it takes away time from the opponent. She has less time to guess where I'm going or try to read where I'm going. I think that's an advantage I try to use on the court."
Bouchard quickly moves past a mistake and has the ability to re-focus on the next point another attribute of a mentally tough tennis player.
"I mean, it's really important for me to stay focused, focus on one point at a time. There are crazy ups and downs in matches all the time. You never know. Even if you're up, you can still lose. I think I handled it well today, being up. I just kept trying to play and kept trying to put pressure."
Bouchard focuses on her game plan so she's not forced into playing a style she does not like. "In the point, I really just want to play my game, be aggressive, take it to my opponent, and not just wait around and wait for opportunities."
If you can follow Bouchard's mental game tips, you will significantly increase your chances for success in tennis. Doing the physical work in practice is a tremendous start to great performance, but improvement in your mental game of tennis will improve your play exponentially.
---
Related Tennis Psychology Articles
*Subscribe to The Tennis Psychology Podcast on iTunes
*Subscribe to The Tennis Psychology Podcast on Spotify
---
Improve Your Mental Game for Tennis
Tennis Confidence 2.0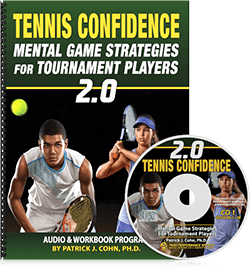 "Tennis Confidence: Mental Game Strategies for Tournament Players" is an audio and workbook program to help tennis players, coaches, and instructors improve the mental game of tennis is just 10 easy to learn sessions. Tennis Confidence: Mental Game Strategies for Tournament Players Audio and Workbook program is ideal for any junior, collegiate, and tour professional player. Tennis coaches and instructors would also be wise to teach the strategies "Tennis Confidence."
Tennis Confidence is a complete mental training program developed Peak Performance Sports. You learn the same strategies Dr. Cohn teaches his tennis players to help them improve mental toughness and consistency – from managing unrealistic expectations to coping with perfectionism.
Read more about Tennis Confidence Program>>