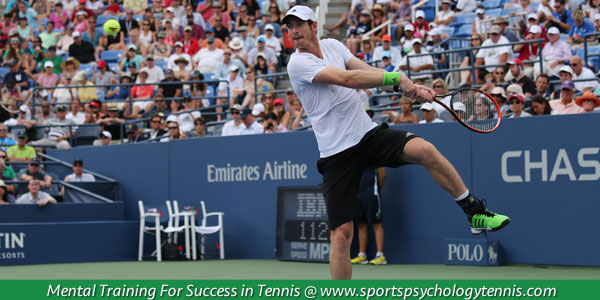 Staying Focused in Matches
Roger Federer demoralized Novak Djokovic at the Cincinnati Masters Tournament recently winning easily 6-1, 7-5.
"It looks convincing, 6-1, 7-5, but a few points here or there, your focus is not right on break point, maybe you are the better man, but you end up losing because you lost focus on the biggest points," Federer said. "That's why you've always got to push yourself."
No matter what the score is, maintaining your focus is important to your performance. Some players lose points or games because they lose focus for just a game or two.
Federer was down 0-3 in the second after winning the first easily. He lost his mental edge for just one moment. He coasted on his talent. He forgot to focus to the max.
Was he distracted?
No. I think he let up for just a moment and found himself down 0-3.
But it's easy for many players to get distracted and lose focus.
When you start focusing on the wrong things, your performance suffers. You might make more unforced errors and not execute or lose sight of your game plan.
Critical points might cause you to lose focus too.
When you're down break point or serving for the match, you might be thinking, 'What happens if I lose this game?' This can lead to more tension, trying to avoid errors or expectations about how you should perform.
How can one of the best players in the world – or the best in the world – admit to losing his focus in the finals?
Simple. He's human. You're human. You can't be perfect with your concentration all the time.
A let down in intensity can lead to a drop in focus. Winning the first set big can lead to a small let up in your game.
Other factors can affect your mental focus as well.
When you're fatigued, you might struggle to focus during the point. When this happens, you might play a couple of loose points, become frustrated and have a hard time bouncing back from your mistakes. Federer says to "push yourself" when you're losing focus.
It's nearly impossible to stay focused for the whole 2-3 hours of a match. When you're fatigued, think of focusing hard for a few seconds (a single point or 3 shots) and then relax your focus. Use your time in between points and on the changeovers to relax your focus and regroup.
Your tennis psychology tip for today
The momentum and intensity on your side. They are your friends when it comes to focus.
Don't allow an easy first set to lull you to sleep in the second. Keep the "petal to the medal" and manage your intensity during the match.
---
Learn Proven Mental Game Strategies To Perform Your Best On The Court!
Are you (or your players) performing up to your ability in competition?
Do you bring your best and most confident game to matches?
Successful tennis players have learned how to perform with ultimate confidence in tournaments.
If you are ready to improve your mental toughness and perform with ultimate self-confidence in matches, Tennis Confidence: Mental Toughness For Tournament Players can help you do this!
Use Tennis Confidence to help boost your mental toughness in tennis and discover powerful and proven mental game strategies that have helped professional athletes win!
Tennis Confidence: Mental Toughness For Tournament Players
What are mental game customers saying?
"Thank you for all the knowledge, tools, material, and guidance you have given me throughout this course. It was truly a great experience. I am looking forward to integrating this mental training system not only to students at the club, but as well bring this wonderful education outside to athletes that truly are committed, and strive towards reaching their peak performance."
~Tim Whitehead, Head Tennis Professional, MGCP
---
Download Our Free Tennis Psychology Report!

Discover if you are making one or more of these "costly" unforced mental game errors during matches!
Download our free Tennis Psychology Report:
Six Unforced 'Mental Game' Errors Tennis Players Make Between Points
You'll discover:
How your mind can be your best or worst asset on the court.
If you are using your mind effectively between points.
One strategy that can help you let of go the last point.
The top mental game skills you need to master to boost your confidence and performance between points.
Click here to download your FREE report today: Six Unforced 'Mental Game' Errors Tennis Players Make Between Points
What are tennis players saying?
"Dr. Cohn, one of my goals is to become a world-class-coach, There are a few coaches from the US who inspired me the most-John Wooden, Son Shula, and Pat Riley. After working with you, I now also list your name among the most influential coaches in my field!"
~Franz
---
Boost Your Self-Confidence And Focus With Expert Mental Game Coaching!
Master mental game coach Dr. Patrick Cohn can help you overcome your mental game issues with personal coaching.
You can work with Dr. Patrick Cohn himself in Orlando, Florida or via Skype, FaceTime, or telephone. Call us toll free at 888-742-7225 or contact us for more information about the different coaching programs we offer!
What are our mental coaching students saying?
"I have really enjoyed listening to your tennis psychology podcasts on iTunes and reading your E-books. I already have improved in my mental game. I played in a tennis tournament this past weekend and played with the amount of confidence I should have in myself. If I lost a point or made a stupid error, I knew how to deal with it and move on to the next point. I didn't get frustrated."
~Melanie Lewis, Junior Tennis Player