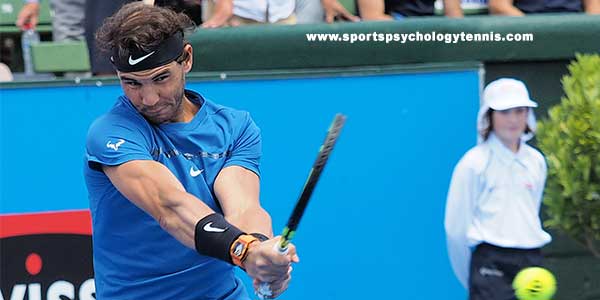 The Mental Aspect of Closing Out a Tennis Match
Closing out a match for the win is as much mental as it is physical.
Many aspects of your mental game play a greater role towards the end of a match:
Tiredness – Being tired during a match sets off a host of possible distractions as you try to close out a match. It can be challenging to concentrate when your heart is pounding, sweat is pouring down your face, arms feel heavy and legs feel sluggish.
Focus – When your opponent starts hitting winners and closing the gap in the score, your mind can be pulled in a number of directions: "What if I choke after having the lead heading into the final set,"
"He doesn't even appear tired," "I just can't get to the ball like I could earlier in the match," "Here we go again, I can't seem to close out matches," or "This is going to be an epic collapse."
Confidence – With every missed opportunity, negativity can creep into your game stirring negative thoughts, affecting confidence, poise, strategy and performance. With lesser confidence, you take fewer chances to go for winners or aggressively stretch for returns.
As matches come to a close, there is no doubt that mental factors take over and become the determining factor for your performance on the court.
Therefore, if you are lacking mental toughness, closing out matches may feel practically impossible.
Closing out at a grueling match is just what Roger Federer did against Rafael Nadal at 2019 Wimbledon to advance to the Finals.
The match was the 40th time Federer and Nadal faced each other with Federer pulling out the victory, 7-6 (3), 1-6, 6-3, 6-4.
There was a lot to overcome to close out the match: playing at Wimbledon, competing against a rival, needing the victory to advance to the final, winning the first set in a tiebreak, being dominated in the second set and fighting through a long match.
Federer's mental performance was the key in closing out the match. Federer admitted there were some tough mental challenges throughout the match, but credited his ability to focus on his game plan instead of becoming distracted by mental interference.
FEDERER: "I'm exhausted. It was tough at the end. I was able to stick to my game plan, stay aggressive, stay offensive. I guess I also started to serve a bit better maybe after that second set. I think I won a lot of the important points in the third and fourth sets. There were some brutal rallies in key moments that went my way. I think those might have made the difference today."
Being able to close out a match and beat your opponent requires that you win the inner game.
For that reason, it is important to develop your mental game or the mental skills to overcome those little mental challenges that present themselves throughout the match.
Closing Out Tennis Matches:
Follow Federer's lead… You can become overwhelmed by focusing on all the distractions: who you are playing, the score, how you feel, the tournament, who is watching you, etc.
The other option is to focus on something you have control over… your match strategy.
When you have the lead, you must continue to play aggressive and not protect the lead. Most tennis players give away the lead because the slam on the breaks and play safe.
Challenge yourself to close out the match aggressively, but one point at a time.
Stick to your game plan that was working when you got into the lead. No need to change what's working.
Don't get think ahead about how awesome it would be to beat your opponent. Try to play one game at a time and enjoy the process!
---
Related Tennis Psychology Articles:
*Subscribe to The Tennis Psychology Podcast on iTunes
*Subscribe to The Tennis Psychology Podcast on Spotify
---
Improve Your Mental Game for Tennis
Tennis Confidence 2.0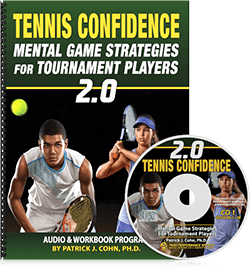 "Tennis Confidence: Mental Game Strategies for Tournament Players" is Dr. Cohn's program to help tennis players, coaches, and instructors improve the mental game of tennis is just 8 easy to learn sessions. Tennis Confidence: Mental Game Strategies for Tournament Players Audio and Workbook program is ideal for any junior, collegiate, and tour professional player. Tennis coaches and instructors would also be wise to teach the strategies in "Tennis Confidence 2.0."
Tennis Confidence is a complete mental training program developed Dr. Cohn. You learn the same strategies Dr. Cohn teaches his personal students to help them improve mental toughness and consistency – from managing unrealistic expectations to coping with perfectionism. 
Read more about Tennis Confidence Program>>