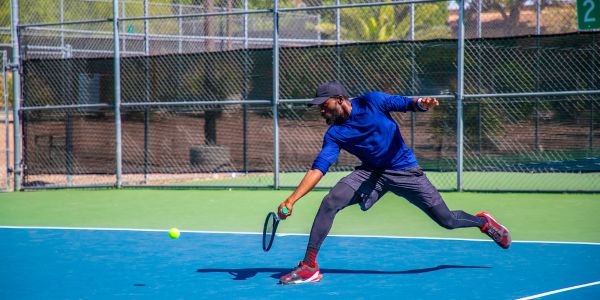 What keeps you motivated to pursue your long-term seasonal goals?
Many tennis players lose their drive as they chase their seasonal goals.
Tennis seasons are long and grueling. Practices can be monotonous. Often, the time between tournaments can be several weeks.
Losing your focus and momentum can be easy, especially after experiencing an injury or string of losses.
What can keep you plugging along and on the path to achieving your seasonal goals?
A high school tennis player from our Mental Game of Tennis Needs Survey asked the following question regarding this topic:

"How can I stay focused on my long-term goals? It's hard for me to stay motivated, and I tend to give up in the middle of the season if I don't see significant progress."
When you set your goals in the preseason, you are excited to get to work.
Early in the season, your enthusiasm is at its peak. Practice is fun, and you feel nothing can deter you from accomplishing your long-term tennis goal.
However, tennis seasons are lengthy and long-term goals are months and months away. To worsen matters, seasons are never smooth sailing; adversity can distract you and zap your mental energy. Frustration builds when progress is slow.
You may begin to believe that achieving your goals is no longer possible. Practices feel like a waste of time, so you merely go through the motions.
Setting short-term goals are one way to fuel your motivation. Early-season and mid-season goals give you viable targets to work towards.
Short-term goals provide feedback that indicates if you are on the right path to achieving your ultimate objectives.
When you identify short-term targets, practices have a purpose. Each time you accomplish a smaller goal, you develop greater confidence to achieve bigger goals.

Dominic Thiem's mid-season goal is to make the 2023 French Open main draw. Thiem took a step in the right direction by defeating Ben Shelton, 6-2, 6-2, at the Estoril Open to secure successive wins for the first time in 2023.
Entering the week, Thiem was ranked No. 111 in the ATP rankings, just shy of the ranking needed to make the main draw of Roland Garros.
Thiem uses short-term goals to keep him motivated and moving forward toward his ultimate goal.
THIEM: "The results in the first quarter of the year were not there. This part of the season, I love it. I have a big short-term goal to still reach the main draw of the French Open. All the points are helping me."

Short-term goals are an effective strategy that directs your efforts, help you overcome hurdles, assesses your progress, and allows you to adjust your goal plan if necessary.
After you define your end-of-season goal, set 3 short-term goals, such as 2-month, 5-month, and 8-month targets. Make sure these goals are specific and achievable within the time frame.
When you focus on your next target, you create momentum and fuel your motivation. For even greater impact, create a goal journal to measure your progress and have daily objectives to help you reach your goals.
---
Related Tennis Psychology Articles
*Subscribe to The Tennis Psychology Podcast on iTunes
*Subscribe to The Tennis Psychology Podcast on Spotify
---
Improve Your Mental Game for Tennis
"Tennis Confidence: Mental Game Strategies for Tournament Players" is an audio and workbook program to help tennis players, coaches, and instructors improve the mental game of tennis is just 10 easy to learn sessions. Tennis Confidence: Mental Game Strategies for Tournament Players Audio and Workbook program is ideal for any junior, collegiate, and tour professional player. Tennis coaches and instructors would also be wise to teach the strategies "Tennis Confidence."
Tennis Confidence is a complete mental training program developed Peak Performance Sports. You learn the same strategies Dr. Cohn teaches his tennis players to help them improve mental toughness and consistency – from managing unrealistic expectations to coping with perfectionism.
Read more about Tennis Confidence Program>>