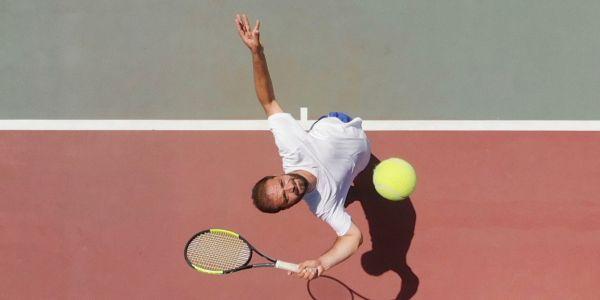 What is the difference between a dream and a goal?
Most tennis players have inspiring dreams of playing in college, competing on the pro circuit, or even playing in a major tournament such as Wimbledon or the US Open.
Your dreams may initially spark your passion, but dreams rarely fuel motivation.
Dreams lose their luster because they don't show us the way. In other words, dreams provide an image of what we want to become or achieve but not much else.
Conversely, goals provide a much clearer image or target of what you want to accomplish in the near future. In addition, motivating goals include a goal plan which acts as an instruction manual.
The instruction manual or goal plan outlines specific steps that direct your actions and inform you of what you must do to accomplish your goal.
Why is a goal plan critical to athletic achievement?
When you merely have a dream and experience losses, lack of improvement, or adversity, frustration grows, confidence shrinks, and often, you just want to give up.
With a goal plan, you can alter the plan depending on your current needs. For example, if you are having trouble serving during matches, you can make your serve the focal point of your upcoming practice sessions.
Also, you may determine that you need to add strength training to increase your power or mental training to improve your focus under pressure.
A goal plan motivates you to improve your mental and physical skills and helps you maintain high confidence by giving you control over the process.
One confounding issue on the dreams/ goals front is when athletes say, "It has always been a dream to win a major championship" or "I've dreamt about winning this tournament since I was a kid."
The dream may have provided the initial spark, but it was the player's goals, plan, and action that led to athletic achievement.
Goal setting is an active and fluid process consisting of a specific goal, well-defined goal plan, action, feedback, adjustments, and revision. Goal setting separates high achievers from tennis players who consistently underperform.
Caroline Wozniacki made a big step in her retirement return by beating two-time Wimbledon champion Petra Kvitova 7-5, 7-6 (5) at the 2023 US Open.
The Open is Wozniacki's third event after her two-and-a-half-year retirement.
After being eliminated from the tournament in the Round of 16, Wozniacki stated her goal is to compete at the 2024 Australian Open, and she has already started formulating her plan.
WOZNIACKI: "I think there's a lot of things that I can take away with me from playing this Slam. I wanted to see where I was tennis-wise, where I was physically and everything else. I think I've learned a lot from that. There [are] still a few things that I want to work on and that I can do better. But in general, I think it's very positive. Every match I played here, I played a little bit better each time. A lot of positives I can bring with me,"
Knowing where you want to go is important, but creating a plan for how you will get there is crucial.
Step 1: Visualize your target. What do you want to accomplish by the end of the season? Visualize every detail of the event, including achieving your goal.
Step 2: Write down your goal in detailed, tangible terms and include a target date.
Step 3: Create an action plan that contains the mental, physical, and technical skills you need to develop and how/ where you will work on these skills.
Pursuing a goal goes beyond just dreaming; it requires a target, an action plan, and focused, decisive action!
---
Related Tennis Psychology Articles
*Subscribe to The Tennis Psychology Podcast on iTunes
*Subscribe to The Tennis Psychology Podcast on Spotify
---
Improve Your Mental Game for Tennis
"Tennis Confidence: Mental Game Strategies for Tournament Players" is an audio and workbook program to help tennis players, coaches, and instructors improve the mental game of tennis is just 10 easy to learn sessions. Tennis Confidence: Mental Game Strategies for Tournament Players Audio and Workbook program is ideal for any junior, collegiate, and tour professional player. Tennis coaches and instructors would also be wise to teach the strategies "Tennis Confidence."
Tennis Confidence is a complete mental training program developed Peak Performance Sports. You learn the same strategies Dr. Cohn teaches his tennis players to help them improve mental toughness and consistency – from managing unrealistic expectations to coping with perfectionism.
Read more about Tennis Confidence Program>>