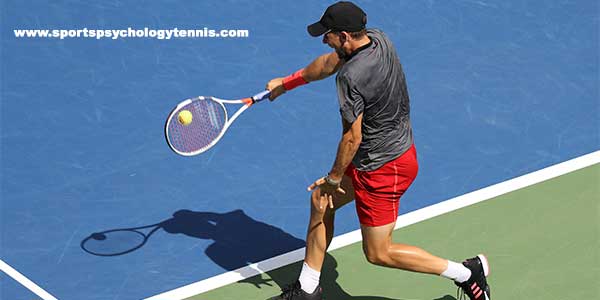 Sometimes, your 'B' Game is Good Enough
What do you say to yourself when you are not on top of your game?
Let's face it, you will play some matches when you just don't have your 'A' game. At times, your serve will lack velocity, your aggressive play results in too many unforced errors, or you feel sluggish on the court and not able to get to wide balls.
It's just not possible that you can be performing your best every time you step on the court.
The truth is, no matter what, you can still win even though you don't have your 'A' game. Sometimes, your 'B' game is good enough.
Recognizing that you're not on your 'A' game can result in two conclusions:
"My game is off; I'm going to lose." This mentality guarantees a loss. This mentality jumps to an inaccurate conclusion that states, "Winning requires near perfection."
"My game is off; I need to make some adjustments and grind it out until the end." This mentality recognizes that you don't have to be at your best to be successful. This allows you to make slight adjustments to your tactics, giving you the best chance to win.
For example, if your game plan prior to a match centers around an aggressive powerful serve but you keep double faulting, you may alter your plan and focus on ball placement instead.
You don't need your full arsenal to win a match. In other words, sometimes your B-game is good enough.
In the 2019 China Open, Dominic Thiem defeated Karen Khachanov, 2-6, 7-6, 7-5 in the semi-finals without having his 'A' game and eventually won the tournament.
Thiem battled the entire match grinding out the victory despite being dominated in the first set. Midway through the second set, Thiem altered his game plan and aggressively attacked Khachanov's backhand with a powerful forehand to take the second set in a tie break.
THIEM: "I'm really proud that I was fighting like crazy throughout the whole match because Karen was playing exceptional well today… I [had that] feeling that, until maybe one and a half sets or until 6-2, 5-3 for him, he was the little bit better player. I only came back into the match because I was fighting, because I was always believing that I can still turn it around."
Thiem provides a great example of how the right mindset can keep you in the game if you don't have your 'A' game.
Next time you are on the court and you are not on top of your game, keep grinding, knowing that your 'B' game may be good enough to make a comeback.
Grinding the Match Out with Your "B" Game:
Playing winning tennis with your "B" game requires that you have a Plan B. This is where preparation is key.
Match preparation should include a flexible game plan. Before a match, it is helpful to develop a few plans based on your strengths.
I always suggest to player that they have plan A, B, and C when start the match, knowing that the best plan is subject to change.
You have to be flexible with your game plan. Don't go down with the ship if plan A is not working. The best players are able to grind out the match when they don't have their best game.
---
Learn Proven Tennis Mental Game Strategies To Perform Your Best On The Court!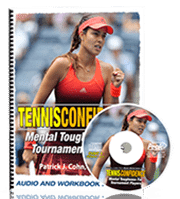 Are you (or your players) performing up to your ability in competition?
Do you bring your best and most confident game to matches?
I often hear players complain about the following problems when they play in matches…
"I get so tight or tense before matches that I can't think straight or have any rhythm in my game."
"I get so frustrated with hitting bad shots or with errors and it snowballs."
"I expect so much when I play that I unravel and lose confidence when the match does not go as planned."
"My confidence seems to disappear when I go from practice to matches and I don't know why."
Successful tennis players have learned how to perform with ultimate confidence in tournaments.
If you are ready to improve your mental toughness and perform with ultimate self-confidence in matches, Tennis Confidence: Mental Toughness For Tournament Players can help you do this!
Players: Learn how to take control of your confidence, focus your best, and win more close matches.
Parents: Help boost your junior tennis player's confidence for tournaments. Just load the program on your player's IPod!
Coaches: Boost your team's confidence using simple, proven mental strategies.
Instructors: Learn how to give your students the mental game advantage.
Use Tennis Confidence to help boost your mental toughness in tennis and discover powerful and proven mental game strategies that have helped professional athletes win!
Tennis Confidence: Mental Toughness For Tournament Players
---
Download Our Free Tennis Psychology Report!

Discover if you are making one or more of these "costly" unforced mental game errors during matches!
Download our free Tennis Psychology Report:
Six Unforced 'Mental Game' Errors Tennis Players Make Between Points
You'll discover:
How your mind can be your best or worst asset on the court.
If you are using your mind effectively between points.
One strategy that can help you let of go the last point.
The top mental game skills you need to master to boost your confidence and performance between points.
Click here to download your FREE report today: Six Unforced 'Mental Game' Errors Tennis Players Make Between Points