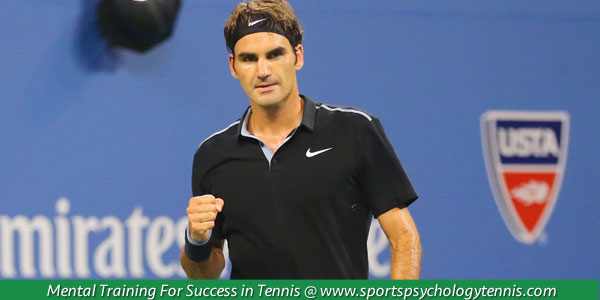 Improving Your Mental Toughness
Are you "mentally strong" during tough tennis matches?
How much more could you achieve in tennis if you developed a stronger mental game?
Think of a match where some mental factor negatively affected your game… maybe a bad line call caused you to become angry… or you couldn't stop thinking about some unforced errors.
Maybe you get too nervous for matches… or you can't find the motivation in practice to push yourself.
There are many mental factors that affect your performance on the court.
Most tennis players speak of the benefits of mental game coaching such as increased confidence, playing with poise, better concentration, increased motivation, more effective practice sessions, dealing with off-court distractions, etc.
Though most tennis players believe mental skills to be highly important, mental skills are usually the most neglected aspect of a tennis player's training.
Tennis players have a lot of excuses for why they don't engage in mental skills training, such as not enough time, belief that mental skills are inborn, erroneous assumption that mental skills training is for head cases, don't know where to turn for mental skills training, etc.
Petra Kvitova, currently ranked No. 2 in the world, realized she needed to find a mental edge over her competitors.
In 2010, Kvitova was awarded the WTA Newcomer of the Year.
In 2011, Kvitova had a breakthrough year and won Wimbledon, her first career Grand Slam title. Kvitova won several awards 2011 WTA Improved Player and 2011 WTA Player of the Year for her performance on the tennis court.
Kvitova had consistency issues over the past couple of seasons and it wasn't until winning 2014 Wimbledon that she added a second Grand Slam title.
Kvitova realizes the difficulty playing tennis against the best players in the world:
"It's difficult to still be with the pressure every time you step on the court against some opponent."
What does Kvitova attribute to her newest Grand Slam success?
Kvitova enlisted the assistance of a sports psychologist to help her mental game and take her game to the next level.
KVITOVA: "You know, it's nice to talk with somebody who probably knows how I'm feeling before my match. If I'm like very nervous or… He's trying to talk a lot with me about the next match, what I should do, what I have to be prepared for. I mean, it's really tough to describe. I mean, during the tournament it's really about the talk, what I need to think about. I'm doing some visualization as well. That's everything, small things."
Try these tips to develop stronger mental skills:
Identify 1-2 mental aspects that could strongly impact your game such as confidence and focus.
You should create an action plan to improve these mental skills in practice. Can you identify the signs when you have doubt or are distracted? What will you do to overcome the doubt and distractions?
You may want enlist the help of a coach or mental game coach who can help you develop a mental game plan and improve your performance on the court.
Successful tennis players have learned how to perform with ultimate confidence in tournaments. We've developed Tennis Confidence: Mental Toughness For Tournament Players to help you do this.
---
Boost Your Self-Confidence and Focus with Expert Mental Game Coaching Tennis Mindset
Learn how to boost your mental game of tennis and develop the confidence of a champion quickly and effortlessly with tennis mental game coaching!
If you're not performing up to your potential in matches, most likely your mental game is holding you back. Are you so frustrated with your performance you feel like giving up? Does your confidence evaporate when you play in tournaments? Are you tired of working hard in practice and not getting any results in matches?
We can help you uncover the beliefs and attitudes that keep you from performing to your potential.
Complimentary 15-Minute Coaching Session
Call Us Today to Schedule Your Free 15-Minute Session.
Find Out How You Can Benefit From One-on-One Mental Coaching!
888-742-7225 | 407-909-1700
Please contact us today to learn how mental coaching works and to request pricing on all mental training programs for tennis players. Complete the form below to contact us via email or call us toll-free at 888-742-7225