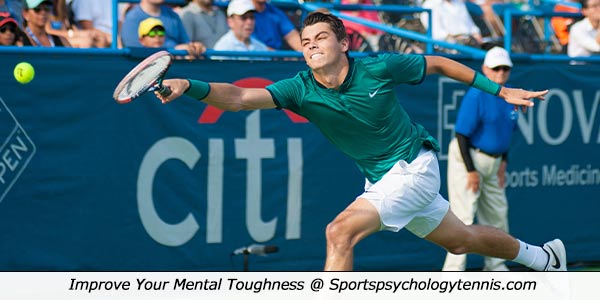 Preparation is Key for High Confidence
In tennis, how do you go about your game on a daily basis? How do you separate yourself from your competitors?
One tennis player from our Mental Game of Tennis Survey asked a simple question that all tennis players think about:
"How can I get a mental edge over the competition?"
The question is straightforward and deserves a straightforward answer. You gain a mental edge over your competition by putting in the mental work.
Asking how to get an edge is not enough. Without putting in the time, you will be left to the same under-performance results.
Preparation is key for high confidence. Without confidence in your game, you question yourself on the court, especially when the pressure is high. You think negative thoughts, leap to negative conclusions, become anxious and find it difficult to focus.
You know you have the technical skills or are as talented as your opponent but don't have the confidence in your ability to perform those skills under pressure. Even the strong aspects of your game seem to fall apart at critical moments.
No matter how solid your physical attributes and technical skills, without mental preparation and strong mental skills, you will not be fully on top of your game.
Build Trust in Your Mental Game
When you build trust in your mental game, you will feel more confident under pressure and be able to rise to the occasion. It is trust in your mental game that gives you an edge over your opponents.
For example, Brandon Nakashima is only 19 years old and one of only four teenagers worldwide in the Top 200 of the ATP Rankings.
What accounts for Nakashima's accomplishments?
Of course, Nakashima has talent, but so do a lot of other young players. And, yes, Nakashima spends a ton of time hitting balls in practice.
The competitive edge Nakashima has over his competition is due to dedication to his mental game.
Tennis Coach Dusan Vemic, who has worked with Nakashima, has been impressed with Nakashimaís mental work ethic.
VEMIC: "We watch tennis films every single day from different eras, both men and women. He constantly learns and wants to improve. That is a trait of champions. They are never satisfied. They keep moving forward."
Nakashima is poised under pressure and mentally strong during tough matches because of his exceptional mental and physical preparation.
NAKASHIMA: "I think I play better when there is more pressure. I think I am able to rise to occasions and to handle tense moments… I always like to watch matches from the past or the current ones. Whether it is me playing or other professionals, it definitely helps me to get a clearer understanding of the game. I can see what I have improved from the past and what I still need to work on."
Nakashima is a student of the game; he pays attention to the mental aspects that work for him and other players.
By studying the mental aspects of peak performance, learning the mental skills of elite players, and developing those mental skills, you will get the mental edge over your opponents.
How to Get a Mental Edge in Tennis:
Once all the training and practice is complete, and you hit the match court, the mental game is the most important to perform your best.
Having a mental edge means that you: (1) trust in your practice, (2) let go of the practice mindset, (3) swing freely and not safely, (4) have confidence in your match plan and strokes, and (5) stay composed after bad points.
Master these mental skills and you'll have a mental edge.
---
Related Tennis Psychology Articles:
*Subscribe to The Tennis Psychology Podcast on iTunes
*Subscribe to The Tennis Psychology Podcast on Spotify
---
Improve Your Mental Game for Tennis
Tennis Confidence 2.0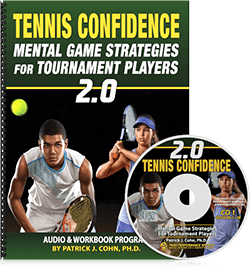 "Tennis Confidence: Mental Game Strategies for Tournament Players" is Dr. Cohn's program to help tennis players, coaches, and instructors improve the mental game of tennis is just 8 easy to learn sessions. Tennis Confidence: Mental Game Strategies for Tournament Players Audio and Workbook program is ideal for any junior, collegiate, and tour professional player. Tennis coaches and instructors would also be wise to teach the strategies in "Tennis Confidence 2.0."
Tennis Confidence is a complete mental training program developed Dr. Cohn. You learn the same strategies Dr. Cohn teaches his personal students to help them improve mental toughness and consistency – from managing unrealistic expectations to coping with perfectionism.
Read more about Tennis Confidence Program>>