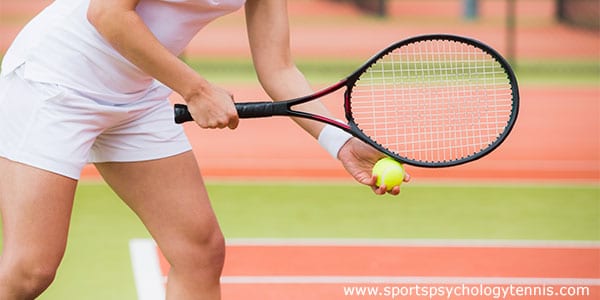 How to Overcome Mental Challenges on the Court
Tennis is a sport of physical demands… Big tournaments, hours of training, tough competition, long matches, muscle soreness, and fatigue.
The mental game of tennis is even more challenging… Big tournaments, hours of training, tough competition, long matches, muscle soreness, and fatigue.
The two previous sentences sound the same because the mind and body are intertwined. You cannot separate the physical from the mental in tennis. Within every physical challenge exists a mental component, and mental challenges are far more demanding than the physical demands of the game.
If you are not prepared for the mental demands of competing, you will be in for a tougher time.
A high school tennis player from our Mental Game of Tennis Survey reached out to us with the following concern.
"How do I stay mentally tough during matches? I work hard in practice and am one of the best on my high school team, but I can't seem to play as good in matches as I do in practice."
You are not the only one. It can be quite frustrating when you are having amazing practices, but under perform in matches.
You are absolutely correct in identifying this challenge in terms of mental toughness.
You can have great technique, but technique alone will not help when you become frustrated after losing your serve. Mental toughness will give you the ability to calm yourself and manage your emotions.
You can be in peak physical condition but conditioning alone will not help you maintain your confidence playing in excessive heat or poor court conditions. Mental toughness helps you to focus on what you can control and keeps your confidence stable.
You can train to improve your speed and agility, but physical skills alone will not help when you are being dominated by a lower-ranked opponent. Mental toughness will help immerse you in the present moment, stop ruminating about losing points, and help you get your mind back in the game.
You can prepare, train, and practice, but physical training alone won't help you when your opponent or officials are not making the right calls and you feel yourself being cheated. Mental toughness will help you refocus and use those bad calls to motivate you and fuel your performance.
Without mental toughness, consistent peak performance is not possible.
Mental toughness helps with every area of your game so that it is difficult to calculate the total impact mental toughness has on your performance.
Mental toughness is critical for every tennis player, from beginner to professional.
Professional players face additional challenges such as extensive travel, sponsorships, and the toughest competitors in the world. To be successful at the professional level, it is extremely important to develop mental toughness to give a player an edge over the competition.
WTA player Iga Swiatek, 19 years-old, has worked with a sports psychologist for several years developing her mental toughness. Swiatek singled out mental toughness as the key to her first Grand Slam title, the 2020 French Open.
SWIATEK: "I just believe that mental toughness is probably the most important thing in tennis right now because everybody can play on the highest level. But the ones that are tough and that can handle the pressure are the biggest ones [most successful]."
If you are not building YOUR mental toughness, you will fall behind the pack.
Conversely, when you build mental toughness, you gain an edge over the competition.
How to Build Mental Toughness for Tennis:
Mental toughness can be improved by using the "Seek & Destroy" strategy.
The seek component revolves around identifying situations where you struggle under pressure… "I usually lose confidence or focus when…"
The destroy component is developing mental skills to counter that weakness such as building stable confidence, improving focus later in matches, learning how to play with a lead and not tighten up, and performing well on important points when under pressure.
And athletes are not weak for admitting they need to improve their mental game for tennis. Rather, it shows a willingness to learn and grow. Take it from Swiatek.
---
Related Tennis Psychology Articles:
*Subscribe to The Tennis Psychology Podcast on iTunes
*Subscribe to The Tennis Psychology Podcast on Spotify
---
Improve Your Mental Game for Tennis
Tennis Confidence 2.0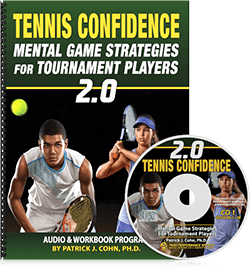 "Tennis Confidence: Mental Game Strategies for Tournament Players" is Dr. Cohn's program to help tennis players, coaches, and instructors improve the mental game of tennis is just 8 easy to learn sessions. Tennis Confidence: Mental Game Strategies for Tournament Players Audio and Workbook program is ideal for any junior, collegiate, and tour professional player. Tennis coaches and instructors would also be wise to teach the strategies in "Tennis Confidence 2.0."
Tennis Confidence is a complete mental training program developed Dr. Cohn. You learn the same strategies Dr. Cohn teaches his personal students to help them improve mental toughness and consistency – from managing unrealistic expectations to coping with perfectionism.
 Read more about Tennis Confidence Program>>