Improving Mental Consistency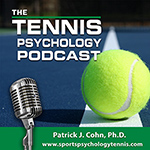 Welcome to session number thirty one of The Tennis Psychology Podcast.
Dr. Patrick Cohn at Sports Psychology for Tennis, is a mental game of tennis expert and helps tournament players, tennis coaches and parents improve confidence, focus, and composure using sports psychology strategies.
In this week's tennis psychology session, Dr. Cohn talks with Ian Westmann of www.essentialtennis.com about improving consistency both physically and mentally.
Many tennis players have trouble transferring their consistency from practice to matches. Listen to the podcast to learn more about how to improve your consistency in matches!
Ian Westmann is a graduate of the Professional Tennis Management Program at Ferris State University and played Division II tennis at Ferris. Ian is USPTA certifed tennis pro and teaches full time at the Congressional Country Club in Bethesda, MD. The Essential Tennis Podcast focuses on fitness, technique, mental game and strategy.
*Download The Tennis Psychology Podcast #31 (right click and "save as" to your computer)

Subscribe to The Tennis Psychology Podcast via iTunes
*Submit your mental game of tennis question to Dr. Cohn at Peak Performance Sports
*Download a free tennis psychology report to improve your mindset between points
Improve Your Mental Toughness for Tennis Quickly with Dr. Cohn's new Tennis Confidence audio program!
---
Related Tennis Psychology Articles
*Subscribe to The Tennis Psychology Podcast on iTunes
*Subscribe to The Tennis Psychology Podcast on Spotify
---
Improve Your Mental Game for Tennis
Tennis Confidence 2.0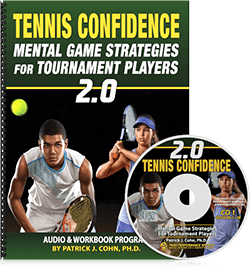 "Tennis Confidence: Mental Game Strategies for Tournament Players" is an audio and workbook program to help tennis players, coaches, and instructors improve the mental game of tennis is just 10 easy to learn sessions. Tennis Confidence: Mental Game Strategies for Tournament Players Audio and Workbook program is ideal for any junior, collegiate, and tour professional player. Tennis coaches and instructors would also be wise to teach the strategies "Tennis Confidence."
Tennis Confidence is a complete mental training program developed Peak Performance Sports. You learn the same strategies Dr. Cohn teaches his tennis players to help them improve mental toughness and consistency – from managing unrealistic expectations to coping with perfectionism.
Read more about Tennis Confidence Program>>